Modifikasi Mesin, Kementan Ingatkan Jangan Hilangkan Nomor Seri Alsintan
Indonesian Govt Reminds Farmers not to Modify Agricultural Machinery
Editor : M. Achsan Atjo
Translator : Dhelia Gani

PUBLISHED: Senin, 23 April 2018 , 22:14:00 WIB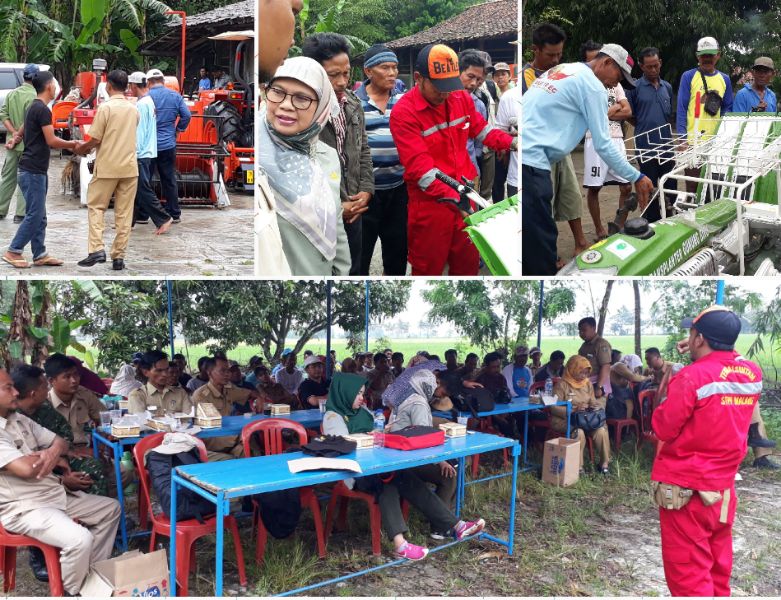 Bimtek optimalisasi Alsintan oleh Badan Penyuluhan dan Pengembangan SDM Pertanian (BPPSDMP) Kementerian Pertanian di Karawang (Foto2: B2B/Mac)
Karawang, Jabar (B2B) - Ketika sebagian besar petani masih awam memanfaatkan apalagi merawat alat mesin pertanian (Alsintan), namun beberapa petani Karawang penerima bantuan Alsintan dari Pemerintah RI malahan melakukan modifikasi dengan memotong rangka mesin, sehingga nomor seri Alsintan hilang, maksud sang modifikator ngin untung malah buntung, mengakibatkan gabah hancur dan losses saat panen.
Fakta itu terungkap dari kegiatan bimbingan teknis (Bimtek) optimalisasi Alsintan oleh Badan Penyuluhan dan Pengembangan SDM Pertanian (BPPSDMP) Kementerian Pertanian di Desa Sekarwangi, Kecamatan Rawamerta, Senin (23/4) yang didukung oleh instruktur Alsintan dari Sekolah Tinggi Penyuluhan Pertanian - STPP Malang, Diantoro dan Darmanto.
"Jangan modifikasi dengan memotong rangka mesin, ganti mesin dari orisinal ke mesin buatan China. Modifikasi diizinkan kalau untuk menyesuaikan kondisi lapangan,," kata instruktur Darmanto pada sesi diskusi Alsintan setelah Bimtek dibuka oleh Kasubbid Evaluasi Penyuluhan, Siti Hafsah Husas mewakili Wayan Ediana sebagai Penanggung Jawab Optimalisasi Alsintan - PJ OPA Bekasi, Subang, Karawang.
Darmanto menambahkan, nomor seri adalah ´identitas´ dari setiap unit Alsintan yang dikeluarkan oleh produsen, dan memjadi pegangan Kementerian Pertanian RI sebagai barang hibah dari negara untuk dipergunakan sebaik-baiknya oleh petani.
Hafsah menyoroti peran vital dari mesin penanam padi (rice transplanter, traktor roda empat (TR4) dan mesin panen padi (combine harvester) dalam mendukung proses produksi padi menjadi beras sebagai pangan pokok rakyat Indonesia.
"Mentan mengharapkan para petani penerima bantuan Alsintan memanfaatkan combine harvester untuk panen, kemudian olah tanah dengan traktor roda empat, setelah itu menanam padi dengan rice transplanter," kata Hafsah.
Sementara Diantoro mengingatkan tentang pentingnya memeriksa kondisi air radiator, filter oli dan bahan bakar mesin (BBM) secara rutin, khususnya setiap kali akan mengoperasikan Alsintan, karena hal itu merupakan bagian penting dari perawatan Alsintan.
Ketua kelompok tani (Poktan) Tani Makmur II, Karsim sebagai petani dan pemilik penggilingan beras mengakui manfaat dari Alsintan untuk meningkatkan hasil produksi padi, dan dia mengaku sangat terbantu dengan keberadaan Alsintan.
Karawang of West Java (B2B) - When most Indonesian farmers have not been able to use agricultural machinery or Alsintan, but some farmers in Karawang who receive assistance Alsintan from the ministry of agriculture even make modifications consequently the machine serial number is missing.
The fact was revealed from the activities of technical guidance or Bimtek review about the optimization of Alsintan by the Directorate General of Extention Agents and Development of Agricultural Human Resources or BPPSDMP of Agriculture Ministry in Sekarwangi village of Rawamerta subdistrict on Monday (April 23) supported by instructors of Agricultural Extension College - STPP Malang, Diantoro and Darmanto.
"Do not modify by cutting the engine frame, replace the original machine with a machine made in China," said instructor Darmanto said during a discussion session after Bimtek was opened by the Head of Evaluation Subdivision, Siti Hafsah Husas representing Wayan Ediana as the Person in Charge of Optimizing Alsintan or PJ OPA Bekasi, Subang, Karawang, dan Bekasi Kota.
Darmanto said that the machine serial number is the ´identity´ of each Alsintan unit issued by the producers, and become the guidance of agriculture ministry as grants of the state for use by farmers.
Mrs Husas highlighted the vital role of rice transplanter, four-wheeled tractor engine and combine harvester in supporting rice production process as staple food of Indonesian people.
The agriculture minister expects the farmers receiving Alsintan to use combine harvester for harvest, then cultivate the soil with a four-wheeled tractor, after which to plant rice with rice transplanter," she said.
While Diantoro reminded of the importance of checking the condition of the water radiator, oil filters and fuel on a regular basis, especially every time it will operate Alsintan, because it is an important part of the care Alsintan.
The head of the farmer group of Tani Makmur II, Karsim as a farmer and owner of rice mills acknowledged the benefits of Alsintan to increase rice production, and he admitted very helped by the Alsintan.