Ketua Upsus Pajale Jateng Dorong Bulog Pekalongan Kejar Target Serap Gabah
Indonesian Govt Encourages Logistics Agencies to Buy Rice from Farmers
Editor : M. Achsan Atjo
Translator : Dhelia Gani

PUBLISHED: Kamis, 05 Oktober 2017 , 22:23:00 WIB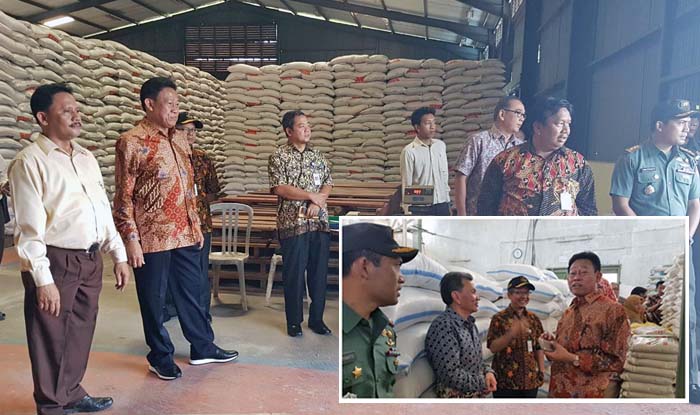 Ketua Penanggung Jawab Upsus Jateng Kementan, Momon Rusmono kunjungi gudang beras Bulog Subdivre Pekalongan didampingi Dandim Tegal, Letkol Kav Kristiyanto (Foto2: Humas Badan SDM Kementan)
Pekalongan, Jateng (B2B) - Kementerian Pertanian RI mengingatkan Badan Urusan Logistik (Bulog) di Provinsi Jawa Tengah untuk meningkatkan serapan gabah dan beras dari petani, khususnya di wilayah eks Karesidenan Pekalongan masih di bawah 55.000 ton dari target 118.000 ton hingga akhir 2017, padahal Bulog Subdivre Pekalongan didukung enam gudang beras yang tersebar di lima kabupaten yakni Pekalongan, Batang, Tegal, Pemalang dan Brebes.

Seruan tersebut dikemukakan Ketua Penanggung Jawab Upaya Khusus Jawa Tengah, Momon Rusmono kepada Kepala Bulog Subdivre Pekalongan, Muhson pada kunjungan kerja di Pekalongan, belum lama ini.

"Kita dorong serapan gabah dan beras petani oleh Bulog agar mencapai target yang ditentukan. Kita kawal dan dampingi supaya percepatan ini bisa didorong lagi sehingga serapan Bulog bisa lebih tinggi," kata Momon Rusmono usai mengunjungi gudang Bulog di Munjungagung dan Procot dan dua penggilingan kecil yang menjadi mitra pemasok beras ke Bulog.

Hingga saat ini Bulog Subdivre Pekalongan sudah menyerap 50% atau sekitar 55.000 ton dari para mitra penggilingan kecil, sementara lima Subdivre lain di Jawa Tengah sudah lebih dari 55.000 ton.

Muhson menegaskan bahwa pihaknya bertugas menyerap beras di tiga kabupaten: Tegal, Pekalongan, dan Slawi yang berada di peringkat keempat dari enam subdivre Bulog di Jawa Tengah.

"Target penyerapan beras tahun ini mencapai 118 ribu ton. Kita terus upayakan untuk jemput bola dengan adanya satuan-satuan kerja yang serap beras," kata Muhson kepada Momon Rusmono yang juga menjabat Kepala Badan Penyuluhan dan Pengembangan Sumberdaya Manusia Pertanian (BPPSDMP) Kementan.

Bulog Subdivre Pekalongan didukung enam gudang beras, masing-masing gudang beras didukung mitra penggilingan padi dan satker seperti di Procot yang memiliki lima mitra yang secara rutin memasok beras ke Bulog.

Kontrak kerja sama dengan Bulog mencapai 90 ton beras per bulan, yang direvisi setiap bulan sesuai situasi dan kondisi lapangan.

"Bulog juga berkeliling ke penggilingan padi milik petani, sehingga mereka bisa segera mengirimkan beras ke Bulog. Masyarakat juga bisa menjual beras ke Bulog melalui kelompok tani di masing-masing desa, cukup dibekali rekomendasi dari kepala dinas saja," kata Muhson.
Pekalongan of East Java (B2B) - Indonesian Agriculture Ministry reminded the Central Java Logistics Agency to increase rice and paddy uptake from farmers, especially ex Pekalongan residency is still below 55,000 tons from the target of 118,000 tons until the end of 2017, while supported by six rice warehouses in five districts of Pekalongan, Batang, Tegal, Pemalang and Brebes.

The criticism was said by the Head of the Special Team of the ministry, Momon Rusmono to Deputy of Central Java Logistics Agency, Muhson here recently.

"We encourage Central Java Logistics Agency to reach the target," "said Mr Rusmono after visited rice warehouse in Munjungagung and Procot and two small rice mills that become rice supplier to the Central Java Logistics Agency called the Bulog.

Until now, the Bulog Pekalongan has purchased 50% or about 55,000 tons from small rice mills, while other Bulog branch offices in Central Java have more than 55,000 tons.

Muhson acknowledged that his office was assigned to buy rice from farmers in three districts: Tegal, Pekalongan and Slawi, which are ranked fourth out of six branches in Central Java Bulog.

"The target of purchasing rice this year is 118 thousand tons, and we continue to buy directly in small rice mill owned by farmers," Muhson told Mr Rusmono who also served as Director General of Agency for Agricultural Extension and Human Resource Development (BPPSDMP).

The Bulog Pekalongan is supported by six rice warehouses, each supported by a rice milling partner such as Procot with five partners who routinely supply rice. Business contract with Bulog reaches 90 tons per month, which is revised monthly according to field situation and condition.

"The Bulog also goes to small rice mills to buy rice and residents can also sell rice through farmer groups in each village, just a recommendation from the agricultural service office," Muhson said.