Roadshow Pusluhtan, Kementan Dorong Sinkronisasi Kebijakan Penyuluhan Pertanian
Indonesian`s Agriculture Extentionis Support Farmers Optimized Agricultural Machinery
Editor : M. Achsan Atjo
Translator : Dhelia Gani

PUBLISHED: Sabtu, 23 Juni 2018 , 22:29:00 WIB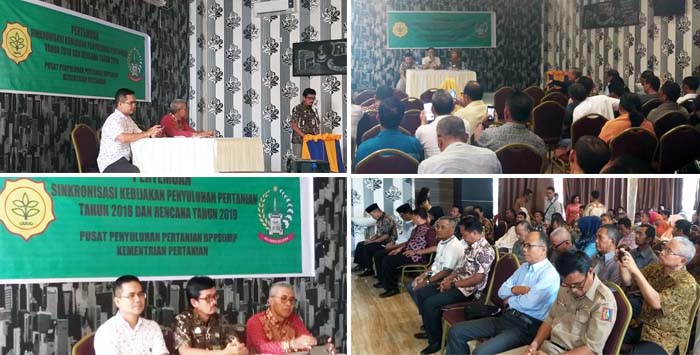 Kabid Program dan Evaluasi Penyuluhan Pusluhtan, I Wayan Ediana (batik merah) mewakili Kapusluhtan Siti Munifah sinkronisasi PPL di seluruh Indonesia mendukung LTT dan Opsin (Foto2: Humas Pusluhtan)
Pinrang, Sulsel (B2B) - Badan Penyuluhan dan Pengembangan SDM Pertanian (BPPSDMP) di Kementerian Pertanian RI mengharapkan penyuluh pertanian lapangan (PPL) di seluruh Indonesia mendukung dan mengawal program Luas Tambah Tanam (LTT) dan Optimalisasi Pemanfaatan Alsintan (Opsin) untuk sinkronisasi kebijakan penyuluhan pertanian 2018 dengan rencana program 2019 sesuai kebijakan Pemerintah RI.
"PPL harus mengawal fokus kinerja di lapangan, khususnya LTT dan Opsin, penekanan selanjutnya adalah memfokuskan kegiatan 2019 agar kebijakan pusat sinkron dengan pembangunan pertanian di daerah," kata Kepala Pusat Penyuluhan Pertanian (Pusluhtan) Siti Munifah dalam arahannya pada roadshow di Kabupaten Pinrang, Sulsel yang disampaikan Kabid Program dan Evaluasi Penyuluhan Pusluhtan, I Wayan Ediana pada Jumat (22/6).
I Wayan Ediana menambahkan bahwa kebijakan Kementan terkait kinerja PPL agar capaian visi dan misi untuk menjadikan Indonesia daulat pangan dan meningkatkan kesejahteraan petani.
Sementara Kepala Dinas Pertanian dan Hortikultura Kabupaten Pinrang, Calo Kerrang mengharapkan para PPL di Pinrang memahami dan menerapkan teknologi informasi, untuk mendukung para petani menerapkan inovasi teknologi pertanian sesuai produk unggulan daerah.
"PPL juga harus mengetahui kondisi pasar untuk mendukung pemasaran hasil produksi pertanian sehingga ketersediaan pangan dan peningkatan kesejahteraan petani dapat terwujud," kata Calo Kerrang dalam kata sambutannya saat membuka kegiatan roadshow Pusluhtan - BPPSDMP di Pinrang.
Pinrang of South Celebes (B2B) - Indonesian´s Directorate General of Agricultural Extension and Agricultural Human Resources or the BPPSDMP expects the support of agricultural extensionist across the country support and guidance of extensification of rice cultivation or LTT and optimizing the utilization of agricultural machinery or Opsin to support synchronization of agricultural development in the regions.
"The agricultural extensionist should focus on the 2019 program to synchronize the central agricultural development policy with the region," said Director of Agricultural Counseling Center, Siti Munifah was delivered by the Head of Program and Evaluation, I Wayan Ediana here on Friday (June 22).
Mr Ediana said that the policy of ministry concerned the performance of agricultural extensionist to realize Indonesia´s vision and mission to achieve food sovereignty, and improve the welfare of farmers.
While the Head Office of Agriculture and Horticulture Pinrang, Calo Kerrang expects agricultural extensionist in Pinrang utilizing information technology, to support farmers applying agriculture technology innovation in accordance with regional superior products.
"Agricultural extensionist should also know the market conditions to support the marketing of agricultural products," Mr Kerrang said in his speech while opened the roadshow activity.