Swasembada Kedelai 2018, Yogyakarta Upayakan Kesiapan Lahan 5.000 Hektar
Central Java Province Supports the Indonesia`s Soybean Self-sufficiency
Editor : M. Achsan Atjo
Translator : Dhelia Gani

PUBLISHED: Jum'at, 10 November 2017 , 22:31:00 WIB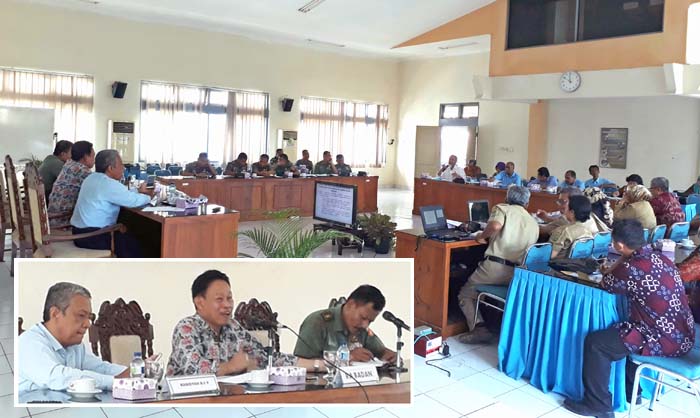 Kepala BPPSDMP Kementan, Momon Rusmono memimpin rakor penyiapan lahan kedelai di Yogyakarta didampingi Kadistan DIY Sasongko dan Pasiter Kodam IV Diponegoro, Letkol Inf Agus M (Foto2: B2B/Mac)
Yogyakarta, DIY (B2B) - Kepala Badan SDM Pertanian Momon Rusmono memprediksi luas tambah tanam (LTT) kedelai di Provinsi Yogyakarta (DIY) seluas 5.000 hektar dapat terealisasi hingga akhir 2017, setelah tiga kabupaten menyatakan komitmennya untuk mendukung swasembada kedelai pada 2018, meskipun DIY termasuk salah satu dari 14 provinsi yang tidak didanai oleh APBN - Perubahan 2017 melainkan dari APBN refocusing di Kementerian Pertanian dan swadaya.

Momon Rusmono mengingatkan Kepala Dinas Pertanian DIY, Sasongko tentang target 5.000 hektar namun baru terealisasi 450 hektar, sehingga dia meminta kepada tiga kepala dinas pertanian Kabupaten Bantul, Kulon Progo dan Gunungkidul untuk mendukung penyiapan lahan kedelai.

"Saya datang ke sini untuk duduk bersama mencari solusi, yang dibutuhkan saat ini adalah komitmen dari semua pihak mendukung program pemerintah pusat mencapai swasembada kedelai, menyusul padi dan jagung," kata Momon Rusmono yang juga menjabat Kepala Badan Penyuluhan dan Pengembangan Sumber Daya Manusia Pertanian (BPPSDMP) Kementerian Pertanian di Yogya, belum lama ini.

Setelah berkoordinasi dengan koleganya di dinas pertanian, Sasongko mengungkapkan tentang peluang penanaman di Kecamatan Giri Mulyo dan Sentolo di Kabupaten Kulon Progo, namun peluang tersebut terkendala oleh pengairan karea saluran irigasi harus berbagi dengan Kabupaten Sleman.

Sementara di Kabupaten Bantul, peluang tanam di Kecamatan Dlingo, Imogiri dan Pandak. Kabupaten Gunungkidul memiliki potensi terluas yang tersebar di Kecamatan Ponjong, Girisubo, Playen, Karangmojo, Nglipar, Rongkop dan Semin.

"Khusus di Kabupaten Bantul, sudah banyak petani yang menanam kedelai hitam karena sudah memiliki jaringan dan pemasaran. Namun petani di Gunungkidul masih kerepotan menghadapi hama, produktivitas masih rendah dan harga jual tidak sesuai dengan biaya produksi dan pemeliharaan," kata Sasongko.

Paparan Sasongko ditanggapi positif oleh Momon Rusmono yang mengingatkan pihak terkait di DIY untuk melakukan terobosan agar bibit kedelai bersubsidi dapat dimanfaatkan dengan baik oleh petani.

"Pemerintah pusat harapkan ada terobosan dari pemerintah daerah, mengingat penyaluran benih dari BUMN ada batas waktu pembayaran karena verifikasi dilakukan sampai awal Desember 2017," kata Momon Rusmono.

Rapat koordinasi dihadiri oleh Letkol Inf Agus M mewakili Aster Kodam IV Diponegoro, Kolonel Inf Amrin Ibrahim, dan para Dandim di wilayah Korem 072 Pamungkas/Yogyakarta, Kepala Pusat Pendidikan Pertanian (Kapusdiktan) Gunawan Yulianto sebagai koordinator program DIY.
Yogyakarta (B2B) - Indonesian Agriculture Ministry predicts the extensification of 5,000 hectares of soybeans in Yogyakarta province can be realized until the end of 2017, after three districts have stated they are ready to support soybean self-sufficiency by 2018, although Yogya is one of the 14 provinces that are not funded by the Revised State Budget 2017 but from internal budgets in the ministry and non-governmental,

Director General of the Agricultural Extension and Development Agency, or BPPSDMP, Momon Rusmono reminded the Head of Yogyakarta Agriculture Office, Sasongko about target of 5,000 hectares for soybean, but only realized 450 hectares, so he asked the heads of agriculture offices of Bantul, Kulon Progo and Gunungkidul to support the procurement of soybean crops.

"I came here to sit together to find a solution, we need the commitment of all parties to support the central government program to achieve self-sufficiency of soybeans after rice and corn," said Momon Rusmono who also served as Director General of the Agricultural Extension and Development Agency, or BPPSDMP here recently.

After coordinated with his colleagues in agriculture offices, Sasongko revealed about the opportunities of soybean planting in Giri Mulyo and Sentolo subdistricts in Kulon Progo district, but the opportunities are constrained by irrigation problems related to water needs for agriculture in Sleman district.

While in Bantul district, the opportunity to plant soybean in Dlingo, Imogiri and Pandak subdistricts. Potency of soybean planting land in Gunungkidul district spread in Ponjong, Girisubo, Playen, Karangmojo, Nglipar, Rongkop and Semin districts.

"Special in Bantul district, local farmers have planted black soybeans because it already has a network and marketing. However, farmers in Gunungkidul are still having trouble with pests, the productivity is still low, and the selling price is not balanced with production and maintenance costs," said Sasongko, who uses a single name.

Sasongko's exposure was positively responded by Mr Rusmono who reminded the relevant parties in Yogyakarta to make a breakthrough so that subsidized soybean seeds can be utilized well by farmers.

"The central government expects a breakthrough from the local government, considering that the distribution of soybean seed from SOEs is limited by the time of payment, since the verification is done until early December 2017," Mr Rusmono said.

The coordination meeting in Yogyakarta was attended by Lieutenant Colonel Agus M representing Territorial Affair Assistent of Central Java´s Diponegoro Regonal Military Command Colonel Inf Amrin Ibrahim and his subordinates in Yogyakarta province and Director of Agricultural Education Center, Gunawan Yulianto as program coordinator in Yogyakarta province.