BBPP Lembang Gelar Bimtek Penyuluh Pertanian Dukung Swasembada Kedelai 2018
Indonesian Agricultural Extensionists Support of Soybean Self-sufficiency in 2018
Reporter : Gusmiati Waris
Editor : Cahyani Harzi
Translator : Dhelia Gani

PUBLISHED: Selasa, 10 Oktober 2017 , 22:39:00 WIB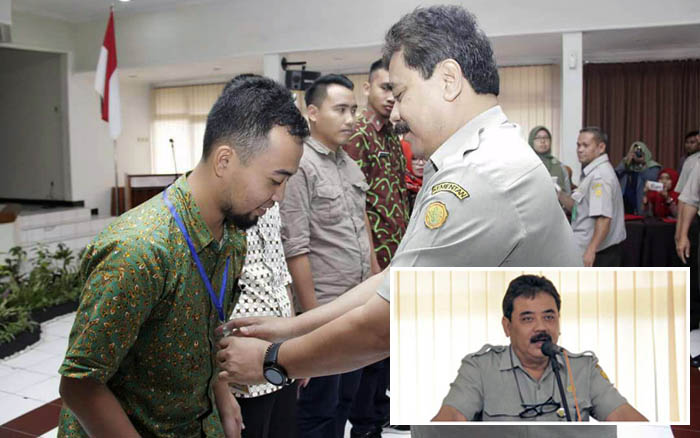 Kepala Puslatan BPPSDMP Kementan, Widi Hardjono menyematkan tanda peserta pada pembukaan Bimtek di BBPP Lembang, belum lama ini (Foto2: Humas Badan SDM Kementan)
Lembang, Jabar (B2B) - Pengawalan dan pendampingan petani oleh penyuluh pertanian turut menentukan keberhasilan program tanam kedelai serentak seluas 500.000 hektar di 20 provinsi, dengan target produksi tiga juta ton pada 2018 sementara prognosa kebutuhan kedelai 2,6 juta ton sehingga swasembada kedelai yang ditargetkan tercapai pada 2019 dapat dipercepat ke 2018.

Kementerian Pertanian RI melalui Badan Penyuluhan dan Pengembangan Sumber Daya Manusia Pertanian (BPPSDMP) Kementan sudah ancang-ancang mendukung pencapaian target di bawah koordinasi Menteri Pertanian Andi Amran Sulaiman, dengan menggelar kegiatan bimbingan teknis (Bimtek) tanaman kedelai yang diikuti oleh ratusan penyuluh pertanian dari 12 kabupaten di Provinsi Jawa Barat, kegiatan Bimtek dipusatkan di Balai Besar Pelatihan Pertanian (BBPP) Lembang, Kabupaten Bandung, belum lama ini.

Kegiatan Bimtek dipimpin langsung oleh Kepala Pusat Pelatihan Pertanian (Puslatan) Widi Hardjono didampingi
Kepala BBPP Lembang, Bandel Hartopo.

"Mentan semula menargetkan swasembada kedelai pada 2019, tapi kata beliau bisa ditarik maju ke 2018. Badan SDM Kementan ditugasi terus mengadakan bimbingan dan pelatihan terhadap penyuluh pertanian untuk mendukung sukses program tersebut," kata Widi Hardjono.

Bandel Hartopo mengatakan, Bimtek di BBPP Lembang bertujuan memberikan pembekalan kepada penyuluh pertanian di 20 provinsi untuk mendampingi dan melakukan pengawalan terhadap kinerja petani menanam kedelai hingga panen dan pasca produksi, sehingga target produktivitas tercapai.

"BBPP Lembang siap untuk membimbing, melatih penyuluh pertanian mendukung pencapaian swasembada kedelai melalui kegiatan training of trainer atau TOT, Bimtek dan pelatihan tematik," kata Bandel Hartopo.
Lembang of West Java (B2B) - The extension worker engaged by Indonesian government supports achievement of soybeans self-sufficiency, with soybean planting program covering an area of 500,000 hectares in 20 provinces, production target of three million tonnes in 2018 while prognosis of national soybean needs about 2.6 million tonnes.

Agriculture ministry's Agency for Agricultural Extension and Human Resource Development (BPPSDMP) is ready to support under coordination of Minister Andi Amran Sulaiman, by organized technical guidance of planting soybeans to hundreds of agricultural extension workers from 12 districts in West Java Province held at Lembang's Central Agricultural Training (BBPP Lembang) of Bandung district, recently.

Technical guidance is led by Director of the ministry's Agricultural Training Center, Widi Hardjono accompanied by Director of BBPP Lembang, Bandel Hartopo.

"Minister Sulaiman initially targeted the soybean self-sufficiency in 2019, but accelerated to 2018. The BPPSDMP is assigned provide guidance and training to agricultural extension workers to support the ministerial program," Mr Hardjono said.

Mr Hartopo said it aims to give a briefing to the agricultural extension workers in 20 provinces to assist farmers plant soybeans until harvest and post-production process, so that the productivity targets achieved.

"We are ready to guide and train agricultural extension officers to support government programs through training of trainers, technical guidance and thematic training," Mr Hartopo said.