Profesor Riset Litbang Kementan Diminta Publikasikan Hasil Penelitian
Indonesian Minister Asked Results of Agricultural Research Published in Mass Media
Reporter : Gusmiati Waris
Editor : Cahyani Harzi
Translator : Dhelia Gani

PUBLISHED: Selasa, 15 Agustus 2017 , 22:54:00 WIB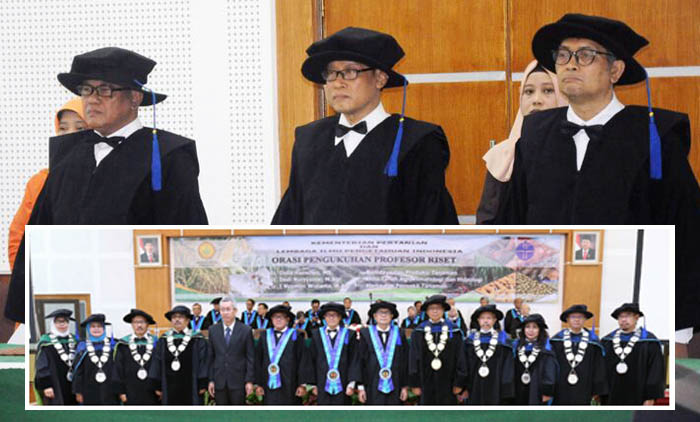 Profesor riset Didik Harnowo, Dedi Nursyamsi dan I Nyoman Widiarta, upacara pengukuhan disaksikan Kepala Balitbangtan Mohammad Syakir mewakili Mentan Andi Amran Sulaiman (Foto: Humas Kementan)
Jakarta (B2B) - Pemerintah RI berharap para profesor riset di Badan Penelitian dan Pengembangan Pertanian (Balitbangtan) mewartakan hasil penelitiannya di media massa agar diketahui publik, dan mengembangkan konsep science based policy making sehingga hasil penelitian dapat dikembangkan dalam bentuk kaji tindak dengan skala ribuan hektar, dan tidak lagi teronggok sia-sia di perpustakaan laboratorium.

Harapan tersebut dikemukakan Menteri Pertanian Andi Amran Sulaiman yang dibacakan Kepala Balitbangtan Mohammad Syakir di Bogor pada Senin (14/8) pada upacara pengukuhan tiga profesor riset ke 126 hingga 128 Litbang Pertanian Kementan yang dihadiri pimpinan Lembaga Ilmu Pengetahuan Indonesia (LIPI) beserta seluruh anggota majelis dan evaluator. Ketiga profesor riset yang dikukuhkan adalah Didik Harnowo, Dedi Nursyamsi dan I Nyoman Widiarta.

Mentan mengharapkan agar para profesor riset Litbang pertanian dapat mewartakan kinerja dan capaian dari hasil penelitiannya, karena selama ini masyarakat kurang memahami capaian para peneliti di Kementan lantaran minimnya publikasi di media massa cetak dan elektronik.

"Saya berharap para profesor riset yang dikukuhkan hari ini dapat menjadi pembina dan motivator bagi peneliti muda untuk capaian inovasi baru teknologi di Kementan," kata Mentan Amran Sulaiman seperti dikutip Mohammad Syakir.

Menurut Mentan, pihaknya mendukung dan mendorong implementasi konsep science based policy making seperti pada paket teknologi Jarwo Super, sehingga dapat dikembangkan dalam bentuk kaji tindak dengan skala ribuan hektar.

Mentan meminta Didik Harnowo dan tim melakukan pemetaan pengembangan industri hilir perbenihan kedelai, Dedi Nursyamsi ditantang mengawal penerapan skala luas dan peningkatan produksi dari Jarwo Super, dan I Nyoman Widiarta mendukung pengembangan desa mandiri benih padi agar para petani mampu memproduksi benih bermutu tahan virus.
Jakarta (B2B) - Indonesian government expects its research professors of Indonesian Agency for Agricultural Research and Development of Agriculture Ministry (Balitbangtan) to publish the results of research in the mass media, nd developing the concept of science-based policy making developed into action studies on thousands of hectares, and not just stored in the library lab.

It was said by Agriculture Minister Andi Amran Sulaiman who was delivered by Director General of the Balitbangtan Mohammad Syakir in Bogor on Monday (August 14) at the inauguration ceremony of three research professors: Didik Harnowo, Dedi Nursyamsi and I Nyoman Widiarta.

Minister Sulaiman expects the research professors of agriculture o publish the performance and achievements of his research, so far the public does not know the achievements of agricultural researchers due to the lack of publicity in the mass media.

"I expects the research professors can be a builder and motivator for young researchers to develop agricultural innovation," Minister Sulaiman as quoted by Mr Syakir.

He said the ministry supports and encourages implementation of concept of science based policy making such as in Jarwo Super technology package in action studies with thousands of hectares.

Minister Sulaiman asked Didik Harnowo to map the development of downstream soybean seed industry, Dedi Nursyamsi is challenged to oversee the widespread adoption and increased production of Jarwo Super, and I Nyoman Widiarta supported the development of an independent village of paddy seeds to enable farmers to produce quality virus-resistant seeds.