PJ OPA Nasional Dorong UPJA di Jateng Dukung Optimalisasi Alsintan
Indonesian Govt Push the Optimization of Agricultural Machinery in Central Java
Editor : M. Achsan Atjo
Translator : Dhelia Gani

PUBLISHED: Kamis, 17 Mei 2018 , 22:59:00 WIB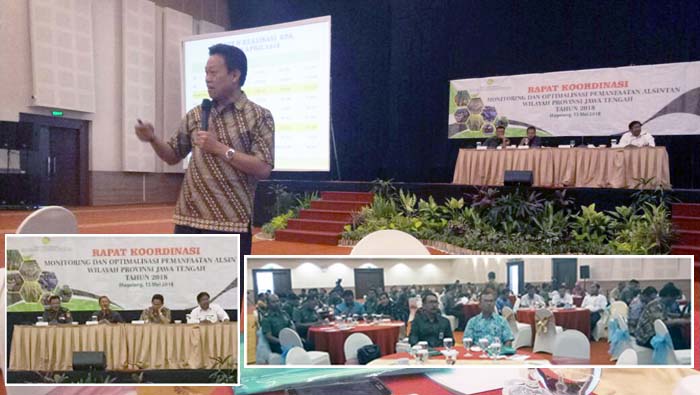 PJ OPA Nasional, Momon Rusmono memimpin rapat koordinasi ´monitoring dan optimalisasi pemanfaatan Alsintan Jawa Tengah 2018 (Foto2: Humas STPP Yogyakarta)
Magelang, Jateng (B2B) - Penanggung Jawab Optimalisasi Alsintan - PJ OPA Nasional, Momon Rusmono mengharapkan peran aktif dinas pertanian dan tanaman pangan dan Kodam IV Diponegoro untuk mendukung optimalisasi pemanfaatan Alsintan di Provinsi Jawa Tengah, dengan menumbuhkan dan memperkuat organisasi penerima Alsintan di tingkat kecamatan melalui unit pelayanan jasa Alsintan (UPJA) di bawah koordinasi brigade kecamatan.

"Optimalkan pelaporan pemanfaatan Alsintan secara harian dari tingkat kecamatan hingga provinsi, merelokasi dan atau memodifikasi Alsintan yang layak tapi belum dimanfaatkan karena ketidaksesuaian lahan, dan segera memperbaiki Alsintan yang rusak," kata Momon Rusmono di Magelang, Selasa (15/5) pada rapat koordinasi ´monitoring dan optimalisasi pemanfaatan Alsintan Jawa Tengah 2018.

Menurutnya, langkah optimalisasi Alsintan harus didukung kegiatan pelatihan teknis dan manajemen pendayagunaan Alsintan, dengan mengadakan kegiatan bimbingan teknis (Bimtek) kepada kelompok tani (Poktan) penerima bantuan Alsintan dari Pemerintah RI melalui Kementerian Pertanian.

Tampak hadir PJ OPA Jawa Tengah wilayah Korem 072 Pamungkas, Ali Rachman; Kepala Balai Alsin Pemprov Jawa Tengah, Bimo Santoso MP; Pasiter Kasdam IV Diponegoro; dan Kabag Administrasi Umum STPP Magelang Jurluhtan Yogyakarta, Irwan Johan Sumarno.

Momon Rusmono mengingatkan enam prioritas pelaksanaan mobilisasi Alsintan yakni mencari lahan yang baru panen, lahan tidur atau bera, yang dikoordinasikan dengan dinas pertanian setempat, komando distrik milter (Kodim), penyuluh pertanian, bintara pembina desa (Babinsa) di tiap komando rayon militer (Koramil) untuk menggerakkan Alsintan agar segera mengolah lahan.

"Mobilisasi TR2 dan TR4 terutama Alsintan bantuan pemerintah, diikuti pelaporan jumlah lahan yang diolah dengan Alsintan bantuan pemerintah. Jangan lupa laporkan bukti pengolahan lahan dalam foto open camera, dan membentuk grup pesan singkat atau WAG optimalisasi di masing-masing kabupaten," kata Momon.

Instruksi Mentan
Dalam rakor tersebut, Momon Rusmono mengingatkan instruksi Mentan Andi Amran Sulaiman yang menginstruksikan identifikai pemanfaatan Alsintan, apabila tidak maksimal maka segera dilakukan mobilisasi untuk meningkatkan pemanfaatannya, atau direalokasi ke Poktan lain yang lebih membutuhkan.

"Tidak boleh ada alsintan yang menganggur, kerja minimal 10 jam per hari, sehingga bermanfaat bagi petani. Kami harapkan petani dapat memanfaatkan Alsintan secara tepat guna untuk mendukung peningkatan produksi pangan strategis khususnya padi," katanya mengutip instruksi Mentan, saat mendampingi kunjungan kerja ke Kabupaten Magetan, Jawa Timur, pekan lalu.

Dia menambahkan sekitar 300 ribu Alsintan telah disalurkan kepada petani melalui Poktan, dilarang keras dikuasai oleh satu kelompok dan harus dimanfaatkan oleh petani lain.

"Sampai saat ini ditemukan sekitar 1.500 unit Alsintan yang tidak sesuai dengan lokasinya, dan tidak optimal pemanfaatannya, sudah dipindahkan," kata Mentan yang didampingi Momon Rusmono, yang juga menjabat Kepala Badan Penyuluhan dan SDM Pertanian (BPPSDMP) di Kementerian Pertanian RI.
Magelang of Central Java (B2B) - Person in Charge of Optimizing Agricultural Machinery or Alsintan for Central Java province, Momon Rusmono expects the active role of the agricultural service office and military regional command or Kodam IV Diponegoro of the province by strengthening the capability of Alsintan service units or UPJA at the subdistrict level.

"Optimize daily reporting on the utilization of Alsintan from subdistrict level to province then make efforts to relocate and modify Alsintan to adjust the condition of paddy field," said Mr Rusmono at the coordination meeting here on Tuesday (May 15).

According to him, the optimization of Alsintan should be supported by technical training and utilization management activities, through technical guidance to farmer groups Alsintan assistance from the Indonesian government through the agriculture ministry.

It was attended by Person in Charge of Optimizing Agricultural Machinery for Kebumen surrounding area, Ali Rachman; and Director of Agricultural Machinery Development Center of Central Java, Bimo Santoso.

Mr. Rusmono reminded the six priorities of the activities of finding new land and abandoned land through coordination with the regional agricultural service offices, military district command, agricultural extension officer, and village counselor in every military rayon command.

"Mobilization tractor two-wheel and four wheels of government assistance, followed by extensive reporting cultivated land with agricultural machinery of government assistance. Do not forget to report the results of wetland processing through open camera, and form a short message group in each district," Mr Rusmono said.

Ministerial Instructions
Previously reported, Indonesian Agriculture Minister Andi Amran Sulaiman reviewed utilization of agricultural machinery or Alsintan in Magetan district of East Java province on Monday (May 7) accompanied by Momon Rusmono as Person in Charge of Optimizing Alsintan or PJ OPA National.

In a review activity in Campur Sari village, Sidorejo sub-district, Minister Sulaiman instructed all Alsintan given to farmer groups or Poktan for the identification of utilization, if not maximized then immediately carried out mobilization to improve its utilization, or reallocated to other Poktan more need.

"No alsintan is not used, use at least 10 hours per day, so it is beneficial to farmers. We hope that farmers can utilize Alsintan properly to support the increase of strategic food production, especially rice," Mr Sulaiman said.

He added that about 300,000 Alsintan has been distributed to farmers through Poktan, strictly forbidden to be controlled by one group and must be utilized by other farmers.

"Until now, about 1,500 Alsintan units that are not in accordance with the location, and not optimally utilized, have been moved," said Minister Sulaiman who was accompanied by Mr Rusmono.