Target Sergab Semarang 425 Ton per Hari, TNI AD Pertanyakan Loyalitas Mitra Bulog
Indonesian Govt Push the Logistics Agency to Buy Rice Grain of Farmers
Editor : M. Achsan Atjo
Translator : Dhelia Gani

PUBLISHED: Kamis, 19 Oktober 2017 , 22:59:00 WIB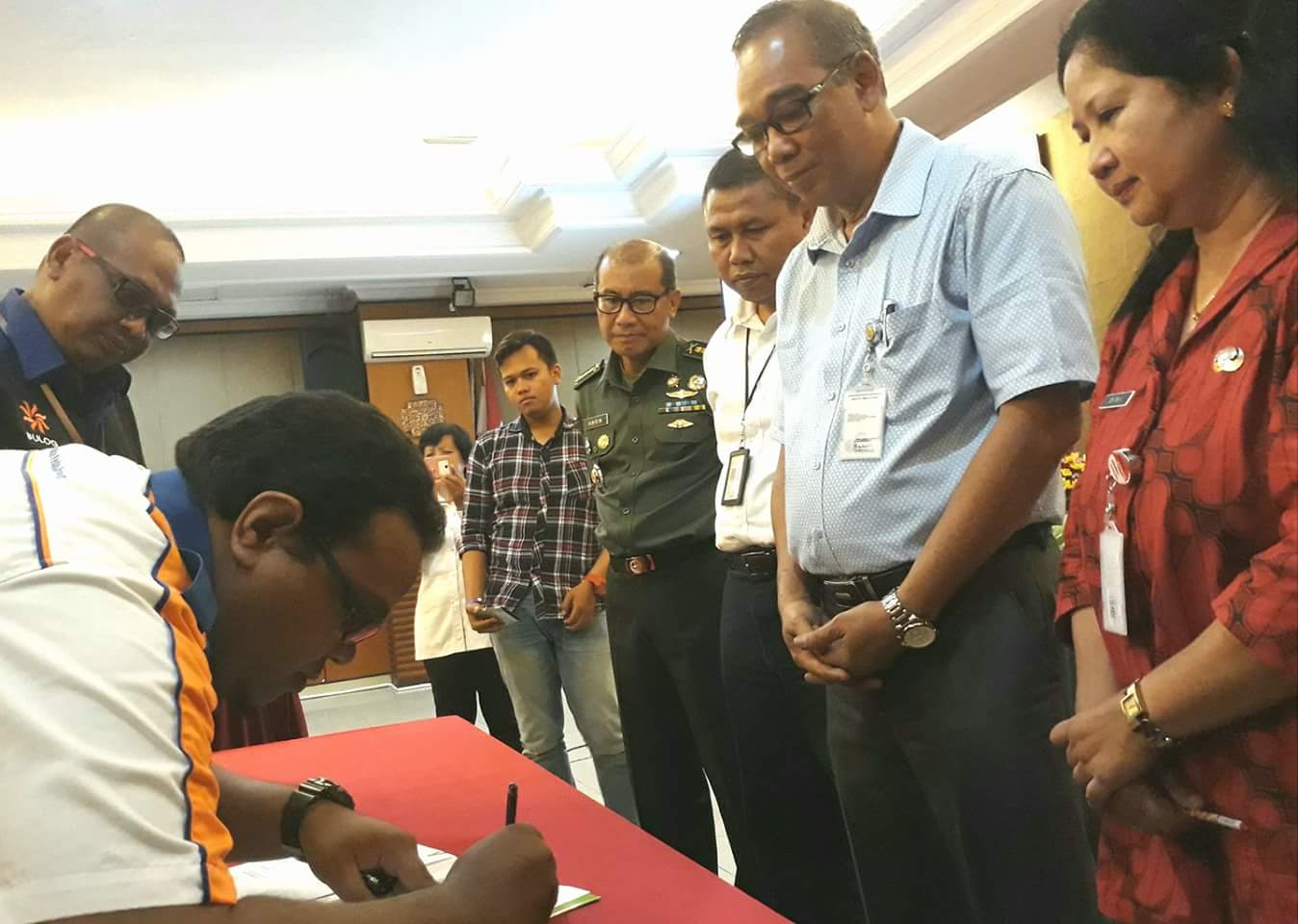 KOMITMEN MITRA KERJA BULOG: Tim Sergab Badan SDM Kementan Teddy RM (ke-2 kanan) didampingi Kepala Bulog Divre Jateng, Djoni NA dan Aster Kodam IV Diponegoro menyaksikan penandatanganan komitmen Bulog Semarang dan mitra kerja. (Foto: B2B/Mac)
Semarang, Jateng (B2B) - Bulog Subdivre Semarang dan 43 mitra kerjanya mencapai komitmen dengan Tim Serap Gabah (Sergab) dari Kementerian Pertanian RI, untuk memasok minimal 425 ton gabah per hari kepada Bulog Semarang agar tercapai target 98.000 ton gabah hingga akhir 2017, karena saat ini baru mencapai 76.272 ton (77,8%).
Kodam IV Diponegoro mengingatkan para mitra Bulog Semarang untuk loyal pada NKRI sebelum mendapat ´perlakuan khusus´ dari Satgas Pangan di Polda Jateng, setelah diketahui hanya dua mitra kerja Bulog yang hadir pada Rakor dan lainnya memilih mangkir.
Rapat Koordinasi Percepatan Sergab di Semarang pada Rabu siang (18/10) menghasilkan kesepakatan antara Bulog Subdivre Semarang dengan para mitra kerja pemasok gabah yang ditandatangani oleh Kepala Subdivre Semarang, Gatot Endro Waluyo dan enam kepala gudang Bulog di wilayah eks Karesidenan Semarang dengan perwakilan mitra Bulog dari Kabupaten Grobogan, Kusdiono.
Komitmen Bulog dan mitranya disaksikan oleh Ketua Tim Penanggung Jawab Sergab dari Pusdiktan wilayah Semarang dan Surakarta, Teddy Rachmat Mulyadi; Aster Kodam IV Diponegoro, Kolonel Inf Amrin Ibrahim; Kepala Divre Bulog Jawa Tengah, Djoni Nur Azhari; pimpinan Dinas Ketahanan Pangan Jateng, Dina Diana Rahmawati; Satgas Pangan Polda Jateng, Kompol Iswanto.
Teddy RM mengatakan bahwa pihaknya sebagai penanggung jawab Sergab 2017 dari Badan SDM Kementan tiada jemu mengingatkan Bulog Subdivre Semarang untuk mengejar target serap gabah, sesuai instruksi Ketua Tim Sergab Kementan wilayah Jateng, Momon Rusmono tentang pentingnya ketersediaan gabah untuk cadangan beras Bulog sebagai bukti ´negara hadir di tengah petani´ seperti diamanatkan Nawa Cita Presiden RI Joko Widodo tentang ketahanan pangan.
"Rakor ini untuk keempat kalinya kita adakan, dan sampai hari ini baru terealisasi 76.272 ton atau 77,8% dari target 98.000 ton untuk 2017 seperti ditargetkan pemerintah," kata Teddy yang juga menjabat Kabid Kelembagaan di Pusdiktan Badan SDM Kementan.
Teddy pun mempertanyakan ketidakhadiran 43 mitra kerja Bulog seperti dikatakan oleh bos Bulog Semarang, Gatot Endro Waluyo, tentang loyalitas mitra Bulog pada NKRI, "dari 43 hanya 12 mitra yang masih loyal". Sementara yang hadir hanya dua mitra dari Kabupaten Grobogan, dan salah satunya adalah Kusdiono yang ikut teken komitmen dengan Kementan.
Denda dan Penjara
Absennya mitra Bulog Semarang, membuat gusar Aster Kodam IV Diponegoro, Kolonel Inf Amrin Ibrahim yang mempertanyakan loyalitas mitra Bulog pada NKRI, dan akan bertindak tegas pada mitra Bulog yang mangkir dari kewajiban sebagai warga negara RI.
"Saya akan lapor pada Pangdam Diponegoro lalu koordinasi dengan Kapollda Jateng untuk menangkap mereka. Tangkap .... karena ada pasal hukum yang mereka langgar menyangkut ketahanan pangan," kata Kolonel Amrin.
Menurutnya, mitra Bulog harus sadar pada kewajibannya setelah pemerintah memberi hak mereka dengan sarana produksi (Saprodi) kepada petani melalui kelompok tani (Poktan) dan gabungan kelompok tani (Gapoktan), "mereka diminta menjual gabah kepada Bulog, bukan diambil tanpa dibayar. Jangan sampai menyesal kalau TNI AD bertindak tegas nanti."
Pendapat senada dikemukakan Satgas Pangan Polda Jateng, Kompol Iswanto tentang regulasi yang mengatur tentang sektor pangan dengan denda uang dan kurungan badan, apabila menimbun pangan.
"Polri dapat mengenakan pasal menimbun pangan dan atau praktik kartel apabila imbauan hingga instruksi pemerintah tidak dipatuhi. Sesuai laporan Aster Kodam Diponegoro, Polda Jateng akan menindaklanjuti dengan pendekatan khusus, bagaimana caranya agar mitra kerja Bulog menjadi loyal," kata Kompol Iswanto.
Semarang of West Java (B2B) - Indonesia´s Semarang Logistics Agency and its 43 partners agreed with the Agriculture Ministry for purchase rice grain from farmers after signing the agreement to supply 425 tons of grain per day to Bulog Semarang to achieve the target of 98,000 tons of grain by the end of 2017.
Central Java´s Diponegoro Regional Miltary Command caled the Kodam IV Diponegoro warned the Bulog Semarang partners about loyal to the country before get ´special treatment´ from the police.
The food cordination meeting in the capital of Central Java province on Wednesday afternoon (October 18) resulted in an agreement between the Bulog Semarang and its rice grain supplier partners signed by the Head of Bulog Semarang Office, Gatot Endro Waluyo and six managers of Bulog warehouses with representatives of Bulog´s partners from Grobogan district, Kusdiono.
Bulog and its partners´ commitment was witnessed by the the head of ministry´s supervisory team, Teddy Rachmat Mulyadi, Territorial Assistant Kodam IV Diponegoro, Colonel Inf Amrin Ibrahim;
Deputy Director of Bulog´s Central Java, Djoni Nur Ashari; Head of the Central Java Food Security Agency, Dina Diana Rahmawati; and Head of Police´s Food Task Force, Commisioner Iswanto.
Mr. Mulyadi said that his side as the person in charge of the ministry is not tired of reminding the Bulog Semarang to pursue target of government, as instructed by Team Leader of Central Java province, Momon Rusmono about of rice grain for Bulog´s rice reserves as proof of ´country present in the middle of farmers´ as mandated by Nawa Cita prohram of President Joko Widodo about food security.
"The four coordination meetings have been held, and until now only realized 76,272 tons or 77.8% of 98,000 tons target for 2017," said Mr Mulyadi who was serves as Head of Institution at the Directorate General of Agency for Agricultural Extension and Human Resource Development (BPPSDMP).
He also questioned the absence of 43 Bulog Semarang partners, as stated by Mr Waluyo, about loyalty of Bulog´s partners to the nation and state "out of 43 only 12 partners are still loyal". Meanwhile, only two partners from Grobogan district were present, and one of them was Kusdiono who joined the commitment with the ministry.
Fines and Imprisonment
The absence of Semarang Bulog´s partners, infuriated Colonel Inf Amrin Ibrahim who questioned the loyalty of Bulog´s partners, and it will act decisively on those who are absent from their obligations as citizens.
"I will report to the commander then coordinate with the police to arrest them, arrest ... because there is a law article that they violate regarding food security," he said.
According to him, Bulog´s partners must be aware of their obligations after the government grants them the right to production infrastructure through farmer groups, and farmer group associations, "they are required to sell rice grain to the Bulog, not taken without pay."
The same opinion was said by Police Commissioner Iswanto regarding the regulation of the food sector with money penalties and confinement if proven to hoard food.
"Police may impose articles on hoarding of food and or cartel practices if they are not obedient." According to the report we received, the police will follow up with a specific approach, how to make the Bulog partners become loyal," he said.