Protani di Lampung, Itjentan Ajak Penyuluh Pertanian Perkokoh Integritas
Indonesian Agricultural Extension Workers are Expected to be Free of Bribery
Editor : M. Achsan Atjo
Translator : Dhelia Gani

PUBLISHED: Rabu, 06 Desember 2017 , 23:27:00 WIB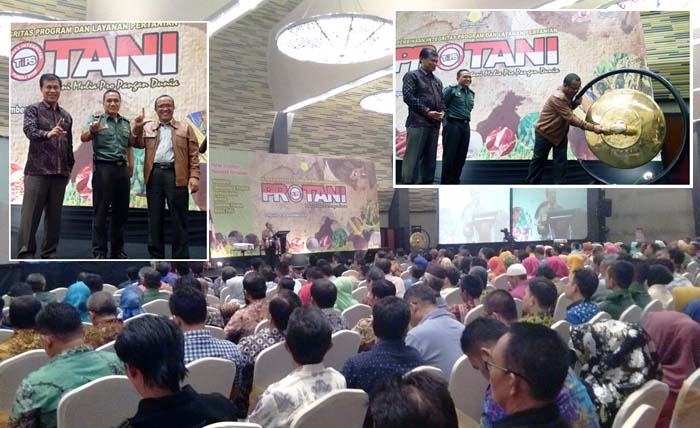 PROTANI LAMPUNG: Sekitar 300 peserta hadir mendengarkan arahan Irjentan Justan R Siahaan (memukul gong) dan bersama Kepala Distan Lampung, Edi Yanto dan Kasrem Lampung (Foto2: Humas Itjentan Kementan)
Jakarta (B2B) - Kementerian Pertanian RI bertekad melakukan reproduksi tunas integritas untuk mencegah terjadinya pungutan liar (Pungli) pada program pangan berkelanjutan dan pelayanan pertanian di Provinsi Lampung, dan penyuluh pertanian diharapkan berperan aktif secara profesional sebagai garda terdepan pembangunan pertanian nasional.

"Protani di Lampung fokus pada peningkatan peran strategis penyuluh pertanian dalam perumusan dan pelaksanaan kebijakan, program, dan layanan pertanian. Lampung juga potensinya luar biasa untuk mendukung terwujudnya swasembada pangan berkelanjutan," kata Inspektur Jenderal Kementan, Justan Riduan Siahaan saat membuka Protani di Bandar Lampung, Senin malam (4/12).

Tampak hadir Kepala Dinas Pertanian, Tanaman Pangan dan Hortikultura Provinsi Lampung, Edi Yanto mewakili Gubernur M Ridho Ficardo; pimpinan satuan kerja pemerintahan daerah (SKPD) provinsi/kabupaten/kota, penyuluh pertanian, para komandan Kodim/Koramil, bintara pembina desa (Babinsa), para ketua kelompok tani (Poktan) Lampung, dan pimpinan unit pelayanan teknis (UPT) Kementan di Lampung.

Justan mengingatkan, Protani yang berlangsung hingga hari ini (6/12) merupakan kegiatan ketiga setelah di Makassar, Provinsi Sulawesi Selatan dan Yogyakarta, DIY dengan mengusung semangat membangun sumber daya manusia (SDM) pertanian yang religius, profesional, visioner, dan berintegritas disingkat Reprovitas.

Menurutnya, Protani di Lampung bertujuan meningkatkan pemahaman bagi penyuluh pertanian terhadap program jangka pendek dan jangka panjang, sehingga penyuluh mampu berperan aktif mewujudkan program dan layanan pertanian yang bersih dan bebas dari pungli.

"Huruf O pada Protani merupakan ajakan dan dorongan dari Komisi Pemberantasan Korupsi atau KPK untuk membentuk satuan tugas anti pungutan liar di kementerian," kata Justan kepada 300 peserta Protani di Lampung.

Dia mengingatkan satuan kerja/UPT tidak memberikan imbalan dalam bentuk apapun kepada auditor dari Itjen Kementan dan jangan segan melaporkan yang bersangkutan apabila melakukan penyimpangan saat melaksanakan tugas.
Jakarta (B2B) - Indonesian agriculture ministry is determined to encourage anti-bribery spirit, called the Protani, to support the achievement of sustainable food security in Lampung Province, and agricultural extension workers are expected to play an active role support the agricultural development, according to the senior official.

"The Protani in Lampung focuses on increase strategic role of agricultural extension workers for implement agricultural policies, programs and services. Lampung's agricultural potential is very supportive of achieving sustainable food self-sufficiency," said the ministry's Inspector General, Justan Riduan Siahaan while opened the Protani in Bandar Lampung on Monday night (December 4).

It was attended by the province the head of local agriculture agency, Edi Yanto representing Governor M Ridho Ficardo; agricultural extension workers, the regional military commander, village counselors, heads of farmer groups, and heads of ministry technical services units in Lampung.

Mr. Siahaan reminded, the Protani activity which lasted until today (December 6) is third activity after in Makassar of South Sulawesi and Yogyakarta province to carry the spirit of building human resources that are religious, professional, visionary.

According to him, the Protani in Lampung aims to increase understanding for agricultural extension workers on short-term and long-term programs, so agricultural extension workers are able to work professionally and and free of bribes.

"The letter O on Protani is a call of Indonesia's Anti-graft Commission, called the KPK, formed an anti-bribery task force in the ministry," Mr Siahaan told told 300 participants of Protani in Lampung.

He cautioned that the work unit did not provide any kind of compensation to the auditor of the ministry, and immediately report it in case of any unlawful acts that violate the law.