Pemkab Purbalingga Apresiasi Gerak Cepat Mentan Antisipasi Hama Wereng Coklat
Indonesian Govt Move Quickly Overcome Pests of Rice Plants
Reporter : Gusmiati Waris
Editor : Cahyani Harzi
Translator : Dhelia Gani

PUBLISHED: Minggu, 13 Agustus 2017 , 23:40:00 WIB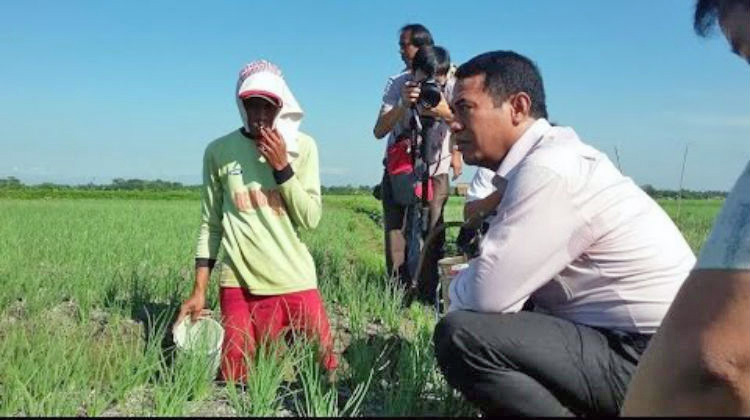 Mentan Andi Amran Sulaiman kerap berbincang dengan petani tentang kendala peningkatan produktivitas padi pada setiap kunjungan kerja di daerah (Foto: istimewa)
Jakarta (B2B) - Pemerintah Kabupaten Purbalingga mengapresiasi gerak cepat pemerintah pusat melalui instruksi Menteri Pertanian RI Andi Amran Sulaiman untuk mengantisipasi serangan hama wereng pada kabupaten di Provinsi Jawa Tengah, serangan hama yang semula mengancam 150 hektar dari luas tanam 15.000 hekter kini dapat terus diminimalisir.

Kepala Dinas Pertanian Purbalingga Lily Purwati mengapresiasi upaya berbagai pihak yang dikoordinir oleh Mentan Amran Sulaiman yang menginstruksikan Badan Penelitian dan Pengembangan Pertanian (Balitbangtan) mengusung teknologi bioprotektor, biodekomposer, dan sistem tanam Jarwo Super. Dukungan juga datang dari penyuluh pertanian Badan Penyuluhan dan Pengembangan SDM Pertanian (BPPSDMP), pakar pertanian dari Universitas Jenderal Soedirman dan bintara pembina desa (Babinsa) dari Kodim 0702/Purbalingga.

"Keberhasilan ini tidak terlepas dari kerjasama dan koordinasi pemerintah pusat dan Pemkab Purbalingga. Teknologi yang dibawa Balitbangtan terbukti ampuh mengendalikan hama wereng coklat," kata Lily Purwati.

Sebelumnya, Mentan Amran Sulaiman sejak jauh-jauh hari sudah menginstruksikan tim pengendalian hama di kementerian melakukan koordinasi dengan pemerintah daerah untuk mengendalikan dan memberantas hama wereng coklat agar tidak meluas.

Berdasarkan data dari Ditjen Tanaman Pangan Kementan bahwa total luas lahan yang terdampak hama wereng coklat dari Januari hingga Juli mencapai 67.749 hektar, sementara lahan gagal panen (puso) sekitar 746,71 hektar berdasarkan data dari hasil pengamatan pihak internal dan petugas pengendali organisme pengganggu tanaman (POPT) di seluruh Indonesia.

"Luas lahan yang diserang sangat kecil dibandingkan total luas tanam di seluruh Indonesia. Namun, sekecil apa pun harus diantisipasi sejak dini agar tidak meluas sehingga tidak terjadi gejolak yang mempengaruhi produksi padi. Saya sudah perintahkan semua unit kerja POPT bergerak, dan lahan terdampak wereng harus dipantau dan dilaporkan setiap hari," kata Mentan.
Jakarta (B2B) - Indonesia's Purbalingga district government of Central Java Province appreciates the anticipation of central government through the Agriculture Minister Andi Amran Sulaiman anticipates pest attack in Purbalingga, which threatens 150 hectares of rice fields of of 15,000 hectares of rice planting area and continues to be minimized, according to local government officials

The Director of Purbalingga Agriculture Office, Lily Purwati appreciate the efforts of related parties who was coordinated by Minister Sulaiman ordered the agricultural research and development agency to provide bioprotector, biodecomposer, and Jarwo Super planting system. Agricultural extension support from agricultural human resources development, agriculture experts of Purwokerto's General Soediirman University and NCOs of Purbalingga's 0702 Military Command.

"Support the techonlogy of agriculture ministry proven effective to control brown planthopper," Lily Purwati said.

Previously, Minister Sulaiman had instructed pest control team at the ministry to coordinate with the local government to control and prevent the widespread of brown planthopper.

Based on data from the Directorate General of Food Crops, the total area affected by brown planthopper from January to July reached 67,749 hectares, while the crop failure of 746.71 hectares was based on data
of pest control team across the country.

"Rice fields that are attacked by pests are very small compared to planted areas accross the country. However, no matter how small should be anticipated early so as not to affect rice production. I have ordered all work units to work hard, and the land affected by brown planthopper should be monitored and reported every day," Mr Sulaiman said.