Opini Publik, PPID Kementan Fokus pada Medsos dan Website di Jagat Maya
Indonesian Govt Manages Social Media and Website to Shape Public Opinion
Editor : M. Achsan Atjo
Translator : Dhelia Gani

PUBLISHED: Minggu, 15 April 2018 , 23:51:00 WIB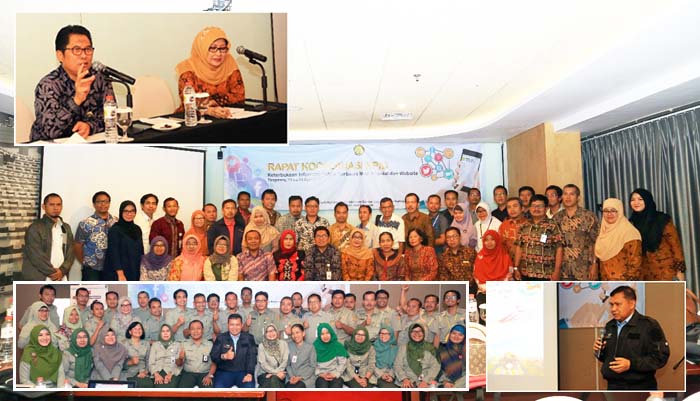 Kepala PPMKP Ciawi, Herry Suliyanto dan Kabag Evalap BPPSDMP Kementan, Titi Gartini (inset atas), para peserta Rakor PPID di Jakarta, 11 - 13 April 2018 dari seluruh UPT Badan SDM Kementan di seluruh Indonesia (Foto2: Humas/Pito)
Jakarta (B2B) - Media sosial dan website dinilai paling efektif untuk interaksi publik secara interaktif melalui jagat maya, untuk membentuk opini publik dan mendapat respons terhadap informasi yang disebarkan melalui pendekatan persuasif, hal itu selaras dengan arahan Menteri Pertanian RI Andi Amran Sulaiman yang kerap menekankan bahwa kegiatan dan capaian pembangunan pertanian oleh Kementerian Pertanian harus diketahui oleh publik.

Hal itu mengemuka dari rapat koordinasi pejabat pengelola informasi dan dokumentasi (Rakor PPID) lingkup Badan Penyuluhan dan Pengembangan SDM Pertanian (BPPSDMP) Kementerian Pertanian RI yang dibuka oleh Kepala Pusat Pelatihan Manajemen dan Kepemimpinan Pertanian - PPMKP Ciawi, Heri Suliyanto.

Tampak hadir Kepala Bagian Evaluasi dan Pelaporan (Evalap) Titin Gartini dan pranata Humas dari seluruh unit pelaksana teknis (UPT) BPPSDMP Kementan di seluruh Indonesia.

"Tema yang diangkat pada Rakor ini sejalan dengan arahan Mentan yang selalu menekankan bahwa capaian dan hasil kegiatan pembangunan pertanian yang telah kita lakukan dapat diketahui oleh masyarakat luas melalui berbagai media informasi, salah satunya media sosial dan website," kata Herry Suliyanto saat membuka Rakor PPID di Jakarta, belum lama ini.

Menurutnya, media sosial dianggap menjadi media yang paling efektif dimana orang - orang berbicara, berpartisipasi, berbagi, berjejaring, berinteraksi melalui aktivitas online. Sedangkan media informasi berbasis website merupakan pintu gerbang dari seluruh informasi.

"Melalui website seluruh pemangku kepentingan terkait, dapat mencari informasi apapun dan kapanpun secara lengkap dan akurat," kata Herry Suliyanto.

Titin Gartini menambahkan unsur terpenting dari media sosial atau medsos bagaimana membentuk opini publik dan respon terhadap informasi yang disebarkan, Pendekatan persuasive sangat diperlukan untuk membentuk opini publik.

"Dalam medsos dibutuhkan karakteristik pengelola dengan memilih admin yang fokus, mengetahui program strategis unit kerjanya, kreatif dan humoris," kata Titin.
Jakarta (B2B) - Social media and websites are considered to be most effective for interactive public interaction through cyberspace, to shape public opinion and respond to information spread with a persuasive approach, the policy was in line with instruction of Indonesian Agriculture Minister Andi Amran Sulaiman, that the activities and achievements of agricultural development by the ministry should be known by the public.

It emerged of coordination meeting of officials managing information and documentation of public relations officials in the Directorate General of Agency for Agricultural Extension and Human Resources Development or BPPSDMP who was opened by Director of Bogor´s Ciawi Agricultural Management and Leadership Training Center or PPMKP Ciawi, Herry Suliyanto.

It was attended by Head of Evaluation and Reporting, Titin Gartini of BPPSDMP and public relations practitioners of technical implementation units or UPTs across the country.

"Meeting topics is in line with the instructions of Minister Sulaiman who always stressed that the achievements and activities of agricultural development should be known by the public information media, social media and websites," Mr Suliyanto said.

According to him, social media is considered to be the most effective medium where people talk, participate, share, network, interact through online activities. While the media-based information website is the gateway of all information.

"Through the website of all relevant stakeholders, can find any information quickly and accurately," said Mr. Suliyanto.

Mrs. Gartini adds that the most important element of social media or medsos is how to shape public opinion and response to disseminated information. A persuasive approach is needed to shape public opinion.

"Characteristics of social media managers should choose a focused admin, know the strategic program unit, creative and humorous," said Titin.