Mentan Luncurkan24 Alsintan Hortikultura, Respon Cepat Instruksi Jokowi
President Widodo Declared 2018 as the Indonesian Horticulture Development
Editor : M. Achsan Atjo
Translator : Dhelia Gani

PUBLISHED: Kamis, 24 Agustus 2017 , 23:51:00 WIB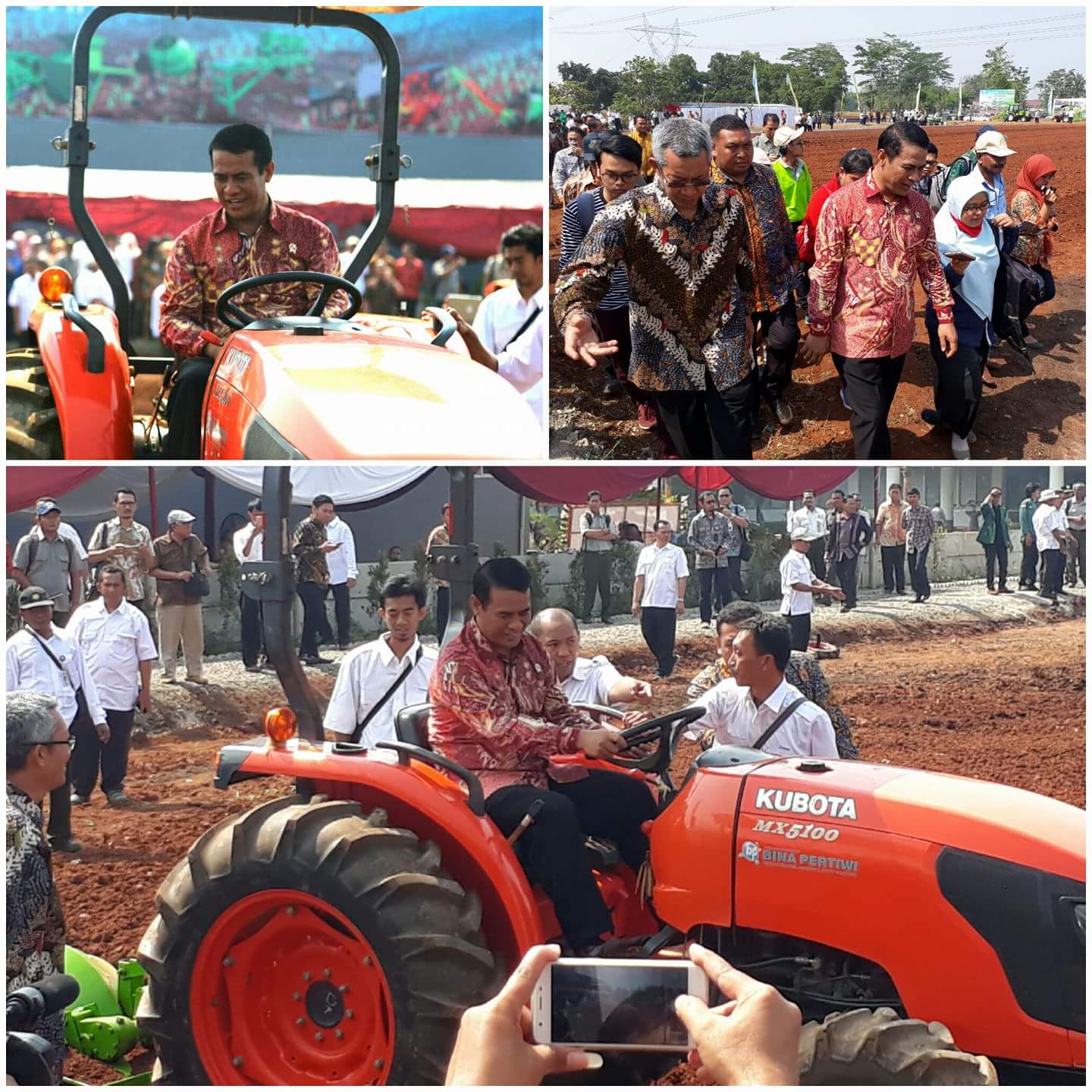 Mentan Andi Amran Sulaiman menguji coba mesin penggulud didampingi Kepala Balitbangtan Mohammad Syakir dan Kepala BB Mektan Andi Nur Alamsyah (Foto2: B2B/Mac)
Tangerang, Banten (B2B) - Menteri Pertanian Andi Amran Sulaiman meresmikan peluncuran 24 alat mesin pertanian (Alsintan) sebagai paket lengkap untuk mekanisasi hortikultura, dalam mendukung instruksi Presiden RI Joko Widodo setelah mencanangkan 2018 sebagai tahun pengembangan produk hortikultura.
Mentan Amran Sulaiman menyatakan apresiasinya pada Balai Besar Mekanisasi Pertanian (BB Mektan) yang responsif terhadap instruksi Presiden Jokowi untuk mendukung pengembangan hortikultura, dengan 24 mekanisasi hortikultura, sehingga dia optimis dalam waktu dekat Indonesia dapat menekan impor hortikultura utama, seperti halnya pada beras, cabai, dan bawang merah sudah tidak ada impor, dan menyusul stop impor jagung mulai tahun ini.
"Penerapan mekanisasi pertanian dalam usahatani hortikultura merupakan salah satu bentuk transformasi pertanian modern. Cirinya, produktivitas tinggi, efisien menggunakan sumberdaya dan teknologi, mampu menghasilkan output berkualitas, bernilai tambah dan daya saing tinggi," kata Mentan Amran Sulaiman di Serpong, Tangerang, Banten pada Kamis (24/8).
Mentan berharap paket lengkap mekanisasi tersebut akan mengembalikan kejayaan hortikultura Nusantara, dan dukungan BB Mektan dari Badan Penelitian dan Pengembangan Pertanian (Balitbangtan) akan membuat pekerjaan petani akan lebih mudah dan efisien9 dengan hasil panen hortikultura yang menguntungkan petani untuk meningkatkan kesejahteraan keluarga petani hortikultura di seluruh Indonesia.
Kepala Badan Litbang Pertanian, Mohammad Syakir mengatakan merupakan hal yang membanggakan di tengah peringatan 43 tahun Balitbangtan menghasilkan inovasi Alsintan untuk perbenihan hortikultura terintegrasi. Mulai dari penyiapan lahan, pengguludan, pemasang mulsa, persemaian benih didukung aplikasi Android pada Smart Green House, pemeliharaan benih, mesin penanam, mesin panen, sarana pengawetan dan penyimpanan.
Menurut Syakir, efisiensi dan produktivitas unit Alsintan seperti mesin otomatisasi perbenihan dan persemaian mampu menyiapkan benih sesuai dalam tray secara otomatis hingga 720 tray per jam, atau 75.600 benih umbi mini per jam atau setara dengan 604.800 benih umbi mini per hari, apabila bekerja selama delapan jam per hari.
"Singkatnya, unit Alsintan untuk prosesing TSS tersebut mampu menyiapkan benih mini untuk sekitar lima sampai enam hektar per hari," kata Syakir.
Kepala BB Mektan Andi Nur Alamsyah mengatakan meskipun mekanisasi hortikultura yang diterapkan tergolong berteknologi tinggi, namun pengoperasiannya sederhana dan mudah diterapkan petani sehingga sangat layak secara ekonomi.
Andi Nur menambahkan paket lengkap mekanisasi hortikultura terintegrasi hasil riset dan inovasi BB Mektan didukung hampir 50% konten lokal atau buatan dalam negeri
Kendati begitu, Mentan Amran Sulaiman mengingatkan BB Mektan untuk terus berupaya meningkatkan tingkat kandungan dalam negeri (TKDN) sehingga dapat menekan impor teknologi pertanian.
Tangerang, Banten (B2B) - Indonesian Agriculture Minister Andi Amran Sulaiman launched 24 agricultural machinery for horticulture mechanization in support of production increase, the mechanization aims to follow up instructions of President Joko Widodo after declared 2018 as the year of Indonesian horticulture development.
Minister Sulaiman appreciated the Indonesian Center for Agricultural Mechanization (BB Mektan) which he considered responsive to support President Widodo´s instruction for Indonesian horticulture, so he is optimistic Indonesia in the near future can reduce volume of horticultural imports, as well as rice, chilli, and shallots are not imported, and stop imports of corn this year.
"Horticulture mechanization as the transformation of modern agriculture. The characteristic is high productivity, efficient use of resources and technology, high output, quality, value added and high competitiveness," Minister said here on Thursday (August 24).
Minister Sulaiman hopes the complete package of mechanization will restore the glory of Indonesian horticulture, and support of the BB Mektan of Indonesian Agency for Agricultural Research and Development Ministry of Agriculture (Balitbangtan) will make farmers´ work easier and more efficient with harvests that benefit farmers across the country.
Director General of Agricultural Research Agency, Mohammad Syakir said it is a matter of pride in the commemoration of 43 years of Balitbangtan produce innovation for integrated horticulture seed. Starting from land preparation, grinding, mulch-installers, seedbeds supported Android applications on Smart Green House, seed maintenance, planting machines, harvesting machines, preservation and storage facilities.
According to Syakir, efficiency and productivity of agricultural mechanization such as seed and nursery automation engines are able to prepare the seeds according to tray automatically up to 720 tray per hour, or 75,600 mini seedlings per hour or equivalent of 604,800 mini tubers per day, working for eight hours per day.
In short, horticultural mechanization for the processing is able to prepare mini seeds of about five to six hectares per day," he said.
Director of BB Mektan Andi Nur Alamsyah said that although horticulture mechanization is high tech, it is easy to use so it is economical.
Mr Alamsyah added a complete package of integrated horticultural mechanization supported by almost 50% local or home-made content.
Nevertheless, Minister Sulaiman reminded the BB Mektan to keep trying to increase the level of domestic content so that it can suppress the import of agricultural technology.