Dirjen Spudnik Optimistis Produksi Bawang Tetap Surplus Hingga Oktober 2017
Indonesia`s Shallot Production Remains Surplus until October 2017: Ministry
Reporter : Gusmiati Waris
Editor : Cahyani Harzi
Translator : Dhelia Gani

PUBLISHED: Kamis, 17 Agustus 2017 , 23:59:00 WIB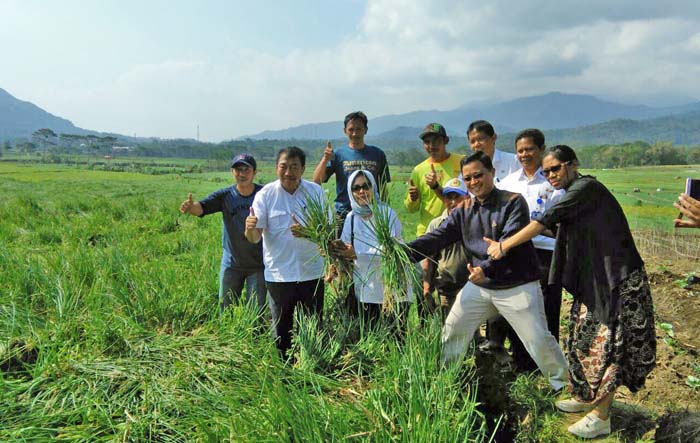 Dirjen Hortikultura Spudnik Sujono (ke-2 kiri), Kasubbag Hukum dan Humas Ina Ngana (kanan) dan Kasubdit Aneka Cabai dan Sayuran Buah, Agung Sunusi (ke-2 kanan) Foto: B2B/Gusmiati Waris
Malang, Jawa Timur (B2B) - Meski hanya setengah hari berada di Kabupaten Malang, Jawa Timur, Dirjen Hortikultura Spudnik Sujono pada Rabu (16/8) tidak melewatkan kesempatan menyaksikan panen bawang merah di lahan seluas 1.600 hektar di Kecamatan Ngantang, yang sejauh mata memandang hanya hamparan tanaman bawang, dan dia optimistis produksi bawang merah surplus hingga Oktober 2017.

Dirjen Spudnik Sujono didampingi Kasubdit Aneka Cabai dan Sayuran Buah, Agung Sunusi tampak sumringah memperhatikan para petani dan buruh tani bekerja keras melakukan panen bawang, kemudian berbincang dan memberi motivasi kepada mereka tentang kontribusi hasil pertanian bagi kesejahteraan keluarga mereka dan memenuhi kebutuhan konsumen.

"Saat ini pasokan bawang merah secara nasional berada pada posisi surplus. Kebutuhan nasional untuk Agustus sekitar 107.746 ton sementara pasokan dari seluruh sentra produksi mencapai 123.849 ton berarti surplus 16.103 ton," kata Spudnik Sujono yang didampingi Kasubbag Humas Ina Ngana.

Dia mengaku optimistis produksi bawang tetap surplus
hingga Oktober 2017 mengacu pada produksi September mencapai 108.987 ton di atas kebutuhan nasional 100.291 ton atau surplus 8.696 ton.

"Sampai Oktober diperkirakan tetap surplus, dengan perkiraan produksi 108.987 ton di atas kebutuhan konsumen nasional sekitar 99.374 ton sehingga ada surplus 9.613 ton," katanya.

Pola Tanam
Kementerian Pertanian RI terus berupaya meningkatkan produksi bawang merah meskipun indikatornya surplus, jika mengacu pada kebutuhan dibandingkan dengan rencana pola tanam di sentra-sentra produksi bawang merah.

Menurut Spudnik, perbandingan neraca kebutuhan dan produksi bawang merah pada 2017 di Jawa, Sulawesi, Bali, dan Nusa Tenggara dalam posisi surplus, namun Kalimantan defisit 26.280 ton, Sumatera kekurangan 34.356 ton, Maluku dan Papua masih membutuhkan suplai 5.797 ton.

Kementan mengharapkan pengembangan zonasi produksi di 32 kabupaten dan kebutuhan Kalimantan dipenuhi produksi bawang merah dari Kabupaten Tapin dan Hulu Sungai Selatan di Provinsi Kalimantan Selatan, sementara pengembangan di Maluku sebagai buffer zone untuk Kawasan Timur Indonesia (KTI).

Ditjen Hortikultura telah mengembangkan zonasi untuk Pulau Sumatera dikembangkan di Kabupaten Simalungun, Provinsi Sumatera Utara kemudian Provinsi Sumatera Barat di Kabupaten Solok dan Kabupaten Solok Selatan, Kabupaten Kerinci di Provinsi Jambi dan Kabupaten Tanggamus di Provinsi Lampung.
Malang, East Java (B2B) - Although only a half day in Malang district of East Java province, the Director General of Horticulture Spudnik Sujono on Wednesday, still provides time to attend the 1,600 hectare shallots harvest in Ngantang subdistrict, and he is optimistic that Indonesia's onion production will remain surplus until October 2017.

Mr Sujono who was accompanied by his staff, Agung Sunusi looks happy to pay attention to the farmers and laborers to shallot harvest, then talked and motivate them about the contribution of agricultural produce to their family welfare and meet consumer needs.

"Now the national shallot production is surplus. The national demand for August is 107,746 tons while the supply from all production centers reaches 123,849 tons, or surplus of 16,103 tons," Mr Sujono said who was accompanied by directorate general's spokeswomen, Ina Ngana.

He admitted optimistic onion production remains surplus until October 2017 refers to production of September 108,987 tons above the national demand of 100,291 tons or surplus of 8,696 tons.

"Production October is expected remain surplus, the production forecast of 108,987 tons above consumer demand around 99,374 tons, or surplus of 9,613 tons," he said.

The Cropping Pattern
Indonesian agriculture ministry continues to increase shallot production even though the indicator is surplus, refer to consumer needs and cropping patterns in shallot production centers.

Comparison of balance of needs and production in Java, Sulawesi, Bali and Nusa Tenggara in surplus position, but Kalimantan deficit 26,280 tons, Sumatra deficit 34,356 tons, Maluku and Papua deficit 5,797 tons.

The ministry expects development of production zones in 32 districts and Kalimantan's needs are met by onion production from Tapin and Hulu Sungai Selatan districts in South Borneo province, while in Moluccas as buffer zone for Eastern Indonesia.

Indonesia has developed the Sumatran production zone in Simalungun district of North Sumatra province; West Sumatera province in Solok district and South Solok district; Kerinci district in Jambi province and Tanggamus district in Lampung province.