DPR dan DPD Apresiasi Kinerja Kementan seraya Ingatkan Tantangan ke Depan
Indonesia Rankings 21st in the BCFN Foundation Hailed by Democrat MP and Senator
Reporter : Gusmiati Waris
Editor : Cahyani Harzi
Translator : Dhelia Gani

PUBLISHED: Rabu, 05 Juli 2017 , 02:40:50 WIB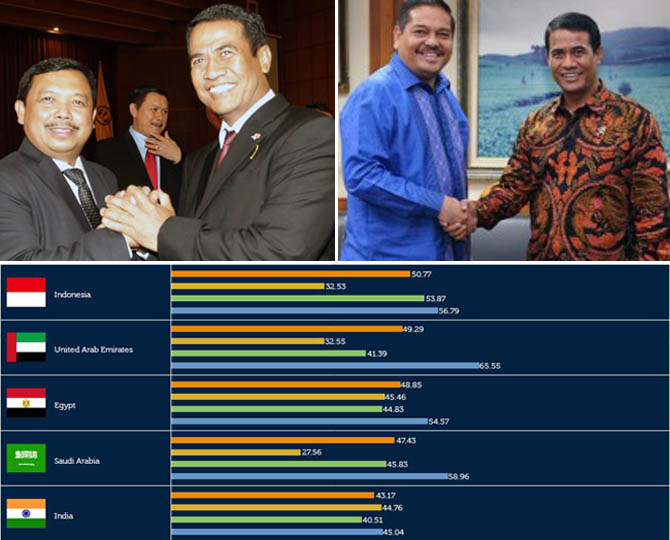 Mentan Andi Amran Sulaiman dengan Wakil Ketua Komisi IV DPR RI Herman Khaeron (kiri atas) dengan Ketua Komite II DPD RI Parlindungan Purba dan peringkat Indonesia di BCFN Foundation di atas Uni Emirat Arab, Mesir, Arab Saudi, dan India (Tabel: BCFN Founda
Jakarta (B2B) - Menteri Pertanian RI Andi Amran Sulaiman dan jajaran di kementeriannya diminta tidak berpuas diri atas kinerja positif selama tiga tahun terakhir, karena tantangan bidang pangan ke depan semakin berat, meskipun pembangunan pertanian Indonesia diakui dunia seperti dilansir oleh Barilla Center for Food and Nutrition (BCFN) Foundation, lembaga riset dan analisis ekonomi internasional di London.

Hal itu dikemukakan oleh Wakil Ketua Komisi IV DPR RI, Herman Khaeron, Ketua Komite II DPD RI Parlindungan Purba dan Ketua Umum Kontak Tani Nelayan Andalan (KTNA), Winarno Tohir, menyikapi mendukung suplai bahan pokok dari sentra produksi untuk memenuhi kebutuhan Ramadan - Lebaran dan hasil riset BFCN Foundation yang menempatkan Indonesia di peringkat 21 dengan skor 50,77 dalam Indeks Keberlanjutan Pangan (Food Sustainability Index disingkat FSI).

Politisi Demokrat ini mengingatkan Kementan untuk meningkatkan kinerja ke depan lantaran tantangan peningkatan produksi dan pemenuhan kebutuhan pangan semakin berat, namun dia tidak menampik keberhasilan Mentan Amran Sulaiman memimpin jajarannya untuk meningkatkan produksi pangan untuk memenuhi kebutuhan pangan rakyat dan menambah devisa negara melalui ekspor pangan ke mancanegara.

"Jangan cepat berpuas diri karena tantangan bidang pangan ke depan semakin berat, dan jajaran Kementan jangan berpuas diri tapi terus meningkatkan kinerjanya," kata Herman.

Dia juga mengapresiasi kinerja Mentan Amran Sulaiman namun kesuksesan tersebut tak lepas dari dukungan petani, kerjasama dengan instansi-instansi terkait, koordinasi dengan DPR, dukungan pemerintah daerah, dan partisipasi pihak swasta.

"Keberhasilan ini juga tidak terlepas dari upaya panjang menuju kedaulatan, kemandirian, ketahanan, dan keamanan pangan dari kinerja pemerintahan sebelumnya yang tidak terputus dilanjutkan oleh pemerintahan saat ini," kata Herman.

Capaian Signifikan
Parlindungan Purba dan Winarno Tohir menyoroti hasil riset BCFN Foundation yang menilai hasil riset tersebut sebagai pengakuan internasional atas capaian signifikan pembangunan pertanian nasional.

"Ini berkat kerja keras pemerintah yang telah mulai membuahkan hasil yang menggembirakan karena koordinasi yang baik lintas kementerian dan pihak terkait," kata Parlindungan.

Menurut Winarno, capaian signifikan tersebut membuktikan perkembangan sektor pertanian di Indonesia selaras dengan program pemerintah.

"Riset BFCN Foundation argumen' tak terbantahkan untuk pihak-pihak yang selama ini mengkritisi kinerja pemerintah di sektor pangan. Bagi yang masih ragu sudah terjawab. Semuanya sudah transparan bahwa pertanian Indonesia memang hebat," katanya.

Riset BCFN Foundation
Hasil riset BFCN Foundation menunjukkan bahwa pertanian Indonesia masuk 25 besar dunia. Negara yang diteliti dengan pertimbangan 2/3 penduduk dunia berada di 25 negara tersebut dan sudah mencakup 87 persen dari total Produk Domestik Bruto (PDB) dunia.

Secara keseluruhan, Indonesia berada di peringkat 21 dengan skor 50,77 setelah Brasil serta di atas Uni Emirat Arab, Mesir, Arab Saudi, dan India.

Sementara untuk Sustainability Agriculture, Indonesia berada di peringkat 16 dengan skor 53,87 setelah Argentina namun melampaui China, Etiopia, Amerika Serikat, Nigeria, Arab Saudi, Afrika Selatan, Mesir, Uni Emirat Arab, dan India.

Pada aspek Nutritinal Challeges, Indonesia berada di peringkat 18 dengan skor 56,79 setelah Brasil namun melampaui Turki, Rusia, Mesir, Meksiko, Afrika Selatan, Nigeria, dan India.

Sedangkan pada aspek Food Loss and Waste, Indonesia berada peringkat 24 (32,53) setelah Uni Emirat Arab dan di atas Arab Saudi.
Jakarta (B2B) - Indonesian Agriculture Minister Andi Amran Sulaiman and the ministry were asked not to be satisfied with the positive performance of the last three years, because the challenges ahead are heavier even though Indonesia's agricultural development is recognized worldwide, especially by the Barilla Center for Food and Nutrition (BCFN) Foundation, an international research and analysis institute in London, according to the Indonesian politicians

It was stated by the Vice Chairman House's Commission IV (DPR) Herman Khaeron; senator of the Regional Representative Council (DPD) Parlindungan Purba and Chairman of Indonesian Farmers and Fishermen Association (KTNA) Winarno Tohir responded the success of agriculture ministry support the supply of staple goods and controlled the price during Ramadan and ahead of the Eid, and Indonesia rankings 21st with a score of 50.77 on the Food Sustainability Index released by the BCFN Foundation.

Democrat MP Herman Khaeron reminded the agriculture ministry to improve its performance in the future due to the daunting challenge of increasing food production, but he did not deny the success of Minister Andi Amran Sulaiman encouraging the increase of Indonesian agricultural production.

"Do not be satisfied because the challenges ahead are getting tougher, and the ministry should continue to improve performance," he said.

He also appreciated Minister Sulaiman, but the success was supported by farmers, cooperation with relevant agencies, coordination with parliament, local government support, and private sector participation.

"The success is inseparable from the long effort towards food sovereignty from the previous government and continued by the current government," Mr Khaeron said.

Significant Achievement
Parlindungan Purba and Winarno Tohir highlighted the BCFN Foundation's research as an international recognition of Indonesia's significant agricultural development achievements.

"The hard work of the government shows a positive trend, because of good coordination across ministries and related parties," Mr Purba said.

According to Mr Tohir, this significant achievement proves the development of agricultural sector in Indonesia in line with the government program.

"The BFCN Foundation's research is an irrefutable argument for critical parties to the government on the food sector, which is the answer for those who are in doubt about the government, all transparent," he said.

BCFN Foundation Research
The BFCN Foundation´s research results show that Indonesia´s agriculture is in the top 25 in the world. The country studied by taking into account 2/3 of the world´s population is in 25 countries or 87 percent of the total Gross Domestic Product (GDP) of the world.

Overall, Indonesia is ranking 21st with a score of 50.77 after Brazil and above the United Arab Emirates, Egypt, Saudi Arabia, and India.

While for Sustainability Agriculture, Indonesia is rankings 16th with a score of 53.87 after Argentina but above China, Ethiopia, United States, Nigeria, Saudi Arabia, South Africa, Egypt, United Arab Emirates and India.

On the Nutritional Challenges aspect, Indonesia is rankings 18th with a score of 56.79 after Brazil but above Turkey, Russia, Egypt, Mexico, South Africa, Nigeria and India.

While on the aspect of Food Loss and Waste, Indonesia rankings 24 and a score of 32.53 after the United Arab Emirates and above Saudi Arabia.