Ketersediaan Air, Ditjen PSP Kementan Bangun Embung dan Konservasi Lahan
Indonesian Develops Small Farm Reservoir to Anticipate Drought Season
Editor : M. Achsan Atjo
Translator : Dhelia Gani

PUBLISHED: Jum'at, 16 Agustus 2019 , 02:41:00 WIB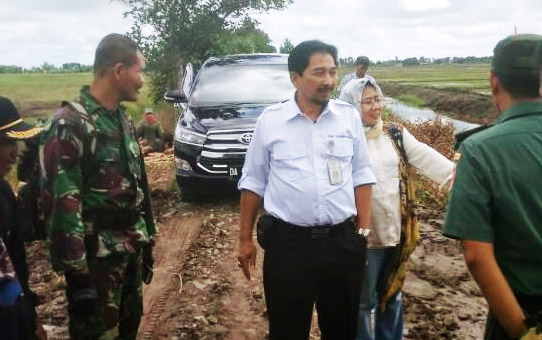 Dirjen PSP Kementan, Sarwo Edhy [kemeja putih] Foto: Humas Ditjen PSP Kementan
Jakarta [B2B] - Ketersediaan air menentukan eksistensi lahan pertanian, namun mengelola air untuk pertanian bukanlah hal mudah. Di musim penghujan, lahan pertanian yang terairi secara berlebihan akan membuat tanaman pertanian menjadi busuk. Sebaliknya, di musim kemarau jika ketersediaan air kurang maka akan menyebabkan kekeringan dan tanaman akan mati.
Kementerian Pertanian melalui Direktorat Jendral Prasarana dan Sarana Pertanian [Ditjen PSP Kementan] mengupayakan konservasi lahan melalui program Flood Management Selected River Basins [FMSRB] dana Loan ADB 3440 INO seperti pengelolaan air dengan membangun kolam penampungan air dari sumber air [embung] seperti dilakukan di Kecamatan Cipanas, Kabupaten Lebak, Banten.
"FMSRB adalah program yang dilaksanakan di Kabupaten Lebak, Kabupaten Pandeglang, dan Kabupaten Serang dengan pemikiran bahwa di tiga kabupaten tersebut lahan pertanian tak lepas dari peran sumber air dan daerah aliran sungai Ciujung dalam penyediaan air," kata Dirjen PSP Sarwo Edhy.
Menurutnya, apabila DAS Ciujung tidak dikelola dengan baik, maka lahan pertanian yang seharusnya produktif menjadi kurang produktif. Pembuatan embung sangat diperlukan, apabila di musim hujan lahan tidak terendam air, di musim kemarau saat air dari irigasi tidak mencukupi, maka embung bisa dimanfaatkan secara efektif dan efisien untuk mengairi lahan padi atau tanaman pertanian lainnya.
Menurut Sarwo Edhy, selain membangun embung untuk meningkatkan kesejahteraan petani di Kabupaten Lebak, Dirjen PSP melalui program yang sama telah dan sedang melakukan kegiatan berupa konservasi lahan seluas 325 hektar, optimalisasi lahan seluas 75 hektar, pembuatan dam parit, instalasi perpompaan, pembuatan sumur resapan, dan banyak lagi.
"Proyek ini juga mendukung pilihan mata pencaharian bagi para petani yang mencakup penyediaan ternak (sumber pupuk organik), peralatan pertanian, benih dan bibit dari berbagai varietas hasil panen tinggi dan lain-lain untuk memastikan keberlanjutan investasi terasering," kata Dirjen PSP.
Jakarta [B2B] - The small farm reservoir locally known as the embung was chosen by Indonesian Agriculture Ministry to support the provision of water on agricultural land, especially in swamps to meet water needs in tidal and swamp land.