Mentan Instruksikan Empat Kabupaten di Sulsel Pasok Sayuran ke Makassar, Ini Alasannya
Four Districts in South Sulawesi Will Supply Vegetables to the Provincial Capital
Reporter : Gusmiati Waris
Editor : Cahyani Harzi
Translator : Dhelia Gani

PUBLISHED: Sabtu, 18 November 2017 , 02:45:00 WIB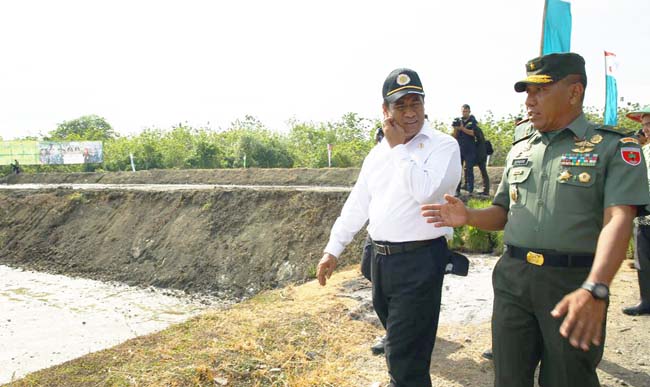 Mentan Amran Sulaiman (kiri) meninjau lahan tidur di Kabupaten Soppeng, Sulsel didampingi Kasdam Wirabuana Brigjen TNI Supartodi (Foto: Humas Kementan)
Jakarta (B2B) - Pemerintah RI mendorong empat kabupaten di Sulawesi Selatan menjadi penyangga kebutuhan pangan khususnya sayur-mayur untuk ibukota provinsi, Makassar, dan
Kementerian Pertanian menugaskan Balai Penelitian Tanaman Serealia (Balitsereal) di Maros untuk memasok bibit dan benih secara gratis kepada petani di Kabupaten Soppeng, Maros, Gowa dan Takalar.

"Itu program kami ke depan, bagaimana menyelesaikan sayur mayur ke ibu kota provinsi di Makassar, diselesaikan oleh kabupaten di sekelilingnya," kata Mentan Andi Amran Sulaiman saat kunjungan kerja di Kabupaten Soppeng pada Jumat (17/11) bersama Menteri Desa, Pembangunan Daerah Tertinggal dan Transmigrasi, Eko PS.

Menurut Mentan, dengan adanya kabupaten penyangga untuk kebutuhan sayuran maka akan berpengaruh signifikan terhadap biaya transportasi komoditas pangan, sehingga biaya distribusi dapat ditekan.

"Artinya, dengan harga pangan yang terjangkau konsumen tidak akan memicu inflasi, dan berdampak pada kesejahteraan petani dan masyarakat," kata Mentan.
Jakarta (B2B) - The Indonesian government has instructed four districts in South Sulawesi province support food supplies, especially vegetables for Makassar, the provincial capital, and the agriculture ministry ordered Maros's Agricultural Research and Development Center to supply free seeds for farmers in Soppeng, Maros, Gowa and Takalar districts.

"That's our program ahead, how to meet the needs of vegetables to the provincial capital in Makassar, four districts that will supply," said Agriculture Minister Andi Amran Sulaiman on a working visit in Soppeng district on Friday (November 17) with Village and Transmigration Minister, Eko Putro Sanjoyo.

According to Minister Sulaiman, the existence of buffer districts for vegetable needs, it will have a significant effect on transportation costs of food commodities, so that distribution costs can be suppressed.

"I mean, the affordable food prices of consumers will not trigger inflation, and will improve the welfare of farmers and communities," he said.