Kementan dan 14 K/L Raih Penghargaan Apresiasi Lebaran 2017
Indonesian Agriculture Ministry Considered Success Support Food Supplies during Ramadan and Eid
Reporter : Gusmiati Waris
Editor : Cahyani Harzi
Translator : Dhelia Gani

PUBLISHED: Rabu, 02 Agustus 2017 , 02:06:00 WIB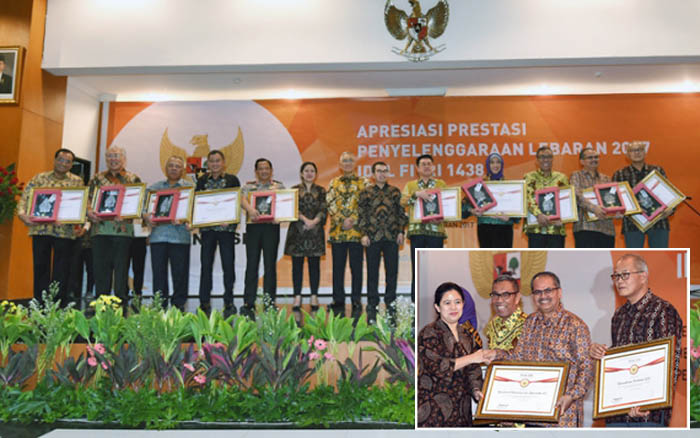 Kepala UKP PIP Yudi Latif, Dewan Pembina UKP PIP Try Sutrisno dan Menko PMK Puan Maharani bersama para menteri dan direksi BUMN penerima penghargaan, Sekjen Kementan Hari Priono (inset) Foto: istimewa
Jakarta (B2B) - Kementerian Pertanian RI menjadi salah satu dari 15 kementerian/lembaga pemerintah dan BUMN yang menerima penghargaan 'Apresiasi Prestasi Lebaran 2017' dari Unit Kerja Presiden Pembinaan Ideologi Pancasila (UKP PIP) di Gedung Krida Bhakti, Sekretariat Negara pada Selasa (1/8).

Kepala UKP PIP Yudi Latif menyerahkan penghargaan tersebut kepada Sekretaris Jenderal Kementan, Hari Priono, yang mewakili Menteri Pertanian RI Andi Amran Sulaiman karena masih melakukan kunjungan kerja di Makassar, Sulawesi Selatan.

Yudi Latif mengatakan penghargaan tersebut merupakan langkah pertama UKP PIP untuk mengapresiasi kinerja positif aparatur negara, dan masyarakat yang menunjukkan semangat kerja gotong royong yang diharapkan dapat menjadi contoh teladan dalam tata kelola pemerintahan dan perusahaan yang baik.

"Penghargaan serupa akan diberikan secara reguler dan ke depan akan bekerjasama dengan Pokja Revolusi Mental" kata Yudi Latif.

Kementerian lain yang menerima penghargaan adalah Kementerian Perdagangan, Kementerian Perhubungan, Kementeri Pekerjaan Umum dan Perumahan Rakyat (PUPR), Kementerian Kesehatan, Kementerian Energi Sumber Daya Mineral (ESDM), Kementerian Agama, Kementerian Komunikasi dan Informatika (Kominfo), Polri, PT Jasa Marga, PT PLN, PT ASDP.

Kementan dinilai berhasil dalam memastikan pasokan komoditas pertanian sebagai bagian bahan pokok penting pada periode tersebut.

"Saya ingin memberikan apresiasi kepada menteri terkait, dengan pola yang sudah ada ini perlu dipertahankan dan disempurnakan lagi. Jadi menteri pertanian, menteri perdagangan dan Kapolri yang telah bekerja keras untuk stabilisasi harga kebutuhan pokok," kata Presiden Joko Widodo pada sidang kabinet paripurna di Istana Merdeka (22/6) setelah dinilai berhasil mendukung suplai dan pengendalian harga bahan pokok dan cenderung baik selama masa menjelang Lebaran.
Jakarta (B2B) - Indonesian Agriculture Ministry is one of 15 ministries/government agencies and state-owned enterprises are eligible to receive 'Appreciation of Achievement Supports of Eid' from the presidential working unit of Reinforcement State Ideology's Pancasila called the UKP PIP here on Tuesday (August 1).

Chairman of the UKP PIP Yudi Latif handed over the award plaque to Secretary General of Agriculture Ministry, Hari Priono representing Minister Andi Amran Sulaiman due to working visit in South Sulawesi province.

Mr Latif said the award is the first step of his office to appreciate the positive performance of state and community apparatus to work together so that it can be an example of good governance.

"These awards take place regularly, and in the future will cooperate with the working group of mental revolution," he said.

Other ministries receiving the award are trade ministry, transportation ministry, ministry of public works and public housing, health ministry, energy and mineral resources ministry, religion affairs ministry, communication and informatics ministry, Indonesian police, state toll road company Jasa Marga Corp, state electricity company PLN, and state ferry company ASDP.

Meanwhile agriculture ministry who considered success supported the supply of staple goods and controlled the price during Ramadan and ahead of the Eid.

"I appreciate the ministers and the police chief, the hard work must be continued and improved. So the agriculture minister, trade minister and police chief have worked hard to stabilize the staple goods prices," President Joko Widodo said at the plenary cabinet meeting at the Merdeka Palace (June 22) who successfully supported the supply of staple goods and controlled the price during Ramadan and ahead of the Eid.