Penas KTNA 2017 Buktikan Aceh Aman dan Damai untuk Investasi
Aceh is Now Conducive and Safe for Investment: Governor
Editor : M. Achsan Atjo
Translator : Dhelia Gani

PUBLISHED: Selasa, 09 Mei 2017 , 04:42:09 WIB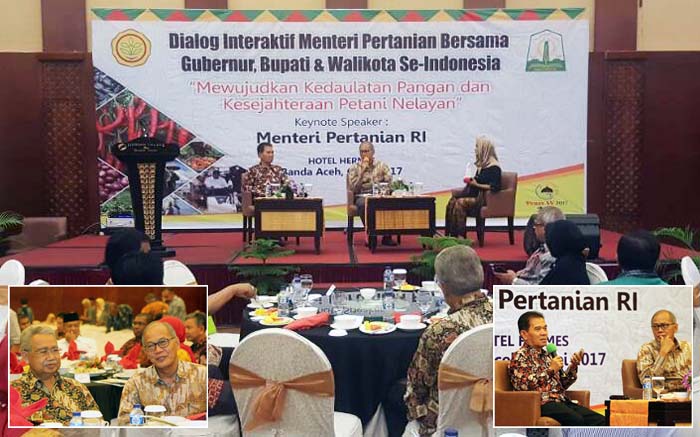 Dialog interaktif Penas KTNA Aceh 2017 tampilkan pembicara Sekjen Kementan Hari Priyono dan Ketua Umum KTNA Winarno Thohir, dan Gubernur Aceh Zaini Abdullah (Foto2: Kementan/Rizki)
Banda Aceh, NAD (B2B) - Pekan Nasional Petani dan Nelayan atau PENAS KTNA 2017 di Banda Aceh menjadi bukti bahwa Nangroe Aceh Darussalam (NAD) Aceh kian kondusif dan aman bagi investor Indonesia maupun dari mancanegara, dan sektor pertanian menunjukkan kinerja positif dengan meningkatnya produksi beras dan jagung sehingga layak menjadi lumbung pangan nasional di Sumatera.

Pandangan tersebut dikemukakan oleh Gubernur Aceh Zaini Abdullah, Sekretaris Jenderal Kementerian Pertanian RI Hari Priyono dan Ketua Umum Kontak Tani Nelayan Andalan (KTNA) Winarno Thohir pada dialog interaktif 'Mewujudkan Kedaulatan Pangan dan Kesejahteraan Petani dan Nelayan' di Banda Aceh pada Sabtu malam (6/5).

Gubernur Zaini Abdullah mengatakan Penas KTNA XV di Aceh merupakan kesempatan bagi kami untuk meningkatkan ekonomi masyarakat.

"Melalui Penas KTNA saya harapkan perwakilan dari daerah yang hadir saat ini dapat menginformasikan kepada investor dan pengusaha bahwa saat ini Aceh aman dan damai untuk investasi," katanya.

Dia mengapresiasi kinerja Menteri Pertanian RI Andi Amran Sulaiman yang sangat gigih dalam pengembangan pertanian. "Beliau hadir di Aceh untuk mendongkrak produksi jagung. Saya berharap ke depan, Aceh dapat menjadi bagian dari lumbung pangan nasional."

Posisi Petani
Sekjen Kementan Hari Priyono mengatakan pertumbuhan sektor pertanian selalu positif walaupun terjadi krisis ekonomi seperti produksi beras dan jagung terus meningkat.

"Meskipun begitu saya heran, walaupun pemerintah mampu stop impor beras, cabai dan bawang tahun lalu, tetapi masih saja ada pengamat yang meragukan kinerja pemerintah sekali pun data tersebut berasal dari BPS (badan pusat statistik)," kata Hari.

Menurutnya, posisi petani selalu dipandang lemah padahal petani yang paling berperan meningkatkan produksi pangan, harus difahami bahwa pertanian berlandaskan ekonomi kerakyatan dan pemerintah harus berperan di semua lini.

Sementara Winarno Thohir menyoroti dukungan penanganan pascapanen bagi petani dan kepastian harga untuk meningkatkan kesejahteraan petani.

"Khusus kedelai harganya yang rendah membuat petani enggan menanam maka pendekatan bioteknologi menjadi alternatif untuk peningkatan produksi," kata ketua umum KTNA ini lagi.
Banda Aceh, Aceh (B2B) - The National Week of Farmers and Fishermen called the Penas KTNA in Banda Aceh is proves that Aceh province is conducive and secure for national and foreign investors, and the agricultural sector and the agricultural sector has shown a positive development with increasing rice and corn production so it is feasible to become a food barn in Sumatera island.

It was said by Aceh Governor Zaini Abdullah, Secretary General of Agriculture Ministry Hari Priyono and Chairman of Indonesian Farmers and Fishermen Association Winarno Thohir in an interactive dialogue here on Saturday night (May 6).

Governor Zaini Abdullah said the Penas KTNA in Aceh is an opportunity for us to improve the local economy.

"Through the Penas KTNA we expect participants from across the country can deliver information to investors and entrepreneurs that Aceh is safe and peaceful for investment," he said.

He appreciated Agricultural Minister Andi Amran Sulaiman was very persistent in developing Indonesian agriculture. "He came to Aceh to boost corn production. "I hope Aceh can be part of the food barn."

Farmers Position
Mr. Priyono said the growth of the agricultural sector is always positive despite the economic crisis such as rice and corn production continues to increase.

"But I wonder, although the government was able to stop importing rice, chilli and shallots last year, but there are analysts who doubt the government's performance even if the data comes from BPS (statistics agency)," he said.

According to him, the position of farmers is always considered weak though farmers, should be understood that agriculture based on populist economy and the government must play a role in all lines.

While Winarno Thohir assessed postharvest handling support for farmers, and the certainty of food production prices as a determinant to improve the welfare of farmers.

"Regarding soybeans, the low price makes farmers reluctant to plant, biotechnology be an alternative approach to increase production," Mr Thohir said.