RI Kembangkan Lumbung Pangan di Perbatasan Bidik Ekspor Asia Tenggara dan Pasifik
Indonesia Develops Barns in the Border Area for Export Target
Reporter : Gusmiati Waris
Editor : Cahyani Harzi
Translator : Dhelia Gani

PUBLISHED: Rabu, 16 Agustus 2017 , 04:05:00 WIB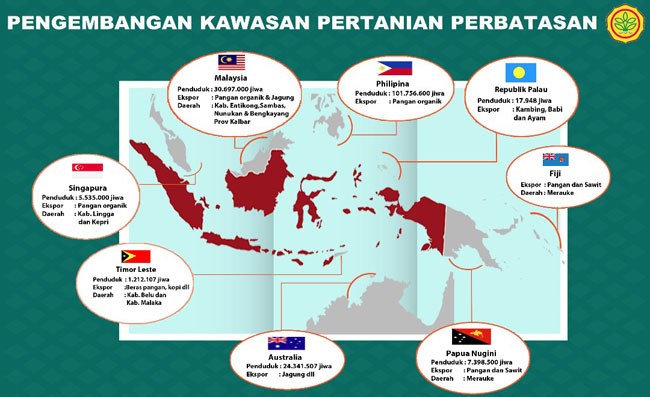 Infografis: Kementan
Jakarta (B2B) - Pemerintah RI mempersiapkan pengembangan lumbung pangan di lima wilayah perbatasan sebagai gerbang ekspor ke negara-negara tetangga, dan dalam waktu dekat Indonesia akan mengekspor beras dari Kabupaten Merauke di Provinsi Papua menuju tiga negara di kawasan Pasifik yakni Samoa, Fiji dan Vanuatu, sementara dari Kabupaten Entikong di Kalimantan Barat akan mengekspor jagung ke Malaysia.

"Komoditas yang dikembangkan di setiap kawasan akan disesuaikan dengan kondisi wilayah, akses tujuan ekspor, ketersediaan sumber daya lahan dan air," kata Plt. Kepala Biro Humas dan Informasi Publik Suwandi melalui pernyataan tertulis Selasa.

Kelima wilayah perbatasan dimaksud adalah Kabupaten Lingga di Provinsi Kepulauan Riau membidik pasar Singapura, Kabupaten Entikong di Provinsi Kalimantan Barat targetkan ekspor ke Malaysia, Provinsi Nusa Tenggara Timur (NTT) sasar Timor Leste, Merauke di Papua membidik Papua Nugini dan negara-negara di kawasan Pasifik.

Pengembangan lumbung pangan di perbatasan sebagai beranda negara ditetapkan oleh Presiden RI Joko Widodo sebagai 'membangun dari pinggiran' untuk mendorong pertumbuhan ekonomi di wilayah perbatasan dalam kerangka negara kesatuan.

"Program pembangunan pertanian di wilayah perbatasan menargetkan peningkatan produktivitas dan indeks pertanaman, dengan perbaikan jaringan irigasi, pemanfaatan varietas unggul, peningkatan penggunaan pupuk organik, dan pengendalian hama terpadu," kata Suwandi yang juga menjabat Kepala Pusat Informasi dan Data (Pusdatin) Kementan.

Menurutnya, kementerian juga berupaya meningkatkan kompetensi sumber daya manusia melalui penguatan kelembagaan petani dan meningkatkan intensitas penyuluhan pertanian, karena penyuluhan pertanian berperan strategis sebagai 'agent of change' untuk mempercepat pembangunan pertanian di perbatasan.

Langkah penting lain adalah mendorong pembukaan lahan pertanian baru seperti dilakukan Kementan di Kabupaten Lingga, dengan melakukan cetak sawah baru seluas 5.000 hektar, dan menargetkan cetak sawah 50.000 hektar di Entikong.

Pembangunan pertanian di wilayah perbatasan juga didukung sinergi Kementan dengan kementerian dan lembaga lain. Misalnya Kementerian Pekerjaan Umum dan Perumahan Rakyat (PUPR) mendukung pembangunan bendungan hingga irigasi dengan membangun bendungan di Yahukimo, Papua dengan anggaran Rp109,8 miliar dari kontrak tahun jamak 2012-2016, dan bendungan Nuhoa di Kabupaten Nabire dengan anggaran Rp21,3 miliar dari anggaran tahun 2012-2017.
Jakarta (B2B) - Indonesian government is preparing the development of food barns in five border areas as a food export gateway, and will export rice from Merauke district of Papua province to countries in the Pacific region namely Samoa, Fiji and Vanuatu, while from Entikong district in West Kalimantan will export maize to Malaysia, according to ministry senior official.

"The commodities developed in each border area will adjust the conditions of the region, access to export destinations, the availability of land and water resources," said ministry spokesman Suwandi, who goes by one name.

The border areas are Linga district in Riau Islands province exports to Singapore, Entikong district in West Kalimantan province to Malaysia, East Nusa Tenggara province to Timor Leste, Merauke in Papua to Papua New Guinea and the Pacific countries.

The development of barns on the border is set by President Joko Widodo as 'building from the border' to foster economic growth within the framework of the unitary state.

"The agricultural development program in the border areas is targeting increased productivity and growing indexes, with improved irrigation networks, superior seeds, organic fertilizers and integrated pest control," who also serves as Director of Information and Data Center.

According to him, the ministry also seeks to improve the competence of human resources through the strengthening of farmer institutions and increase the intensity of agricultural extension, because agricultural extension plays a strategic role as an agent of change to accelerate the development of agriculture at the border.

Another important step is to encourage the opening of new agricultural land such as Lingga District, by opening new 5,000 hectares of rice fields, and targeting similar areas in Entikong for 50,000 hectares.

The development is supported by synergies with other ministries and agencies. For example with the Public Works and People's Housing Ministry supports construction of dams and irrigation in Yahukimo, Papua from the state budget of 109.8 billion rupiah, and the Nuhoa dam in Nabire district by the state budget of 21.3 billion rupiah.