Ekspor Bawang Merah Perdana, Persembahan Petani Rayakan HUT RI
Indonesia`s First Shallot Export to Thailand: Minister
Editor : M. Achsan Atjo
Translator : Dhelia Gani

PUBLISHED: Jum'at, 18 Agustus 2017 , 04:57:00 WIB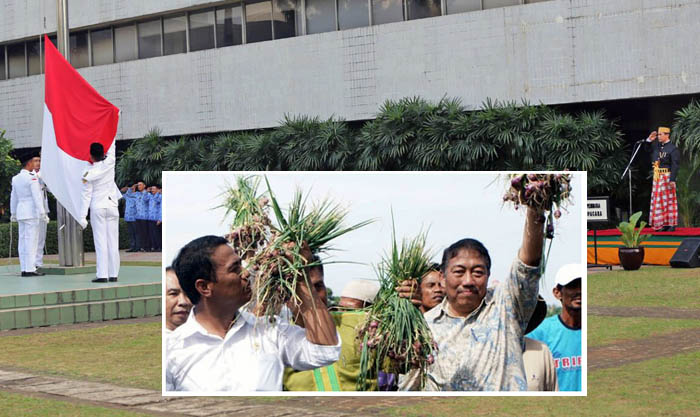 Mentan Andi Amran Sulaiman dan Dirjen Hortikultura Spudnik Sujono panen bawang merah di Brebes, Jateng (inset) dan memimpin upacara peringatan HUT RI di lapangan Kementan (Foto2: Humas Kementan)
Jakarta (B2B) - Kerja keras petani bawang merah dalam tiga tahun terakhir tidaklah sia-sia, kini Indonesia tidak lagi mengimpor bawang dari mancanegara, dan sebaliknya produksi bawang petani siap ekspor perdana hari ini, Jumat (18/8) dari Kabupaten Brebes, Provinsi Jawa Tengah menuju Thailand sebanyak 10 kontainer atau setara 175 ton apabila diangkut kontainer berkapasitas muat 17.500 kg.

"Ekspor ini kita persembahkan di hari kemerdekaan," kata Menteri Pertanian RI Andi Amran Sulaiman dalam pidato arahannya saat menjadi pembina upacara peringatan HUT Kemerdekaan RI ke-72 di lapangan Kementerian Pertanian RI di kawasan Ragunan, Kamis (17/8).

Mentan mengingatkan bahwa ekspor bawang merah ke Thailand sebagai momentum mengingat perjuangan para pahlawan kemerdekaan untuk membebaskan negeri ini dari penjajahan Belanda.

"Kita harus ingat bagaimana gigihnya memperjuangkan negara bahkan rela berkorban demi negara tanpa pamrih. Tidak ada tukin. Tidak ada mobil dinas. Tidak ada motor dinas. Tanpa pamrih. Ini yang kita harus gelorakan ke seluruh Indonesia," kata Mentan yang memimpin upacara bendera dengan baju adat Bugis, Sulsel.
Jakarta (B2B) - Indonesian shallot farmers are making big leap so the country no longer imports from abroad, and instead Indonesia is ready to export today, Friday (August 18) from Brebes district in Central Java province to Thailand with 10 containers or equivalent 175 ton for container with loading capacity of 17,500 kg, according the agriculture minister.

"We export this export on the day of independence," said Agriculture Minister Andi Amran Sulaiman in his speech at the commemoration ceremony of Indonesia's independence day here on Thursday (August 17).

Minister Sulaiman warned the shallot exports to Thailand as a momentum remembers the struggle of independence heroes to liberate the country from Dutch colonization.

"We must remember struggle of independence heroes, willing to sacrifice for the sake of nation and state. No bonuses. No service vehicles. We must remember, and continue the ideals of their struggle," said Mr Sulaiman who led the ceremony in Bugis custom clothes of South Sulawesi province.