Badan Litbang Pertanian Gelar Bursa Hewan Qurban di Kota Bogor
Indonesian Govt Guarantee Sacrificial Animals for Eid al-Adha is Free of Disease
Reporter : Gusmiati Waris
Editor : Cahyani Harzi
Translator : Dhelia Gani

PUBLISHED: Senin, 28 Agustus 2017 , 05:10:00 WIB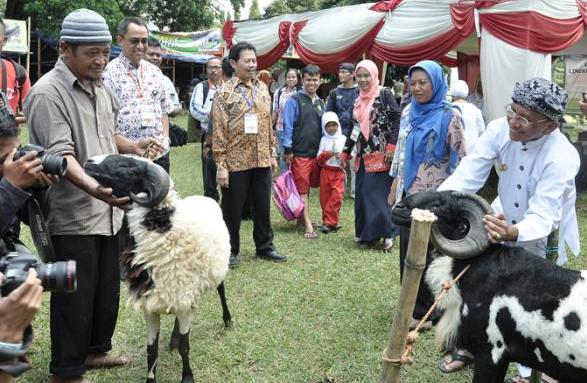 Foto: istimewa
Jakarta (B2B) - Sekitar 20 peternak dari lima kabupaten dari tiga provinsi menyediakan 200 ekor sapi dan 300 ekor kambing/domba pada bursa hewan qurban (BHQ) yang diadakan oleh Badan Penelitian dan Pengembangan Pertanian (Balitbangtan) yang akan berlangsung hingga 1 September 2017 di kantor Pusat Penelitian dan Pengembangan Peternakan (Puslitbangnak) di Jl Raya Pajajaran Kav. E-59 Kota Bogor, Jawa Barat.

Kepala Puslitbangnak, Atien Priyanti mengatakan tujuan utama BHQ adalah memberikan pembinaan kepada peternak dan konsumen untuk meningkatkan wawasan tentang 'tata cara pemotongan dan penanganan hewan kurban' dan menyebarluaskan inovasi teknologi Badan Litbang Pertanian. Hewan kurban dipasok peternak Bogor, Sukabumi, Cianjur di Jawa Barat, Boyolali (Jawa Tengah) dan Lumajang (Jawa Timur).

"Kegiatan BHQ juga merupakan perwujudan dari fungsi sosial pemerintah untuk memberikan pelayanan kepada masyarakat dalam penyediaan hewan qurban yang aman, sehat, tidak cacat, dan memenuhi syarat syariat agama Islam yaitu cukup umur, satu tahun untuk kambing atau domba dan dua tahun untuk sapi," kata Atien Priyanti.

Dia menambahkan, Puslitbangnak bertindak sebagai fasilitator bagi peternak dan pedagang dan memudahkan masyarakat mendapatkan hewan qurban. Sementara bagi Dinas Pertanian Kota Bogor membantu para peternak dan melindungi konsumen dari kemungkinan penyebaran penyakit hewan dan kestabilan harga.
Jakarta (B2B) - The Indonesian Ministry of Agriculture provides 200 cows and 300 goats for Eid al-Adha sacrificial animals was supplied by 20 farmers from five districts of three provinces, organized by the Agency for Agricultural Research and Development in Pajajaran street E-59 Kavling, Bogor city which will last until September 1, 2017.

The Director of Livestock Research and Development Center, Atien Priyanti said the purpose of socializing activities cutting and handling of sacrificial animals properly and healthy. Livestock is supplied by farmers from Bogor, Sukabumi, Cianjur of West Java province, Boyolali (Central Java) and Lumajang (East Java).

"The activity is to carry out the social function of the government to provide safe, healthy, non-defective animal animals, and according to Islamic Shari'a requirement that is enough age, one year for goats or sheep and two years for cattle," she said.

He added that his office acts as a facilitator for farmers and traders to make it easier for people to get qurban animals. While the local government of Bogor City helps farmers and protects consumers from possible spread of animal diseases and price stability.