Widi Hardjono: Kementan Koordinasikan Penyuluh Pertanian dan P4S Dukung READSI
Indonesian Agricultural Extension Workers Support the IFAD`s READSI Program
Editor : M. Achsan Atjo
Translator : Dhelia Gani

PUBLISHED: Sabtu, 30 September 2017 , 05:49:00 WIB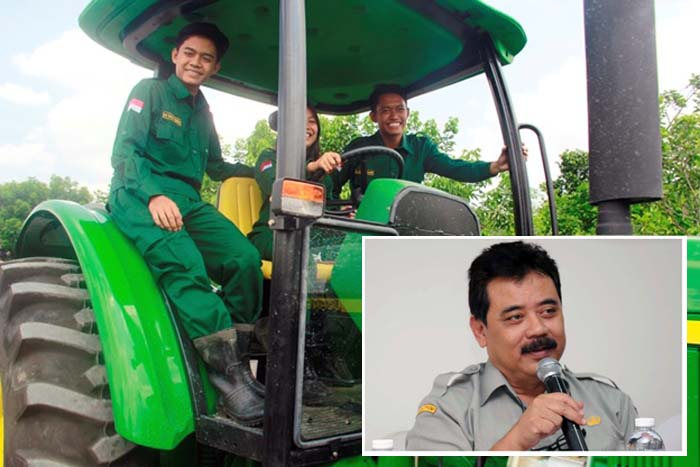 Kepala Pusat Pelatihan Pertanian (Puslatan) BPPSDMP Kementan, Widi Hardjono (inset), praktik kerja lapangan mahasiswa sekolah tinggi penyuluh pertanian (Foto2: Humas BPPSDMP Kementan)
Bogor, Jawa Barat (B2B) - Penyuluh pertanian dan Pusat Pelatihan Pertanian dan Pedesaan Swadaya (P4S) akan dilibatkan secara aktif oleh Kementerian Pertanian RI untuk mendukung pelaksanaan program Pemberdayaan Pedesaan dan Pembangunan Pertanian (READSI) pada 2018 di provinsi/kabupaten/kota yang menjadi pelaksana dari proyek Lembaga Pendanaan Internasional untuk Pembangunan Pertanian (IFAD).

Kepala Pusat Pelatihan Pertanian (Puslatan) di Badan Penyuluhan dan Pengembangan Sumber Daya Manusia Pertanian (BPPSDMP) Kementan, Widi Hardjono mengatakan setelah Puslatan mendapat mandat melaksanakan READSI 2018, maka penyuluh pertanian dan P4S akan terlibat aktif sebagai simpul kegiatan pembangunan pertanian di kawasan pedesaan yang menjadi sentra produksi pangan.

"Apa pun alasannya, penyuluh pertanian dan P4S berperan vital mendukung READSI, sesuai arahan kepala badan tadi pada sosialiasi program dari IFAD. Puslatan akan mendampingi terus program READSI maka penyuluh pertanian dan P4S terlibat aktif, karena Puslatan tidak akan mungkin bisa menjangkau semuanya," kata Widi Hardjono kepada B2B di Kota Bogor pada Kamis (28/9) usai pembukaan sosialisasi program Rural Empowerment and Agricultural Development Scalling - Up Innitiative (READSI) oleh Kepala BPPSDMP Kementan, Momon Rusmono.

Menurutnya, Momon Rusmono mengingatkan bahwa penyuluh pertanian tetap dibutuhkan di era digital saat ini, maka pendekatannya harus dengan digital terutama melalui pemanfaatan cyber extention untuk pemutakhiran inovasi teknologi pertanian.

Widi Hardjono mengakui penyelenggaraan penyuluhan pertanian dari masa ke masa mengalami perubahan sesuai peluang dan tantangan, yang dilakukan Pemerintah RI sejak 1969 melalui rencana pembangunan lima tahun (Repelita) pertama hingga saat ini, Kementan melalui BPPSDMP menjadi bagian penting dalam pencapaian sukses pembangunan pertanian untuk melakukan pengawalan dan pendampingan terpadu.

Perubahan Konsep
Pemerintah RI khususnya Kementan harus melakukan perubahan konsep pengembangan penyuluhan pertanian di tengah keterbatasan anggaran maupun jumlah dan kapasitas sumber daya manusia (SDM), dengan menetapkan target yang jelas karena petani memiliki hak untuk mendapatkan pelayanan penyuluhan pertanian sesuai ketentuan undang-undang.

"Penyuluhan pertanian harus hadir dan tetap berjalan walaupun dalam kondisi terbatasnya kapasitas BPPSDMP maupun jumlah dan kapasitas SDM penyuluh pertanian," kata Momon Rusmono.

BPPSDMP Kementan juga menargetkan penguatan balai penyuluhan di tingkat kecamatan dengan pendekatan teknologi informasi melalui pengembangan sistem informasi teknologi penyuluhan cyber extention, sehingga komunikasi penyuluh dan petani di seluruh Indonesia dapat berlangsung interaktif, terkontrol dan terukur target kinerja penyuluh mendukung peningkatan produksi pertanian di seluruh kecamatan di Indonesia.

"BPPSDMP Kementan juga meningkatkan kualitas pelatihan berorientasi standar kompetensi, dengan skala prioritas adalah sertifikasi profesi di sektor tenaga kerja pertanian didukung pengembangan pusat pelatihan pertanian dan pedesaan swadaya disingkat P4S," katanya.
Bogor, West Java (B2B) - The agricultural extension workers and Training Center for Agriculture and Rural Self-Reliance called the P4S will be actively involved by Indonesian Agriculture Ministry to support implementation of Rural Empowerment and Agricultural Development Scalling - Up Innitiative (READSI) for 2018 in the provinces/districts/municipalities as implementers of the International Funding for Agricultural Development (IFAD) project.

Director of the ministry's Agricultural Training Center Widi Hardjono said his office get mandate to implement READSI, agricultural extension workers and the P4S will be actively involved as a node of agricultural development activities in rural areas.

"Whatever the reason, agricultural extension workers and P4S play a vital role in supporting of the READSI, according to the director general of the agency's directive on the socialization of IFAD program." Mr Hardjono told here on Thursday (September 28) after opened the socialization program of READSI by Director General of Agency for Agricultural Extension and Human Resource Development (BPPSDMP) Momon Rusmono.

According to him, Mr Rusmono reminded that agricultural extension workers are still needed in the digital era, so the approach should be with digital technology such as utilizing cyber extention to update agricultural technology innovation.

Indonesia's agricultural extension policy changes because different challenges and opportunities which were developed by government since 1969 through the first five-year development plan called the Repelita until now, the BPPSDMP be the key success of agricultural development for support farmers to increase food production.

Concept Change
The government should change the concept of agricultural extension despite budget, number and human resource capacity is limited because farmers have a right to agricultural extension services.

"The Indonesian government should change the concept of agricultural extension despite budget, number and human resource capacity is limited but the farmers have a right to agricultural extension services," Mr Rusmono said.

The ministry also targets the strengthening of extension centers in each sub-district by approaching information technology through the development of information systems of extension technology, so that communication between agricultural extension workers and farmers accross the archipelago is interactively, controlled and measurable for support of increasing agricultural production.

"The ministry will also improve the quality of competency-oriented training, the priority scale is professional certification in the agricultural labor sector, supported by the development of an independent rural agricultural training center called the P4S," he said.