Penyuluh Pertanian CPNS ex THL-TBPP Dilarang Bekerja untuk Fungsional Lain
Indonesian Agricultural Extension Workers are Responsible for Food Production
Editor : M. Achsan Atjo
Translator : Dhelia Gani

PUBLISHED: Selasa, 12 September 2017 , 06:01:00 WIB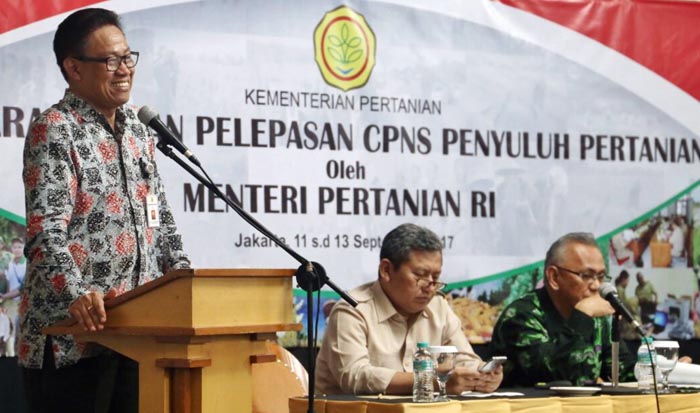 Kepala Badan Penyuluhan dan Pengembangan SDM Pertanian (BPPSDMP) Kementan, Momon Rusmono memberi arahan kepada 300 CPNS ex THL-TBPP di Jakarta (Foto: Humas SDM Kementan/Eko)
Jakarta (B2B) - Pemerintah RI mewajibkan 6.058 tenaga harian lepas - tenaga bantu penyuluh pertanian (THL-TBPP) yang lulus seleksi calon pegawai negeri sipil (CPNS) untuk mengabdi sebagai penyuluh pertanian selama lima tahun, atau dilarang keras bekerja di fungsional/struktural lain sebagai komitmen dari hasil kesepakatan Kementerian Pertanian dengan 134 bupati dan walikota, dan apabila dilanggar harus siap menanggung sanksi tegas hingga pemecatan sebagai CPNS.

Arahan tersebut dikemukakan oleh Kepala Badan Penyuluhan dan Pengembangan SDM Pertanian (BPPSDMP) Kementan, Momon Rusmono kepada 300 CPNS penyuluh pertanian yang hadir pada pengarahan di Hotel Kaisar, Senin malam (11/9).

"Saudara sekalian jangan coba-coba ditempatkan di fungsional lain atau struktural lain, karena pemerintah sudah berupaya keras memperjuangkan masa depan penyuluh pertanian. Faham? Saya akan minta ganti rugi kalau ketentuan dari hasil kesepakatan Kementan dengan bupati dan walikota itu dilanggar," kata Momon Rusmono dalam arahannya tersebut.

Dia menambahkan, ketentuan tersebut merupakan hasil kesepakatan melalui MoU Kementan dengan 134 bupati/walikota dari daerah penempatan tugas 6.058 THL-TBPP, dengan klausul utama bahwa penyuluh pertanian yang diangkat menjadi CPNS tidak beralih tugas sebagai CPNS fungsional/struktural lain minimal selama lima tahun dan maksimal 10 tahun.

Momon mengingatkan bahwa setelah penyuluh pertanian dari status THL-TBPP menjadi CPNS masih harus melalui 'perjalanan panjang' sebagai abdi negara, karena wajib mengikuti pelatihan tingkat dasar ahli untuk lulusan SLTA dan diploma satu, sementara bagi sarjana S1 mengikuti pelatihan dasar terampil, yang akan dilaksanakan mulai tahun depan.

Semangat Bekerja
Momon mengakui 6.058 penyuluh pertanian THL-TBPP yang kini menyandang status CPNS memang harus menunggu lama untuk menjadi bagian dari aparatur sipil negara (ASN) setelah mereka direkrut pada 2007 hingga 2009, atau setelah bekerja selama delapan hingga 10 tahun untuk membantu petani meningkatkan hasil produksi pangan.

"Para penyuluh adalah garda terdepan dalam upaya mewujudkan ketahanan pangan. Meski tidak pernah bekerja sebagai penyuluh pertanian, saya menyadari betul kegelisahan saudara semua. Makanya kami begitu serius memperjuangkan di tengah moratorium PNS oleh pemerintah," kata mantan Sekretaris BPPSDMP Kementan.

Dia berharap pengangkatan penyuluh pertanian THL-TBPP menjadi CPNS akan mendorong para penyuluh pertanian lebih giat dan semangat bekerja melaksanakan tugasnya, setelah Indonesia berhasil mencapai swasembada beras maka tugas berat lainnya sudah menanti, khususnya mencapai target swasembada cabai, bawang merah dan daging sapi.

Dalam kesempatan tersebut, Momon memperkenalkan sosok penting di 'belakang layar' yang mendukung pengangkatan penyuluh pertanian berstatus CPNS yakni Asdep Perencanaan dan Pengadaan SDM Aparatur Kemenpan RB, Arizal MSi; Direktur Pengadaan dan Kepangkatan Badan Kepegawaian Nasional (BKN) Aidu Tahir; dan Kepala Biro Organisasi dan Kepegawaian Kementan, Abdul Halim.

"Berkat mereka semua permasalahan dapat diselesaikan tahap demi tahap, yang berprinsip jangan sampai ada yang tertinggal, jangan terselip, dan jangan terdzolimi," kata Momon.
Jakarta (B2B) - The Indonesian government requires 6,058 non-resident agricultural auxiliary workers who pass the selection of civil servant candidates to serve as agricultural extension workers for five years is prohibited from serving other duties as the realization of the agriculture ministry agreement with 134 regents and mayors, the offense will get strict sanctions, according to senior ministry official.

It was stated by the Director General of Agency for Agricultural Extension and Human Resources Development (BPPSDMP) Momon Rusmono to 300 agricultural extension workers here on Monday night (September 11).

"You do not try and skip the main task as agricultural extension, because the government has been working hard to fight for you. Understand? I will ask for compensation if anyone violates the agriculture ministry agreement with the regents and mayors," Mr Rusmono said.

The provision is the result of an agreement through the MoU of the ministry of agriculture with 134 regents/mayors, with the main clause that the agricultural extension appointed to a civil servant candidate does not switch tasks with other functional / structural work for at least five years and a maximum of 10 years, he added.

Mr Rusmono reminded that after the status of extension of agriculture increased from daily freelance to civil servant candidates still have to undergo a number of provisions such as basic level of expert training for high school graduates and diploma one, while for first graduates undergo basic skill training.

Working Spirit
According to him, 6,058 agricultural extension officers who were appointed as candidates for civil servants did have to wait for the government's decision after they were recruited in 2007 and 2008, after working for eight to 10 years to support farmers to increase food production.

"They are the front guard for realizing food security. As a former agricultural extensionist, I understand their anxiety. We work hard to fight even though the government sets a moratorium on civil servants," Mr Rusmono said.

He hopes the government's decision will encourage them to be more eager to work after Indonesia achieves self-sufficiency in rice, and the next responsibility is to achieve self-sufficiency in chili, onion and beef.

On the occasion, Mr. Rusmono introduced an important figure who supported the appointment of agricultural extension workers, among others Deputy Assistant in the Ministry of State Apparatus and Bureaucratic Reform, Arizal MSi; and Head of the Civil Servant Bureau of the Agriculture Ministry, Abdul Halim.

"Thanks to their support, all problems can be resolved step by step, which is principled not to be left behind, do not slip, and do not get tarnished," Mr Rusmono said.