Swasembada Pangan di Pundak Penyuluh Pertanian, "Taati Hukum, Tertib Anggaran"
Indonesia`s Agricultural Extension Key Success to Achieve Food Self-sufficiency
Editor : M. Achsan Atjo
Translator : Dhelia Gani

PUBLISHED: Jum'at, 10 November 2017 , 07:39:00 WIB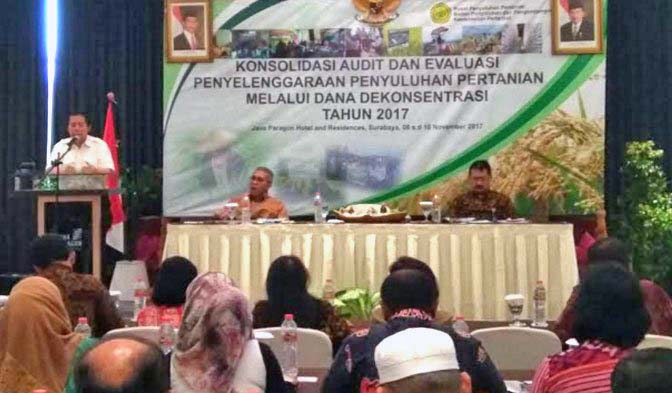 Seluruh pihak yang berkepentingan harus memperhatikan penggunaan anggaran dapat dipertanggungjawabkan. Caranya? Taat regulasi dan patuh pada hukum," kata Momon Rusmono seperti dikutip Fathan A Rasyid (berdiri kiri) Foto: istimewa
Surabaya, Jatim (B2B) - Badan SDM Pertanian menyatakan optimistis pencapaian swasembada pangan 2018 akan terwujud, setelah faktor-faktor pendukung khususnya SDM, anggaran dan regulasi dinyatakan lengkap dan siap dilaksanakan, seraya mengedepankan akuntabel penggunaan anggaran, dan pekerjaan mengacu pada petunjuk pelaksana (Juklak)dan petunjuk teknis (Juknis) disertai catatan lengkap sebagai file memory.

Hal itu dikemukakan Kepala Badan Penyuluhan dan Pengembangan Sumber Daya Manusia Pertanian (BPPSDMP) Kementerian Pertanian, Momon Rusmono di Surabaya, Kamis (9/11), yang disampaikan Kepala Pusat Penyuluh Pertanian (Pusluhtan) Fathan A Rasyid pada kegiatan 'Konsolidasi Audit dan Evaluasi Penyelenggaraan Penyuluh Pertanian Melalui Dana Dekonsentrasi Tahun 2017'.

"Tidak ada alasan tidak mengawal, karena sudah ada dananya. Jadi, tidak ada alasan penyuluh terlambat. Seluruh pihak yang berkepentingan harus memperhatikan penggunaan anggaran dapat dipertanggungjawabkan. Caranya? Taat regulasi dan patuh pada hukum," kata Momon Rusmono seperti dikutip Fathan A Rasyid.

Para penyuluh pertanian diingatkan untuk berpegang pada Juklak dan Juknis, apabila ditemukan ketidaksesuaian di lapangan harus segera didiskusikan untuk mendapat titik temu dan solusi disertai catatan lengkap yang tersusun rapi dalam file memory.

Momon juga mengingatkan tentang faktor finansial khususnya catatan dan dokumentasi sehingga dampak dari output dan outcome terukur pada peningkatan produksi pangan, harga menguntungkan petani dan tidak membebani konsumen.

"Kita sebagai penyuluh pertanian harus mempunyai komitmen dalam pelaksanaan anggaran, bukan pada angka serapan," katanya kepada 200 penyuluh pertanian dari PNS, tenaga harian lepas (THL), para kepala balai penyuluhan pertanian (BPP) tingkat kecamatan, dan pegawai pemerintah dengan perjanjian kerja (PPPK).

Badan SDM Pertanian mengharapkan kepala bidang dan kepala unit pelaksana teknis (UPT) rajin turun ke lapangan melakukan supervisi terhadap kinerja penyuluh pertanian, sehingga BPP dan awaknya bekerja sesuai target misalnya pembinaan terhadap kelompok tani (Poktan) dan penerapan teknologi.

"Jangan ada lagi sekat, kita sudah satu kantor. Pastikan yang direncanakan dijabarkan sampai kelompok dan masuk ke kita by name, by address," kata Fathan A Rasyid mengutip amanat Kabadan SDM Momon Rusmono.
Surabaya, East Java (B2B) - Indonesian Agricultural Human Resources Agency expressed optimism that food self-sufficiency in 2018 will be realized after determining factors, especially human resources, budget and regulations are declared complete and ready to implement, prioritize accountable budgets, the work refers to the implementing instructions and technical guidance supported notes as file memory.

It was stated by Director General of the Agricultural Extension and Development Agency, or BPPSDMP, Momon Rusmono here on Thursday (November 9), as quoted by the Director of Agricultural Extension, Fathan A Rasyid.

"There's no reason to be ignored, there's a budget. There's no reason to be late, all interested parties are accountable for using the budget. How? Obey the regulations and the law," Mr Rusmono as quoted by Mr Rasyid.

Agricultural extension workers are reminded to stick to regulations, when finding a non-conformity in the field should immediately discuss to find solutions supported by records stored in the memory file.

Mr Rusmono also reminded about financial factors especially records and documentation so that the impact of outputs and outcomes is measurable on increasing food production, at reasonable prices for farmers and not burdening consumers.

"We as agricultural extension workers must have a commitment in budget execution, not on absorption rate," he told to 200 agricultural extension workers from civil servants, casual laborers, heads of sub-district agricultural extension centers, and honorary employees.

He expects heads and heads of technical implementation units to regularly monitor the field, supervise the performance of agricultural extension workers, so that they work on targets such as coaching farmers' groups and technological applications.

"No more gaps, we have one office Make sure the planning and the results of the work on target and recorded by name, by address," Mr Rasyid quoted Mr Rusmono.