Tampik Impor Nanas Filipina, Mentan Tawarkan Chili Investasi di Indonesia
Indonesia`s Minister Offers Chile Investment of Agricultural Commodities
Editor : M. Achsan Atjo
Translator : Dhelia Gani

PUBLISHED: Kamis, 15 Juni 2017 , 09:01:10 WIB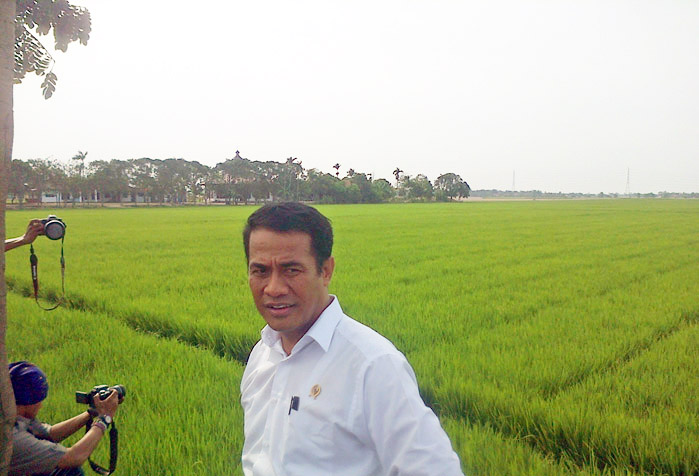 Menteri Pertanian RI Andi Amran Sulaiman (Foto: B2B/Mac)
Jakarta (B2B) - Pemerintah RI menampik tawaran impor nanas dari Filipina karena produksi hortikultura tersebut di dalam negeri surplus. Sementara kepada Chili, Indonesia menawarkan peluang investasi komoditas jagung dan gula dan tengah mengkaji tawaran impor anggur dan daging sapi dari Chili.

Hal itu mengemuka dari hasil pertemuan bilateral Menteri Pertanian RI Andi Amran Sulaiman dengan Duta Besar Filipina di Indonesia, Maria Lumen B Isleta dan Duta Besar Chili untuk RI, Gonzalo Mendoza yang berlangsung terpisah di Kementerian Pertanian RI di kawasan Ragunan, Jakarta Selatan.

"Dubes Filipina mengharapkan kita mengimpor nanas dari sana, kami sampaikan bahwa produksi nanas Indonesia sudah surplus dan bahkan mampu ekspor ke mancanegara. Kepada Dubes Chili, kami tawarkan peluang investasi komoditas jagung dan gula," kata Mentan Amran Sulaiman kepada pers di kantornya pada Rabu (14/6).

Sebagaimana diketahui, nanas (ananas comocus) menjadi andalan ekspor buah Indonesia dan Kementan memasukkan nanas dalam Rencana Strategis 2015-2019 bersama mangga, manggis, salak dan jeruk siam, setelah produksi nanas pada 2015 mencapai 1,8 juta ton dan diperkirakan mencapai 2 juta ton pada 2019 atau naik 2,4%.

Menurut Mentan, pihaknya menawarkan ekspor bawang merah, jagung dan minyak sawit mentah (crude palm oil/CPO) kepada Filipina untuk diangkut dengan kapal roll on roll off (Roro) rute Bitung - Davao yang belum lama ini diresmikan oleh Presiden RI Joko Widodo.

"Kami harapkan kapal Roro dari Bitung ke Davao atau sebaliknya tidak kosong tapi turut mendukung ekspor komoditas pertanian Indonesia ke Filipina, dan hal itu kami sampaikan kepada Filipina," kata Amran Sulaiman yang didampingi Dirjen Perkebunan Bambang Wahyu Dwiantoro dan Karo Humas dan Informasi Publik Kementan, Agung Hendriadi.

Chili Ditawari Investasi
Dalam pertemuan dengan Dubes Gonzalo Mendoza, Mentan membuka peluang investasi bagi Chili di Indonesia, khususnya komoditas jagung dan gula setelah Chili menawarkan Indonesia untuk mengimpor anggur, dan hal itu akan dikaji oleh Kementan dan pihak-pihak terkait di luar kementerian.

"Dubes Chili berharap Indonesia bersedia mengimpor anggur dari sana, kita kaji dulu sebelum memutuskan mengimpor disesuaikan kebutuhan dan kemampuan produksi anggur lokal," kata Mentan kepada pers usai pertemuan bilateral dengan koleganya, Dubes Gonzalo Mendoza.

Data Kementan menyebutkan, sentra anggur pada empat kabupaten di Provinsi Jawa Timur: Kediri, Probolinggo, Pasuruan, Situbondo. Begitu pula Bali, Nusa Tenggara Barat (NTB) dan Nusa Tenggara Timur (NTT).

Amran Sulaiman menambahkan, Chili juga meminta kesediaan Indonesia mengimpor daging sapi, dan tawaran tersebut bakal dipenuhi Indonesia apabila harganya sesuai dengan harapan Indonesia, sehingga dapat mendukung pengendalian harga daging sapi di dalam negeri.
Jakarta (B2B) - Indonesia's pineapple production is surplus and has been exported abroad so it does not need imported products, especially from the Philippines, while to Chile, Indonesia offers investment opportunities for corn and sugar commodities, according to the Indonesia agriculture minister.

It was result of bilateral meeting Indonesian Agriculture Minister Andi Amran Sulaiman with the Philippine ambassador in Indonesia, Maria Lumen B Isleta and Chile's Ambassador to Indonesia, Gonzalo Mendoza, who held a separate meeting here on Wednesday (June 14).

"The Philippine ambassador expects Indonesia import pineapple from her country, I said that our pineapple production is surplus and we export to foreign countries. To Chile's ambassador, I offer investment opportunities for corn and sugar commodities," Minister Sulaiman told the press in his office.

As is known, pineapple (ananas comocus) becomes Indonesia's main fruit export, and agriculture ministry includes pineapple in the 2015-2019 Strategic Plan with mango, mangosteen, salak and siam orange, after pineapple production in 2015 reaches 1.8 million tons and is estimated to reach 2 million tons in 2019, up 2.4%.

According to Minister of Solomon, Indonesia offers export of onion, corn and crude palm oil (crude palm oil / CPO) to the Philippines to be transported by roll on roll off route vessel Bitung - Davao route which was recently inaugurated its use by Indonesian President Joko Widodo.

"We expect the Bitung route ship to Davao to be used for Indonesia's agricultural export commodities to Philippines," said Mr Sulaiman who was accompanied by Director General of Plantation Bambang Wahyu Dwiantoro and ministry's spokesman Agung Hendriadi.

Investment Opportunity
In bilateral meeting with Ambassador Mendoza, Minister Sulaiman provides investment opportunities for Chile in Indonesia, especially corn and sugar commodities after Mendoza offers Indonesia to import wine, and Minister Sulaiman said it will be reviewed by ministry and related parties in Indonesia.

"The Chilean ambassador hopes that Indonesia is willing to import Chilean wine, we review it before deciding on imports as it concerns our needs," Minister Sulaiman said.

Data from the agriculture ministry said Indonesian wine center in four districts of East Java Province: Kediri, Probolinggo, Pasuruan, Situbondo. Similarly, Bali, West Nusa Tenggara, and East Nusa Tenggara.

Mr Sulaiman added, Chile also asked Indonesia to import beef, and Indonesia will review first, especially the price factor.