Rakor BPPSDMP: Mentan Janjikan Tambah Anggaran untuk Ristek di STPP
Technological Innovation Determines Success of Indonesia`s Agricultural Development
Reporter : Gusmiati Waris
Editor : Cahyani Harzi
Translator : Dhelia Gani

PUBLISHED: Sabtu, 08 Juli 2017 , 09:11:00 WIB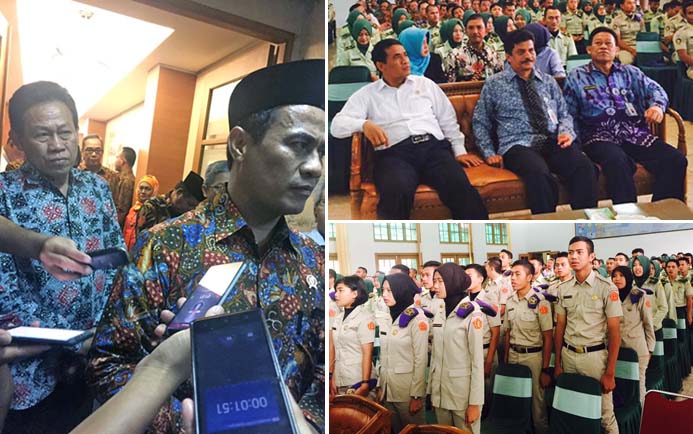 Mentan Andi Amran Sulaiman menjawab wartawan didampingi Sekba BPPSDMP Kementan Momon Rusmono (kiri) kunjungan di STPP Bogor (kanan atas) dan mahasiswa STPP Bogor (Foto2: Humas BPPSDMP Kementan)
Jakarta (B2B) - Pemerintah RI mendorong dosen, mahasiswa dan alumni sekolah tinggi penyuluh pertanian (STPP) di seluruh Indonesia melakukan riset, untuk mengembangkan inovasi teknologi pertanian sehingga dapat mendukung peningkatan produksi pangan, juga mengatasi ketergantungan Indonesia pada teknologi asing, Kementerian Pertanian siap menambah alokasi anggaran STPP dan menyediakan insentif bagi dosen dan mahasiswa sebagai inovator teknologi.

Hal itu dikemukakan Menteri Pertanian RI Andi Amran Sulaiman pada rapat koordinasi (Rakor) Pusat Pendidikan Sumber Daya Manusia Pertanian di Jakarta pada Jumat yang dihadiri oleh Sekretaris Badan Penyuluhan dan Pengembangan Sumber Daya Manusia Pertanian (BPPSDMP) di Jakarta pada Jumat (7/7). Turut hadir pimpinan dan perwakilan dosen STPP dari seluruh Indonesia.

"Pemerintah menginginkan dosen, mahasiswa dan alumni STPP dapat melahirkan gagasan baru, kemudian dikembangkan melalui riset sehingga dapat mendukung peningkatan produksi pertanian, peternakan dan perkebunan. Jangan selalu tergantung asing, kalau Indonesia ingin maju sebagai lumbung pangan dunia," kata Mentan Andi Amran Sulaiman.

Kepada para kepala STPP, Mentan mendorong mereka untuk memberi motivasi, gagasan baru, memfasilitasi dan kementerian akan mendukung sepenuhnya ide-ide brilian untuk mendukung kemajuan pertanian Indonesia, jangan sekadar business as usual atau terkungkung pada rutinitas kampus dan pengajaran.

"Jangan khawatir dengan alokasi anggaran riset. Butuh apa? Kami siap tambah dua kali lipat alokasi anggaran tiap STPP dari Rp3 miliar menjadi Rp6 miliar. Kami siapkan peralatan, anggaran tapi kami ingin STPP mampu mengembangkan teknologi baru karena pertanian tidak akan maju tanpa dukungan teknologi," kata Amran Sulaiman yang disambut tempik sorak para peserta Rakor BPPSDMP.

Kepada para dosen, Mentan meminta mereka untuk meningkatkan kualitas belajar dan mengajar, dedikasi dan motivasi para mahasiswa untuk mengembangkan mekanisasi pertanian.

Menyikapi hal itu, dia mengharapkan sekretariat jenderal Kementan untuk memberikan insentif kepada para dosen STPP setelah melakukan evaluasi bulanan terkait teknologi inovasi, kemudian memfasilitasi STPP untuk bermitra dengan produsen teknologi sehingga hasil inovasi tersebut berguna bagi petani dan masyarakat.

"Dosen dan mahasiswa yang sukses berinovasi dan teknologi yang dikembangkan dapat diproduksi secara massal akan mendapat imbalan royalti dari hasil inovasinya," kata Mentan.
Jakarta (B2B) - The Indonesian government is calling on lecturers, students and alumni of agricultural extension schools (STPP) accross the country to developing agricultural technology innovation through research and technology so as to support the increase of food production, also overcome dependence of Indonesia on foreign technology, the agriculture ministry is ready to increase the campus budget allocation and provide incentives to lecturers and students as technological innovators, Indonesian minister said on Friday.

It was stated by Agriculture Minister Andi Amran Sulaiman at the coordination meeting agricultural human resources education center here on Friday and was attended by Secretary of Indonesia´s Agency for Agricultural Extension and Human Resources Development (BPPSDMP) Momon Rusmono here on Friday.

"The government wants lecturers, students and alumni can give new ideas, then develop them through research so that they can support the increase of agriculture, livestock and plantation production. Do not depend foreign technology to achieve the target of Indonesia as a world food barn," Minister Sulaiman said.

Mr Sulaiman asked the rectors to give motivation, new ideas, facilitation and ministry will support fully, not just business as usual or just a campus routine.

"Do not worry about research budget. We are ready to increase the budget for each campus to 6 billion rupiah. We prepare the equipment, but we want to the STPP developing new technologies, because agriculture will not be maximized without technology," he said.

To the lecturers, Minister Sulayman asked them to improve the quality of learning and teaching, dedication and motivation of the students to develop agricultural mechanization.

He expects the ministry's secretariat general to provide incentives to STPP lecturers by conducting monthly evaluations of innovation technology, then facilitating STPP to partner with technology producers so that innovation products are useful to farmers and communities.

"Successful lecturers and students to innovate, and technological innovations developed to be mass-produced will earn royalties from their innovation," Minister Sulaiman said.