Sigap dan Komunikatif, Kiat Sukses Tim Upsus LTT Itjentan Kementan Capai Target
Quick Response and Communication is the Key for Rice Self-sufficiency in Indonesia
Editor : M. Achsan Atjo
Translator : Dhelia Gani

PUBLISHED: Rabu, 11 April 2018 , 09:27:00 WIB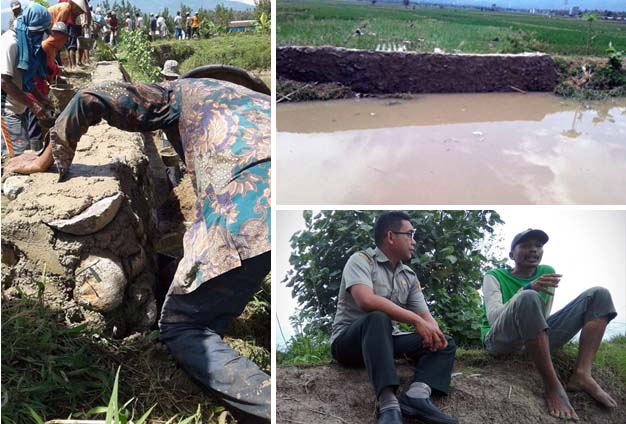 "Setelah kami meninjau ke lapangan kemudian dialog dengan kelompok tani dan penyuluh pertanian lapangan atau PPL, akhirnya diketahui bahwa petani setempat tidak berani mengambil risiko (Foto2: Humas Itjentan)
Jakarta (B2B) - Tim upaya khusus luas tambah tanam (Upsus LTT) Inspektorat Jenderal Kementerian Pertanian RI (Itjentan) mengedepankan strategi sigap dan komunikatif mengatasi kendala di lapangan, kiat tersebut untuk memastikan sawah yang sudah ditanam pada November 2017 dapat segera ditanami padi pada Maret 2018 seperti di Kecamatan Gadingrejo, Kabupaten Pringsewu, Provinsi Lampung.

"Salah satu tugas tim Upsus LTT adalah memastikan bahwa lahan yang sudah ditanam pada November 2017, akan segera ditanam pada Maret 2018. Namun ternyata kondisi tersebut kadang tidak sesuai yang diharapkan karenan berbagai kendala teknis di lapangan," kata Kepala Subbagian Humas Itjentan Kementan, Eko Supriyanto melalui pernyataan tertulis pada Selasa (10/4).

Menurutnya, kendala tersebut ditemui tim Upsus LTT Itjentan Kementan di Kecamatan Gadingrejo, padahal padi yang ditanam pada November 2017 dan panen di awal Maret 2018 namun hingga minggu ketiga Maret belum juga dilakukan sebar atau semai.

"Setelah kami meninjau ke lapangan kemudian dialog dengan kelompok tani dan penyuluh pertanian lapangan atau PPL, akhirnya diketahui bahwa petani setempat tidak berani mengambil risiko jika sewaktu-waktu sungai meluap tanggul sungai yang jebol," kata Eko Supriyanto.

Menurutnya, fakta tersebut dilaporkan oleh Sugiyono sebagai ketua Poktan Timbul Jaya, pemilik lahan di dekat sungai yang rawan banjir. "Para petani sebenarnya ingin segera semai, namun tidak berani ambil risiko karena banjir dapat terjadi setiap waktu."

"Tim Upsus Itjentan segera menindaklanjuti dengan menemui kepala bidang prasarana dan sarana di Dinas Pertanian Kabupaten Pringsewu untuk meminta dukungan perbaikan tanggul yang jebol. Alhamdulillah, sepekan kemudian kami dikabari bahwa tanggul sudah diperbaiki dan sawah di sekitarnya siap dan aman untuk disemai," kata Eko.

Dia menambahkan, sigap dan tanggap adalah modal awal dalam mencapai tujuan sementara komunikatif menjadi jembatan yang menghubungkan kepentingan untuk mencapai tujuan dari kedua belah pihak.
Jakarta (B2B) - The special team to increase national rice production of the Inspectorate General at the Indonesian Agriculture Ministry or Upsus Pajale Itjentan focus on strategies of quick response and communicative overcome obstacles in rice fields, to ensure that the rice fields already planted in November 2017 can be planted in March 2018, especially in Gadingrejo sub-district, Pringsewu district, Lampung province, according to senior ministry official

"One of the tasks of Upsus Pajale is to make sure the rice fields that have been harvested can be planted immediately, But it turns out the field conditions do not fit the plan," said spokeperson of Itjentan, Eko Supriyanto through written statement here, recently.

According to him, the obstacles are met by Itjentan Kementan in Gadingrejo sub-district, whereas rice planted in November 2017 has been harvested but until the third week of March has not been planted with rice.

"After reviewing the field conditions and then dialogue with farmers´ groups and local agricultural extension workers, it was discovered that local farmers did not want to risk flooding as the nearby river overflowed," Mr Supriyanto said.

According to him, the fact is reported by Sugiyono from the Timbul Jaya farmer group, the owner of the land near the river. "Farmers want to plant rice soon, but worry about the risk of floods that can happen any time."

"Our team immediately followed up by meeting with relevant officials in the district to support the repair of river dikes. Thank God, a week later the dike has been repaired and farmers were safe from the risk of flooding," Mr Supriyanto said.

He said the quick response are the first step towards achieving goals, while communication becomes a bridge to equate perceptions, and linking interests to achieve goals from both sides.