Kontribusi PDB 3,9%, Presiden Jokowi Minta Koperasi Gelorakan Semangat Reformasi
President Widodo Urged the Indonesian Cooperatives Reform
Reporter : Gusmiati Waris
Editor : Cahyani Harzi
Translator : Dhelia Gani

PUBLISHED: Jum'at, 14 Juli 2017 , 00:32:12 WIB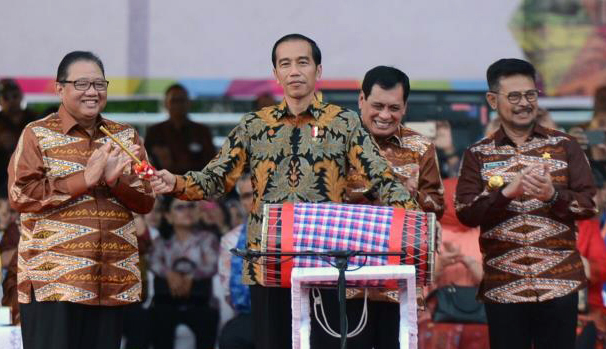 Presiden RI Joko Widodo memukul gendang khas Sulsel pada peringatan Harkopnas di Makassar didampingi Menkop UKM AAGN Puspayoga (kiri) dan Gubernur Sulsel Syahrul Yasin Limpo (kanan) Foto: istimewa
Makassar, Sulsel (B2B) - Presiden RI Joko Widodo mengingatkan pelaku koperasi tentang masih rendahnya kontribusi koperasi pada produk domestik bruto (PDB) nasional pada 2016 hanya 3,9%, padahal seharusnya bisa lebih tinggi sehingga tidak tertinggal jauh dari koperasi di Prancis dan Belanda yang mencapai 18% atau Selandia Baru hingga 20%, meskipun Badan Pusat Statistik (BPS) menyatakan kontribusi PDB koperasi di Indonesia pada 2016 meningkat dua kali lipat dari 2013 yang hanya 1,71%.

"Meskipun meningkat dua kali lipat dibanding 2013 sesuai data yang saya peroleh, sumbangan koperasi terhadap PDB mencapai 3,9 persen. Inilah pekerjaan besar kita agar kontribusi koperasi terhadap perekonomian nasional meningkat drastis," kata Presiden Jokowi pada peringatan Hari Koperasi Nasional (Harkopnas) ke-70 di Makassar pada Rabu sore (12/7).

Presiden kemudian menyebutkan koperasi yang layak menjadi model keberhasilan seperti KUD Denbatas di Tabanan, Bali; Koperasi Credit Union Mandiri di Banyuwangi dan Koperasi Simpan Pinjam Syariah (KSPS) Sidogiri di Pasuruan di Jawa Timur dengan perputaran uang Rp5 triliun hingga Rp18 triliun dalam satu tahun.

Presiden Jokowi meminta Menteri Koperasi dan UKM AAGN Puspayoga dan Dewan Koperasi Indonesia (Dekopin) untuk melakukan pengkajian kemudian mengajak koperasi lain untuk melihat dan mempelajari kunci sukses ketiga koperasi.

"Ajak koperasi koperasi yang lain untuk melihat contoh-contoh yang sudah betul, contoh-contoh yang sudah besar, koperasi-koperasi dengan perputaran uang yang triliun," kata Jokowi.

Menurut kepala negara, kalau korporasi mampu berkembang menjadi perusahaan raksasa maka seharusnya koperasi pun mampu, jangan hanya menjadi penonton tapi mampu mencontoh dan mengembangkan kemampuan manajerial, pengembangan usaha, penetrasi bisnis, dan ekspansi usaha.

Reformasi Koperasi
Presiden Jokowi mengajak seluruh pelaku koperasi Indonesia untuk meneguhkan, untuk mengelorakan kembali semangat gerakan koperasi, semangat reformasi koperasi sebagai kekuatan bersama yang mampu bersaing dan cepat beradaptasi dengan perkembangan zaman. Apalagi di era sekarang ini dibutuhkan kecepatan, kreativitas, dan juga inovasi agar koperasi bisa bersaing dengan para pelaku ekonomi lainnya.

"Saya ingatkan agar penggerak-penggerak koperasi jangan pernah takut bersaing dan berkompetisi dengan pelaku-pelaku ekonomi lainnya," kata Jokowi.

Presiden meyakini bahwa koperasi mampu berkompetisi dan bersaing dengan perusahaan swasta, korporasi, BUMN. "Karena memang kesempatan ada di depan mata kita, semangat untuk menjadikan koperasi sebagai kekuatan bersama, kekuatan gotong royong yang mampu bersaing serta cepat beradaptasi dengan perkembangan zaman."

Presiden menggarisbawahi bahwa kekuatan koperasi saat ini masih relevan dalam perekonomian Indonesia dan perekonomian global. Koperasi juga merupakan salah satu institusi ekonomi rakyat yang penting dalam menghadapi tantangan masa depan.

"Untuk itu pemerintah menempatkan koperasi sebagai institusi utama dalam pelaksanaan kebijakan pemerataan ekonomi, dan dalam kebijakan reforma agraria redistribusi lahan. Kita juga ingin menempatkan koperasi sebagai salah satu penerima yang dapat memanfaatkan konsesi-konsesi yang akan kita berikan," kata Jokowi.

Namun koperasi yang akan menerima konsesi-konsesi itu harus memiliki kemampuan manajemen dalam pengelolaan konsesi-konsesi lahan yang akan diberikan oleh pemerintah.

"Harus bisa memberikan tawaran-tawaran proposal yang memang bisa dikalkulasi dan dihitung dengan kalkulasi-kalkulasi ekonomi," tutur Presiden.
Makassar, South Sulawesi (B2B) - Indonesian President Joko Widodo remind the contribution of cooperatives to the national gross domestic product (GDP) in 2016 is still low, only 3.9%, should be higher as cooperatives in France and Netherlands reach 18% or 20% in New Zealand, although the Indonesia Statistics Agency claims the contribution of cooperatives 2016 doubled from 2013, 1.71% to 3.9%.

"Although GDP has doubled compared to 2013, the co-operative contribution to GDP is only 3.9 percent. it is a big job for the cooperative's contribution to the national economy," Presiden Widodo said at the commemoration of 70th National Cooperative Day here on Wednesday afternoon (July 12).

President Widodo mentions cooperatives that can be successful models such as KUD Denbatas in Tabanan, Bali; Credit Union Mandiri Cooperative in Banyuwangi and Sidogiri's Sharia Savings and Loan Cooperatives in Pasuruan of East Java with turnover of 5 trillion to 18 trillion rupiah in one year.

Widodo asked the Cooperatives and SMEs Minister AAGN Puspayoga and the Indonesia Cooperative Council (Dekopin) to conduct the assessment then invites the cooperatives to see and learn the key success of cooperatives with a turnover of trillions rupiah.

"Other cooperatives are invited to see good examples, big cooperatives with trillion rupiah turnover," he said.

According to the head of state, if the corporation is able to develop into a large company, the cooperative should develop managerial capabilities, business development, business penetration, and business expansion.

Cooperative Reform
President Widodo invites all cooperatives in Indonesia to affirm, the spirit of the cooperative movement and commitment to reform, to compete and adapt to the speed, creativity, and innovation so that cooperatives can become a pillar of the national economy.

"I remind again that cooperatives should not be afraid to compete with other economic entities," Widodo said.

The President believes that cooperatives are able to compete with private companies, corporations, and SOEs. "Because there is a chance, the spirit of making the cooperative as a joint force, the power of mutual cooperation that quickly adapts to the times."

The President underlined that the current cooperative forces are still relevant to the Indonesian and global economy. The cooperative is also one of the important people's economic entities to face the challenges of the future.

"Therefore, the government positioned the cooperative as the main institution in implementing the economic equality, and the redistribution of land in the agrarian reform policy, we also want to put the cooperative as one of the concessionaires from the government," Widodo said.

However, the cooperatives that will receive the concessions must have the management ability to manage the land concessions from the government.

"The cooperatives should be able to provide a feasible proposal, and economic calculations," President Widodo said.