Harkopnas ke-70, Menkop UKM Beri Penghargaan Koperasi Berprestasi
Indonesia`s 70th Cooperative Day in the Provincial Capital of South Sulawesi
Reporter : Gusmiati Waris
Editor : Cahyani Harzi
Translator : Dhelia Gani

PUBLISHED: Rabu, 12 Juli 2017 , 00:48:06 WIB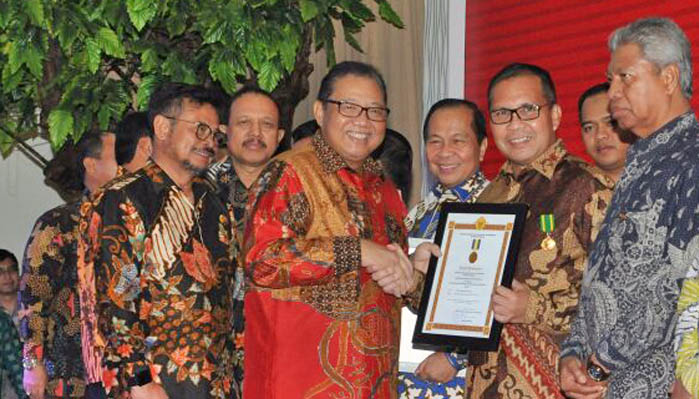 Menkop UKM AAGN Puspayoga menyerahkan penghargaan kepada bupati/walikota didampingi Gubernur Sulsel Syahrul Yasin Limpo (Foto: Humas Kemenkop UKM)
Jakarta (B2B) - Rangkaian kegiatan peringatan Hari Koperasi Nasional (Harkopnas) ke-70 di Makassar, yang akan dihadiri oleh Presiden RI Joko Widodo, Rabu (12/7) diawali oleh Menteri Koperasi dan UKM AAGN Puspayoga dengan memberikan penghargaan kepada 20 bupati/walikota, dua pejabat tinggi daerah, 18 kepala dinas koperasi provinsi, sembilan kepala dinas koperasi kabupaten/kota, 48 tokoh masyarakat, dan 37 pengurus koperasi berprestasi dari seluruh Indonesia.

Menkop Puspayoga mengatakan kementeriannya akan terus menggulirkan program reformasi koperasi untuk mengembangkan koperasi berkualitas, yang telah memberikan kontribusi nyata pada produk domestik bruto (PDB). Data dari Kemenkop & UKM dan Badan Pusat Statistik (BPS) menyebutkan kontribusi koperasi sebagai entitas ekonomi terhadap PBD nasional pada 2013 mencapai 1,71%.

"Pada era pemerintahan Joko Widodo meningkat signifikan sebesar 3,99 persen pada 2016. Apabila kontribusi tersebut diperhitungkan pada kontribusi anggota yang merupakan pemilik dan sekaligus pengguna, diperkirakan kontribusi anggota koperasi kepada PDB nasional pada 2013 mencapai 13,56 persen," kata Puspayoga usai memberikan penghargaan di Makassar, Selasa (11/7).

Dengan demikian, kontribusi total koperasi sebagai suatu lembaga beserta anggotanya pada 2013 mencapai 15,27%, dan pada 2016, kontribusi anggota koperasi terhadap PDB nasional mencapai 20,41% sehingga kontribusi total koperasi sebagai suatu lembaga dan anggotanya pada 2016 mencapai 24,70%.

Menurut Puspayoga, capaian positif juga terjadi pada program kewirausahaan nasional, dan sejak beberapa tahun lalu, pemerintah telah menjalankan Gerakan Kewirausahaan Nasional (GKN) sebagai gerakan yang tumbuh dari bawah sehingga memiliki pondasi yang kuat untuk berkembang.

"Rasio tingkat aktivitas kewirausahaan Indonesia pada 2013 yang semula 1,55 persen saat ini meningkat menjadi 3,01 persen yang menunjukkan peningkatan rasio aktivitas kewirausahaan 1,46 persen dalam tiga tahun terakhir," kata Menkop UKM.

Ke-20 kepala daerah tersebut adalah Bupati Deliserdang - Sumut, Ashari Tambunan; Bupati Dharmasraya - Sumbar, Sutan Riska Tuanku Kerajaan; Bupati Kerinci - Jambi, Adirozal; Bupati Garut - Jabar, Rudy Gunawan; Bupati Kuningan - Jabar, H Acep Purnama; Bupati Tasikmalaya - Jabar, Uu Ruzhanul Ulum; Bupati Kudus - Jateng, Musthofa Wardoyo; Bupati Sintang - Kalbar, Jarot Winarno; Bupati Kapuas Hulu - Kalbar, Abang Muhammad; Bupati Tanah Laut - Kalsel, Bambang Alamsyah; Walikota Tangerang - Jabar, Arief R Wismansyah; Walikota Kediri - Jatim, Abdullah Abu Bakar; Walikota Pasuruan - Jatim, Setiyono; Walikota Manado - Sulut, Vicky Lumentut; Walikota Gorontalo - Gorontalo, H Marten A Taha; Walikota Bitung - Sulut, Maximiliaan Jonas Lomban; Walikota Makassar - Sulsel, Mohammad Ramdhan Pomanto; Walikota Ternate - Maluku Utara, Burhan Abdurrahman; Wakil Walikota Bandung - Jabar, Oded M Danial; Wakil Walikota Mataram - Nusa Tenggara Barat, H Mohan Roliskana.

Sementara Gubernur Sulsel, Syahrul Yasin Limpo mengingatkan tentang tantangan berat yang menghadang koperasi di masa mendatang, khususnya teknologi informasi (IT), koperasi harus kuat didukung IT yang menjadi tuntutan zaman.

"Lihat saja sekarang, tidak perlu repot lagi membuka toko dan mengurus perizinan hingga berbulan-bulan. Cukup buka toko online untuk dapat menembus pasar," kata Syahrul.

Menurutnya, koperasi harus berperan besar dalam perekonomian nasional, karena Indonesia adalah negara kaya sehingga kita harus mampu mempersiapkan diri menghadapi tantangan global, dan yang pas adalah koperasi sebagai simbol dari bentuk ekonomi kerakyatan berasas gotong royong dan kebersamaan.
Jakarta (B2B) - The commemoration of Indonesia's 70th Cooperative Day in Makassar, which will be attended by President Joko Widodo on Wednesday (July 12) was initiated by Cooperatives and SMEs Minister AAGN Puspayoga by giving awards to 20 regents/mayors, local officials, 18 heads of provincial cooperative office, nine heads of regency/city cooperatives office, 48 community leaders, and and 37 best cooperative management across the country.

Minister Puspayoga said his ministry will support cooperative reform program developing cooperatives could compete after contribute to gross domestic product (PDB). Data from the ministry and Indonesian Statistics Agency (BPS) said the contribution of cooperatives as economic entities to gross domestic product in 2013 reached 1.71%.

"In the Joko Widodo administration, the PDB contribution of cooperatives significantly increased 3.99 percent in 2016. If the calculated contribution of members of the cooperative to the national GDP in 2013 reached 13.56 percent," Mr Puspayoga said in Makassar on Tuesday (July 11).

The contribution of cooperatives as an institution with its members in 2013 reached 15.27%, and in 2016 reached 20.41% so that the total contribution of the cooperative as an institution and its members in 2016 reached 24.70%.

According to Puspayoga, also an important achievement in the national entrepreneurial program, and since several years ago, the government has run the national entrepreneurial movement of the people's wish.

"The ratio of entrepreneurial activity from 1.55 percent in 2013 to 3.01 percent, which shows an increase in the ratio of entrepreneurial activity to 1.46 percent in the last three years," he said.

The 20 heads of the regions are the Deliserdang Regent, Ashari Tambunan; Dharmasraya Regent Sutan Riska Tuanku Kingdom; Kerinci Regent, Adirozal; Garut Regent, Rudy Gunawan; Kuningan Regent, H Acep Purnama; Tasikmalaya Regent, Uu Ruzhanul Ulum; Kudus Regent, Musthofa Wardoyo; Sintang Regent, Jarot Winarno; Kapuas Hulu Regent, Abang Muhammad; Tanah Laut Regent, Bambang Alamsyah; Tangerang Mayor, Arief R Wismansyah; Kediri Mayor, Abdullah Abu Bakar; Pasuruan Mayor, Setiyono; Manado Mayor, Vicky Lumentut; Gorontalo Mayor, H Marten A Taha; Bitung Mayor, Maximiliaan Jonas Lomban; Makassar Mayor, Mohammad Ramdhan Pomanto; Ternate Mayor, Burhan Abdurrahman; Bandung Deputy Mayor, Oded M Danial; Mataram Deputy Mayor, H Mohan Roliskana.

Meanwhile, South Sulawesi Governor Syahrul Yasin Limpo reminded about the challenges of cooperatives to information technology.

"Just look at it now, it's very easy to open a shop, and have to take permission for months, just open an online store to penetrate the market," Governor Limpo said.

According to him, the cooperative must play an important role in the national economy, because Indonesia is a rich country that must be ready to face global challenges, cooperatives are very appropriate as a symbol of people's economic form of mutual cooperation.