Aksi Demo Hizbut Tahrir Tolak Perppu 2/2017 Disorot Media Asing
Islamic Groups Protest Indonesian Attempt to Curb Radicals
Editor : Ismail Gani
Translator : Novita Cahyadi

PUBLISHED: Rabu, 19 Juli 2017 , 05:19:00 WIB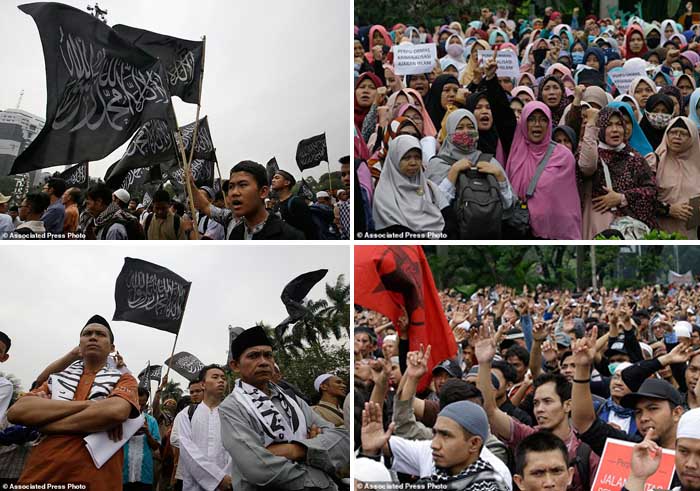 Unjuk rasa yang diikuti sekitar 2.000 orang terbagi dalam barisan terpisah untuk pria dan wanita yang berlangsung damai (Foto2: MailOnline)
ORGANISASI massa (Ormas) Islam melakukan unjuk rasa pada Selasa (18/7) di Jakarta, yang mengecam langkah Presiden RI Joko Widodo akan memberangus Ormas Islam yang bertentangan dengan Pancasila.

Para pengunjuk rasa dari aliansi Ormas Islam mengibarkan bendera dan mengangkat spanduk seraya mengecam pemerintah sebagai tirani dan bertindak represif.

Unjuk rasa yang diikuti sekitar 2.000 orang terbagi dalam barisan terpisah untuk pria dan wanita yang berlangsung damai, kata Karopenmas Divhumas Polri Brigjen Pol Rikwanto.

Mereka mengecam peraturan pemerintah pengganti undang-undang disingkat Perppu yang diteken oleh Presiden Jokowi pekan lalu, yang memberi kewenangan luas pada pemerintah untuk melarang Ormas yang dinilai bertentangan dengan Pancasila. DPR RI memiliki waktu satu tahun untuk menolak atau menyetujuinya.

Ormas yang diduga menjadi target Perppu adalah Hizbut Tahrir, Ormas yang mengampanyekan hukum Syariah (Khilafah Islamiyah), setelah pemerintah mengumumkan pada Mei untuk melarang dan membubarkan Ormas tersebut.

"Keputusan anti-Islam Jokowi adalah bukti bahwa ini adalah rezim diktator," kata koordinator demonstrasi, Kholilulloh Al-Habsyi, kepada pengunjuk rasa dari atas truk.

Kelompok hak asasi manusia mengkritik Perppu sebagai tindakan melanggar HAM dan anti-demokrasi dan mengatakan bahwa pemerintah dapat dengan mudah menyalahgunakan kekuasaannya.

Keputusan Presiden Jokowi merespon pada eskalasi ketegangan sektarian di Jakarta yang mengguncang pemerintah dan merusak reputasi Indonesia sebagai negara berpenduduk mayoritas Muslim terbesar di dunia yang dikenal sebagai Islam moderat.

Hizbut Tahrir, bersama dengan kelompok-kelompok seperti Front Pembela Islam, berada di belakang serangkaian demonstrasi besar-besaran di Jakarta, untuk menentang mantan Gubernur DKI Jakarta keturunan China dan penganut Kristen, yang dituduh melakukan penistaan agama. Dia kemudian kalah dalam Pilkada DKI dan menjalani penjara selama dua tahun karena penistaan agama meskipun jaksa menuntutnya hukuman dua tahun masa percobaan.

Hizbut Tahrir, adalah organisasi global yang sudah dilarang atau dibatasi di beberapa negara, diperkirakan memiliki puluhan ribu anggota di Indonesia seperti dikutip Associated Press yang dilansir MailOnline.
CONSERVATIVE Islamic groups protested Tuesday in the capital of Indonesia, the world´s most populous Muslim nation, denouncing President Joko "Jokowi" Widodo´s attempt to ban radical organizations.

Demonstrators from an alliance of Islamic groups waved flags and held up banners calling the government tyrannical and repressive.

The crowd, which swelled to an estimated 2,000 people, was divided into separate rows for men and women and was mostly peaceful, said Jakarta police spokesman Argo Yuwono.

A decree signed by Jokowi last week that amends a law regulating mass organizations will give the government almost unfettered power to ban groups it deems contrary to the country´s constitution. Parliament has one year to reject or approve it.

It is likely that Hizbut Tahrir, a group that campaigns for Indonesia to adopt Shariah law, is among the targets of the decree, with the government announcing in May that it planned to ban the organization.

"Jokowi´s anti-Islam decree is proof this is a dictatorial regime," a rally coordinator, Kholilulloh Al-Habsyi, told the crowd from a truck.

Rights groups have criticized the decree as a draconian and anti-democratic measure and say governments could easily abuse its power.

Jokowi´s measure followed months of sectarian tensions in Jakarta that shook the government and undermined the country´s reputation for practicing a moderate form of Islam.

Hizbut Tahrir, along with groups such as the violent Islamic Defenders Front, was behind a series of massive protests in Jakarta, the capital, against the city´s minority Christian governor, an ally of Jokowi who was accused of blaspheming Islam. He subsequently lost a bid for re-election to a Muslim candidate and was imprisoned for two years for blasphemy despite prosecutors downgrading the charge to a lesser offense.

Hizbut, a global organization that is already banned or circumscribed in some countries, is estimated to have tens of thousands of members in Indonesia.