China Gusar pada Putusan RI Ganti Nama Laut China Selatan jadi Natuna Utara
Indonesia Renames Part of South China Sea to Secure Exclusive Economic Zone
Editor : Ismail Gani
Translator : Novita Cahyadi

PUBLISHED: Selasa, 18 Juli 2017 , 00:56:00 WIB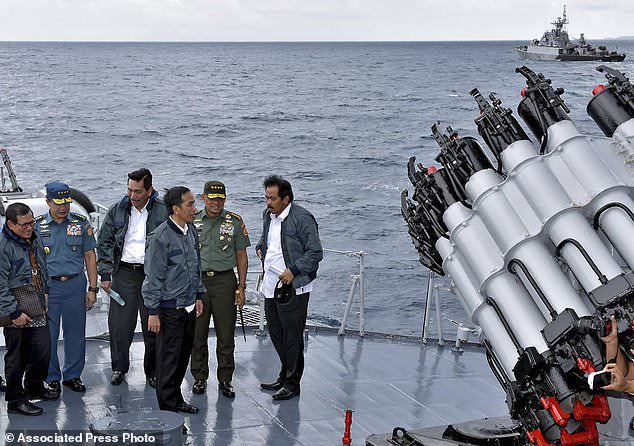 Presiden RI Joko Widodo didampingi Panglima TNI Jenderal Gatot Nurmantyo memantau perairan di kawasan Natuna pada 2016 (Foto: MailOnline)
INDONESIA menamai perairan di zona ekonomi eksklusif yang tumpang tindih dengan klaim China terhadap Laut Cina Selatan sebagai Laut Natuna Utara, sebagai pernyataan kedaulatan Indonesia yang memicu kegusaran Beijing.

Keputusan yang diumumkan pada Jumat oleh Kementerian Kelautan telah berlaku sejak pertengahan 2016 dan sangat penting bagi penegakan hukum di laut dan mengamankan zona ekonomi eksklusif Indonesia, kata Arif Havas Oegroseno, deputi bidang kedaulatan maritim.

Oegroseno mengatakan penamaan Laut Natuna Utara bertujuan mengurangi kebingungan dan sudah digunakan oleh industri minyak dan gas di kawasan perairan tersebut.

Juru bicara kementerian luar negeri China mengatakan pada sebuah konferensi pers reguler bahwa "penggantian nama seperti dikatakan Indonesia sama sekali tidak masuk akal."

"Kami berharap negara-negara yang terkait dapat bekerja sama dengan China untuk mencapai tujuan bersama dan bersama-sama menjunjung tinggi situasi di Laut China Selatan," katanya.

China mengklaim sebagian besar Laut China Selatan, sehingga memicu perselisihan dengan banyak negara di kawasan Asia Tenggara, dan telah melakukan reklamasi lahan dan pembangunan terumbu dan atol yang luas untuk mendukung klaimnya.

Indonesia tidak memiliki perselisihan teritorial dengan China, namun sembilan garis putus-putus yang ditetapkan Beijing, yang menandakan klaimnya, tumpang tindih dengan zona ekonomi eksklusif yang diakui secara internasional dari pulau-pulau di Natuna.

"Peta Indonesia memiliki koordinat, tanggal dan data yang jelas, dan pemerintah tidak akan bernegosiasi dengan negara lain yang membuat klaim yang tidak konvensional ... termasuk mereka yang bersikeras pada peta sembilan garis putus-putus," kata Oegroseno seperti dikutip Associated Press yang dilansir MailOnline.
INDONESIA has named waters in its exclusive economic zone that overlap with China's expansive claim to the South China Sea as the North Natuna Sea, an assertion of sovereignty that has angered Beijing.

The decision announced Friday by the Ministry of Maritime Affairs has been in the works since mid-2016 and was vital to law enforcement at sea and securing Indonesia's exclusive economic zone, said Arif Havas Oegroseno, the deputy minister for maritime sovereignty.

He said the name would reduce confusion and is already used by the oil and gas industry for the waters.

A Chinese foreign ministry spokesman said at a regular news briefing that the "so-called change of name makes no sense at all."

"We hope the relevant countries can work with China for the shared goal and jointly uphold the current hard-won sound situation in the South China Sea," he said.

China claims most of the South China Sea, putting it in dispute with many Southeast Asian nations, and has carried out extensive land reclamation and construction on reefs and atolls to bolster its claims.

Indonesia doesn't have a territorial dispute with China, but Beijing's nine-dash line, which signifies its claims, overlaps with Indonesia's internationally recognized exclusive economic zone extending from the Natuna islands.

"The map of Indonesia has clear coordinates, dates and data, and the government would not negotiate with other nations that make unconventional claims ... including those who insist on a map of nine broken lines," Oegroseno said.