Kemenkop UKM Dukung Ormas Berwirausaha di Medsos, Optimalkan Pontesi Pasar Online
Indonesian CSOs Take Advantage of Social Media for Online Marketing
Reporter : Gusmiati Waris
Editor : Cahyani Harzi
Translator : Dhelia Gani

PUBLISHED: Senin, 06 November 2017 , 00:58:00 WIB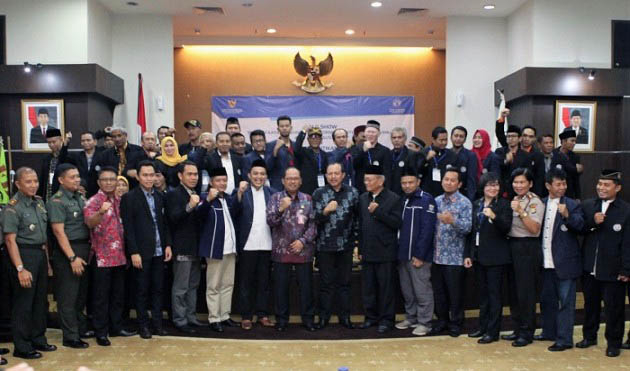 Foto: istimewa
Jakarta (B2B) - Kementerian Koperasi dan UKM mendorong Forum Lintas Ormas (FLO) yang beranggotakan 18 organisasi kemasyarakatan (Ormas) dapat memaksimalkan potensi teknologi informasi untuk berwirausaha, khususnya media sosial seperti Instagram, Facebook, Twitter dan YouTube melalui @kemenkopukm yang menjangkau puluhan ribu akun sebagai pasar potensial di jagat maya.

Sekretaris Kementerian Koperasi dan UKM, Agus Muharram mengatakan bahwa kementerian memahami tugas dan fungsi Ormas dalam bermasyarakat dan bernegara, dengan mengoptimalkan potensi dan peranan anggota Ormas untuk mengembangkan kewirausahaan, kemudian memanfaatkan media sosial untuk kegiatan penjualan dan pemasaran.

"Ormas berperan penting mendukung stabilitas keamanan dan kelangsungan perekonomian nasional, dan pemerintah akan mendukung kegiatan Ormas dalam pengembangan kewirausahaan," kata Agus Muharram di Jakarta, Jumat (3/11) pada pelantikan pengurus FLO.

Tampak hadir Walikota Jakarta Selatan, Tri Kurniadi; Ketua FLO Jakarta Selatan KH Zaini Ahmad; dan Kapolres Jaksel Kombes Iwan Kurniawan.

Tim Medsos Kemenkop UKM Freddy Yakob mengatakan bahwa medsos menjadi 'pasar baru' di internet dan akun @kemenkopukm memiliki puluhan ribu followers sehingga mendorong pengembangan program 'Pasar Senen UKM' untuk membantu pelaku UKM melakukan transaksi online.

"Foto produknya setiap Senin pukul delapan pagi hingga 12 siang lalu tag ke kami, nanti akan kami promosikan di akun resmi medsos kementerian. Instagram kementerian sudah 25.933 followers, kalau dari analisa GdiLab potensial mencapai 38,9 juta akun. Peluang besar dan program ini gratis," kata Freddy.
Jakarta (B2B) - The Indonesian cooperatives and SMEs ministry encourages Forum of Community Organizations consisting of 18 community organizations or CSOs to maximize the potential of information technology for entrepreneurship, especially social media such as Instagram, Facebook, Twitter and YouTube via @kemenkopukm that reach tens of thousands of accounts as a potential market in cyberspace.

Secretary of the Cooperatives and SMEs Ministry, Agus Muharram said that the ministry understands the duties and functions of CSOs, by optimizes the potential members in entrepreneurship development, then take advantage of social media for sales and marketing.

"CSOs play an important role in supporting the stability of the security and sustainability of the national economy, and the government will support CSOs activities in entrepreneurship development," Agus Muharram said here on Friday (November 3).

It was attended by South Jakarta Mayor Tri Kurniadi; Chairman of South Jakarta's CSOs Forum KH Zaini Ahmad; and and South Jakarta Police Chief Commissioner Iwan Kurniawan.

The social media team of the ministry Freddy Yakob said that social media becomes a 'new market' on the internet, and @kemenkopukm accounts have tens of thousands of followers through the program 'Pasar Senen UKM' can help SMEs conduct online transactions.

"The product photos every Monday at 8 am to 12 pm then tag to us, we will promote in the official account of the ministry. Instagram ministry has 25,933 followers, GdiLab analysis said the market potential reached 38.9 million accounts. Great opportunities and free," he said.