Pemerintah Apresiasi PPLIPI Dukung Permodalan 1.300 UKM Jabodetabek dari Dana Swadaya
Indonesian Women`s Professional Organizations Support the Venture Capital of MSEs
Reporter : Gusmiati Waris
Editor : Cahyani Harzi
Translator : Dhelia Gani

PUBLISHED: Sabtu, 22 Juli 2017 , 01:12:00 WIB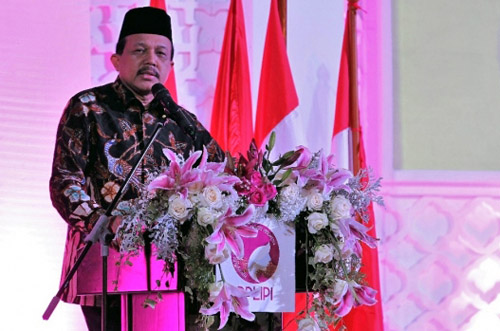 Agus Muharram mengaku bangga pada kiprah PPLIPI yang memanfaatkan dana swadaya dari para pengurus dan bukan dana pemerintah, "karena kementerian sudah tidak lagi memiliki dana Bansos." (Foto: istimewa)
Jakarta (B2B) - Pemerintah RI mengapresiasi kiprah Perhimpunan Perempuan Lintas Profesi Indonesia (PPLIPI) yang memberikan bantuan permodalan kepada 1.300 usaha mikro dan kecil (UMK) di wilayah Jabodetabek, yang berasal dari hasil swadaya pengurus PPLIPI dan bukan anggaran pemerintah lantaran Kementerian Koperasi dan UKM saat ini tidak lagi memiliki dana bantuan sosial atau Bansos.

Apresiasi tersebut dikemukakan Sekretaris Kemenkop UKM Agus Muharram kepada Ketua Umum PPLIPI Indah Suryadharma Ali, yang mendukung permodalan UMK setelah melalui proses panjang mulai dari tahap seleksi hingga verifikasi di lapangan oleh tim khusus dari PPLIPI hingga ke pelosok wilayah Jabodetabek agar bantuan tepat sasaran.

Agus Muharram mengaku bangga pada kiprah PPLIPI yang memanfaatkan dana swadaya dari para pengurus dan bukan dana pemerintah, "karena kementerian sudah tidak lagi memiliki dana Bansos."

Indah Suryadharma Ali mengatakan permodalan merupakan kendala yang selama ini membelit UMK perempuan, namun modal usaha yang diterima bukan untuk keperluan lain tapi untuk mengembangkan usahanya.

"Dengan begitu, suatu saat nanti kita bisa melihat peran perempuan bisa maksimal memberikan kontribusi bagi kemajuan bangsa dan negara. Kami yakin bisa karena perempuan dikenal ulet, jujur, dan pekerja keras," kata Indah.
Jakarta (B2B) - Indonesian Government appreciates the Indonesian Women Professional Association (PPLIPI) provide capital assistance to 1,300 micro and small enterprises (MSEs) in the Greater Jakarta area, which comes of self-funding and not government budgets, because the ministry of cooperatives and SMEs currently do not have a grant social, according to senior official.

Secretary of the Cooperatives and SMEs Ministry Agus Muharram appreciate the Chairman of PPLIPI Indah Suryadharma Ali, who supports MSEs after a long process from the selection stage to verification in the field by a special team to the remote areas in order to capital aid funds on target.

Mr Muharram admitted that he is proud of PPLIPI which utilizes self-help funds from the organizers and not government funds, "because the ministry no longer has grant social."

Indah Suryadharma Ali said that capital is an obstacle that has hampered the development of women's business, and they use the business capital to develop their business.

"Hopefully someday we can see the role of women entrepreneurs can maximally contribute to the nation and state We are sure able, because women are known as the figure of diligent, honest, and hardworking," he said.