Dukung Infrastruktur Jokowi, Jamkrindo Syariah Menjamin Pendistribusian Semen Padang
Indonesia`s Jamkrindo Syariah Guarantees the Distributor of Semen Padang
Reporter : Gusmiati Waris
Editor : Cahyani Harzi
Translator : Dhelia Gani

PUBLISHED: Kamis, 07 September 2017 , 12:59:00 WIB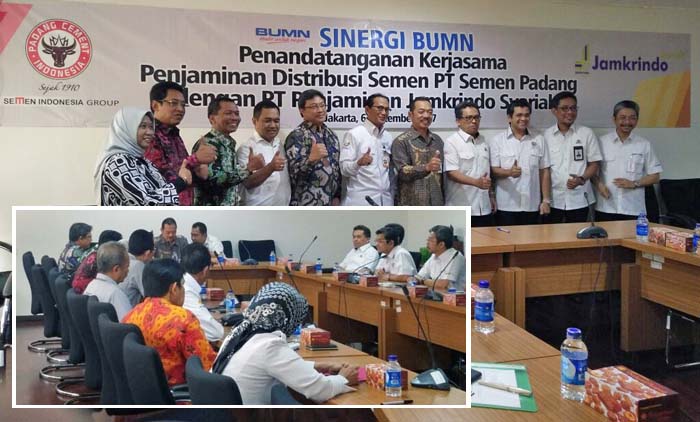 Dirut Jamsyar, Kadar Wisnuwarman (ke-5 kiri), Dirut PT Semen Padang Benny Wendry (ke-6 kiri) dan Direktur Operasional Jamsyar, Achmad Sonhaji (ke-5 kanan) Foto2: B2B/Gusmiati Waris
Jakarta (B2B) - Pengembangan sejuta rumah dan pembangunan infrastruktur yang ditargetkan Presiden RI Joko Widodo, direspons positif oleh PT Penjaminan Jamkrindo Syariah (Jamsyar) melalui perjanjian kerjasama (PKS) dengan PT Semen Padang, untuk penjaminan distribusi semen kepada distributor semen yang menjadi mitra bisnis Semen Padang.

"Penandatanganan PKS bertujuan mendukung komitmen pemerintah mewujudkan pembangunan sejuta rumah dan infrastruktur di seluruh Indonesia, maka PKS ini untuk mendukung kelancaran distribusi semen dari produsen kepada distributor," kata Direktur Utama Jamsyar, Kadar Wisnuwarman kepada pers di Jakarta pada Rabu (6/9) usai meneken PKS dengan Direktur Utama PT Semen Padang, Benny Wendry.

Penandatanganan PKS di kantor Kementerian BUMN RI disaksikan oleh Deputi Menteri BUMN, Fajar Harry Sampurno dan Direktur Operasional Jamsyar, Achmad Sonhaji.

Terkait nilai transaksi, Kadar Wisnuwarman menambahkan bahwa Jamsyar akan menjamin 50% dari omset PT Semen Padang yang mencapai Rp5,6 triliun.

"Setelah dengan Semen Padang, Jamsyar akan meneken kerjasama dengan perusahaan semen lainnya dari grup usaha PT Semen Indonesia," katanya lagi.

Jamsyar adalah anak perusahaan Perum Jaminan Kredit Indonesia (Jamkrindo) yang didirikan pada September 2014, bergerak di bidang usaha penjaminan pembiayaan syariah dan hampir 100% persentase kepemilikan dikuasai Jamkrindo yang menjamin penuh aktivitas penjaminan oleh Jamsyar.

"Produk penjaminan yang saat ini dikelola oleh Jamsyar adalah penjaminan kredit usaha rakyat, penjaminan pembiayaan konstruksi dan pengadaan barang atau jasa, penjaminan pembiayaan program fasilitas likuiditas pembiayaan perumahan atau FLPP, surety bond and custom bond, dan kontra bank garansi," kata Ahmad Sonhaji.
Jakarta (B2B) - The development of million homes and infrastructure development in Indonesia targeted by President Joko Widodo responded positively by Jamkrindo Syariah Insurance called the Jamsyar - a subsidiary of Credit Guarantee Indonesia Corp., locally known as the Jamkrindo - through cooperation agreement with Semen Padang Company for guarantee distribution to cement distributor, according to the CEO.

The cooperation between Jamsyar and Semen Padang to support the government's target to develop a million homes and infrastructure across the country, and cooperation seeks to ensure distribution of cement from producers to distributors," President Director Kadar Wisnuwarman told the press here on Wednesday (September 6) after signed the cooperation with President Director Semen Padang Benny Wendry.

Signing of Cooperation in SOEs ministry was attended by Deputy Minister of SOEs Fajar Harry Sampurno and Operations Director Achmad Sonhaji.

Related to transaction value, Mr Wisnuwarman said the Jamsyar will guarantee 50% of Semen Padang's turnover of 5.6 trillion rupiah.

"After the Semen Padang, the Jamsyar will sign the cooperation with other cement companies from PT Semen Indonesia's business group," he said.

The Jamsyar was established in September 2014 manages the Islamic financing underwriting business, and almost 100% of the ownership interest is owned by the Jamkrindo which guarantees the Jamsyar's business activities.

"Guarantee products that are currently managed by the Jamsyar is the guarantor of the people's business credit, the guarantee of construction financing and procurement of goods or services, the underwriting of the housing liquidity financing facility program, surety bond and custom bond, and counter bank guarantee," Mr Sonhaji said.