Bentrok Polisi dan Warga Deiyai di Papua, 1 Tewas
Indonesian Police Shoot at Papuan Villagers, Killing 1
Editor : Ismail Gani
Translator : Novita Cahyadi

PUBLISHED: Rabu, 02 Agustus 2017 , 15:47:00 WIB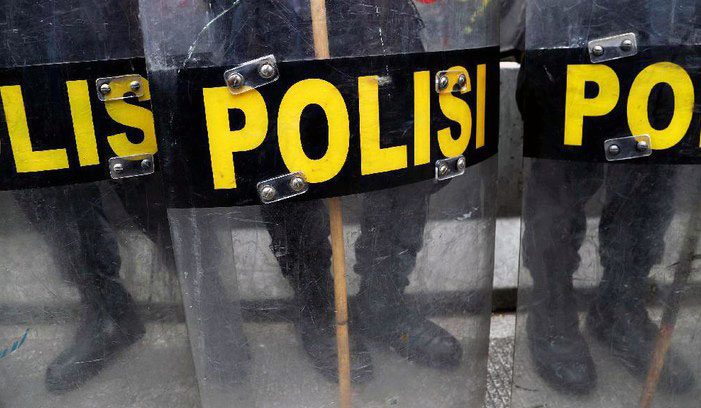 Foto: istimewa
POLISI berupaya meredam konflik warga desa di Papua, mengakibatkan satu orang tewas dan beberapa luka-luka, termasuk dua anak, yang berawal dari penyerangan warga setempat di sebuah perusahaan di daerah terpencil setelah seorang warga desa meminta tolong pada pekerja perusahaan untuk mengantarkan warga desa yang sakit ke rumah sakit.

DPRD Deiyai di Papua timur mendesak Polri untuk menangkap personel polisi yang terlibat dalam penembakan tersebut pada Selasa dan penarikan pasukan Brimob Polri.

Kepala Distrik Tigi Barat, Fransiskus Bobii, mengatakan pada Rabu bahwa satu warga tewas dan dia berusaha meredakan ketegangan antara Brimob dan penduduk desa. Laporan dari polisi mengatakan seorang pria berusia 28 tahun menderita luka tembak dan tewas seketika. Dikabarkan empat orang lainnya luka-luka namun Santon Tekege, pastur Katolik di Deiyai, menyebutkan tujuh korban luka-luka, termasuk dua anak berusia 8 tahun.

Pemerintah menempatkan polisi dan prajurit TNI untuk mengatasi konflik yang kerap terjadi di Provinsi Papua dan Papua Barat, dua provinsi yang dikenal sebagai pulau yang kaya sumber daya alam kerap diintai konflik akibat gerakan separatis yang berlangsung sejak puluhan tahun lalu, dan meningkatnya populasi penduduk dari luar Papua.

Menurut catatan polisi, seorang guru desa meminta pekerja sebuah perusahaan yang melakukan pekerjaan konstruksi di daerah tersebut untuk membantu mengangkut penduduk desa yang sakit namun mereka menolak karena mereka takut disalahkan jika meninggal dalam perjalanan.

Beberapa jam kemudian, pria tersebut rupanya meninggal dan penduduk desa mendatangi para pekerja, membawa seorang sandera, kata polisi. Polisi pergi ke desa, di mana mereka diserang dengan batu dan panah dan kemudian ditanggapi Brimob dengan melepaskan tembakan peringatan, kata polisi, tanpa menjelaskan tentang korban tewas dan luka-luka.

Pekerja yang disandera masih hilang, kata polisi seperti dikutip Associated Press yang dilansir MailOnline.
INDONESIAN police shot at indigenous Papuan villagers, killing one person and wounding several others, including two children, during a confrontation that erupted after workers at a company in the remote area refused to take a dying villager to a hospital.

The parliament of the Deiyai area in easternmost Papua has called for the arrest of officers involved in the shooting Tuesday and the withdrawal of the mobile brigade, a police paramilitary unit.

The district chief, Fransiskus Bobii, said Wednesday that one person was killed and that he was trying to calm tensions between police and villagers. A police report said a 28-year-old man suffered multiple bullet wounds and died instantly. It said four others were wounded but Santon Tekege, a Catholic priest in Deiyai, put the number of wounded at seven, including two 8-year-olds.

Indonesia maintains a significant police and military presence in the volatile provinces of Papua and West Papua, a mineral-rich region where a decades-long separatist movement simmers and the predominantly Christian indigenous people resent an influx of Muslim Indonesians, who now outnumber them.

According to the police account, a village teacher asked workers of a company doing construction work in the area to help transport a sick villager but they refused because they feared being blamed if he died on the way.

Hours later, the man apparently died and villagers confronted the workers, taking one hostage, police said. Police went to the village, where they were attacked with rocks and arrows and responded with warning shots, the police statement said, without explaining the death and injuries.

The worker taken hostage is still missing, police said.