Jatimnomics Diapresiasi Dekranas, Kembangkan Tenun Godek Khas Tuban
Indonesian Handicraft Board Supports Jatimnomics Concet for SMEs Development
Reporter : Gusmiati Waris
Editor : Cahyani Harzi
Translator : Dhelia Gani

PUBLISHED: Jum'at, 21 Juli 2017 , 15:58:00 WIB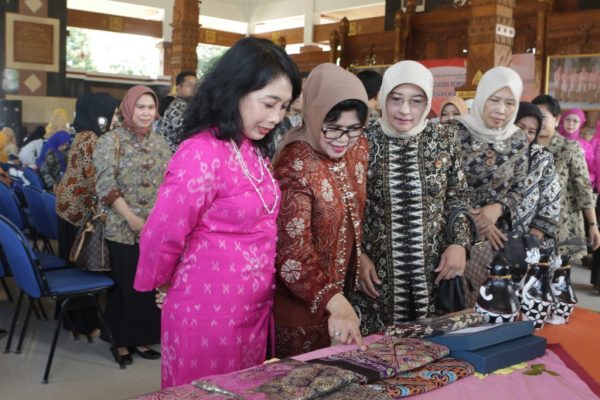 Ketua Bidang Manajemen Usaha Dekranas, Bintang Puspayoga (kiri) mengamati hasil kerajinan khas Tuban, tenun Gedok (Foto: istimewa)
Jakarta (B2B) - Dewan Kerajinan Nasional (Dekranas) mengapresiasi konsep Jatimnomics oleh Pemerintah Provinsi Jawa Timur mendukung pengembangan usaha kecil menengah (UKM) dengan pelatihan secara gratis di bussines development center (BDC), kredit tani bunga 6% per tahun dari Bank BRI dan dana penjaminan disediakan oleh Lembaga Penjaminan Kredit Daerah (Jamkrida).

"Konsep Jatimnomics saya kira cukup ampuh dalam menyelesaikan persoalan klasik UKM. Kini tinggal UKM nya, apakah mau maju atau tidak sambil berupaya meningkatkan profesionalisme dan kualitas produk," kata Ketua Bidang Manajemen Usaha Dekranas, Bintang Puspayoga setelah membuka "Sinergi Kegiatan Kementrian Koperasi dan UKM dan Dekranas di Kabupaten Tuban, Jatim pada Rabu (19/7).

Menurutnya, dukungan pemerintah provinsi harus disikapi oleh UKM dengan pelatihan berkelanjutan khususnya pelatihan vokasional tenun Gedok sebagai kerajinan khas Tuban, dengan mengembangkan modernisasi proses produksi hingga pengembangan sentra penjualan pakaian jadi dari bahan tenun Gedok.

"Dekranas akan membawa konsep pengembangan tenun Gedok ini dalam rapat kerja nasional pada akhir September mendatang. Kami akan jadikan role model produksi 100 Indonesia, dari bahan baku kapas sampai jadi kain tenun hingga kegiatan pemasarannya," kata Bintang Puspayoga.

Kepala Dinas Koperasi dan UKM Provinsi Jatim, Mas Purnomo Hadi mengatakan kegiatan di Tuban berlangsung kontinyu di 38 kabupaten di Jatim sehingga semua UKM dan wirausaha pengelola koperasi dapat meningkatkan usahanya.

Dia menambahkan, kendala utama pengrajin dan UKM adalah masalah permodalan, produksi dan pemasaran maka konsep Jatimnomics melalui pelatihan secara gratis di BDC didukung oleh Bank Jatim dan Jamkrida dan LPDB (Lembaga Pengelola Dana Bergulir) mendukung penyaluran dana ke koperasi dan UKM dan sudah terealisasi lebih Rp1 triliun dengan non performing loan (NPL) di bawah 5%.
Jakarta (B2B) - The Indonesian Handicraft Board (Dekranas) appreciates Jatimnomics concept by East Java Provincial Government support development of small and medium enterprises (SMEs) with free training at the bussines development center (BDC), 6% interest-free loans per year of BRI Bank, and guarantee fund by the local credit guarantee institution called the Jamkrida, according to the director of Dekranas.

"The Jatimnomics concept I thought is quite useful to solve the major obstacles of SME development. Now depends on SMEs, to develop their business with professionalism and improve product quality," said Director of Business Management of Dekranas, Bintang Puspayoga after opened the SMEs training in Tuban district of Eas Java province on Wednesday (July 19).

According to her, support of the provincial government should be followed up by SMEs with ongoing training, in particular the vocational training of Gedok weaving as Tuban unique handicrafts, with modernization of production process and development of garment sales center for Gedok weaving.

"The Dekranas will bring concept of development of weaving Gedok at national meeting in late September. We will make as a role model of 100 Indonesian products," Mrs Puspayoga said.

Head of East Java Cooperative and SME Office, Mas Purnomo Hadi said the activities in Tuban district are continuous in 38 districts of the province so that all SME and entrepreneur cooperative managers can improve their business.

He added that major constraints of craftsmen and SMEs are venture capital, production quality, and marketing, so that the concept of Jatimnomics is expected to support the development of cooperative and SMEs in East Java.