Dunia Sorot Vonis 8 Tahun Penjara Patrialis Akbar
Top Indonesia Judge Gets 8 Years in Prison for Corruption
Editor : Ismail Gani
Translator : Novita Cahyadi

PUBLISHED: Selasa, 05 September 2017 , 16:03:00 WIB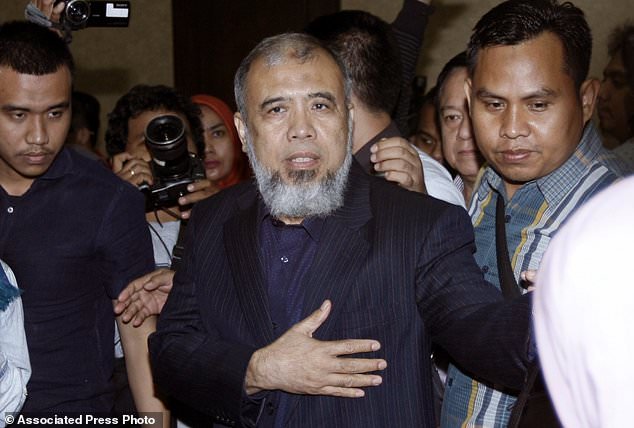 Patrialis Akbar (gamis hitam) Foto: Associated Press/MailOnline
DUNIA soroti putusan majelis hakim Pengadilan Tindak Pidana Korupsi (Tipikor) pada Senin yang menjatuhkan vonis hukuman penjara delapan tahun kepada hakim Mahkamah Konstitusi (MK), hakim kedua MK yang divonis hukuman penjara sejak kasus Akil Muchtar pada 2014.

Majelis hakim beranggotakan lima hakim memvonis Patrialis Akbar bersalah karena menerima suap ribuan dolar dari importir daging, untuk mempengaruhi judicial review UU Peternakan.

Patrialis Akbar ditangkap dalam operasi tangkap tangan pada Januari, kata pimpinan Komisi Pemberantasan Korupsi (KPK).

Patrialis, mantan menteri hukum dan HAM era Presiden Susilo Bambang Yudhoyono (SBY) membantah menerima suap. Setelah dijatuhi vonis hukuman penjara, dia mengaku pasrah kepada Tuhan YME untuk memutuskan siapa yang benar dan salah.

Pelaku suap importir daging, Basuki Hariman, sebelumnya dijatuhi hukuman tujuh tahun penjara dan sekretarisnya, Ng Fay, divonis lima tahun penjara.

Hakim mengatakan Patrialis Akbar menerima suap US$10.000 untuk melakukan umroh dan sekitar US$300 untuk biaya golf. Majelis hakim juga mendenda US$ 22.500 atau subsider tiga bulan penjara.

Pada 2014, Akil Mohtar, mantan ketua majelis hakim MK yang beranggotakan sembilan hakim, divonis hukuman penjara seumur hidup karena menerima suap. Mohtar juga tertangkap oleh KPK seperti dikutip Associated Press yang dilansir MailOnline.
INDONESIA'S corruption court on Monday sentenced one of the country's top judges to eight years in prison for taking bribes, the second time a Constitutional Court judge has been imprisoned for bribery since 2014.

A five-member panel of judges ruled that Patrialis Akbar was guilty of receiving thousands of dollars from a meat importer to influence the outcome of a judicial review of the law on animal husbandry.

Akbar was caught in an anti-graft sting in January, Indonesia's anti-corruption police say.

Akbar, a law and human rights minister under former President Susilo Bambang Yudhoyono, denied any wrongdoing. After the sentencing, he said it was up to God to decide what was right and wrong.

The meat importer, Basuki Hariman, was earlier sentenced to seven years in prison and his secretary, Ng Fay, received five years.

The judges said Akbar received $10,000 in expenses to perform minor hajj and about $300 for golf expenses. The panel also fined Akbar $22,500 or a further three months in prison.

In 2014, Akil Mohtar, the former chairman of the nine-member panel of judges of the Constitutional Court, was sentenced to life in prison for accepting bribes. Mohtar also was caught by the Corruption Eradication Commission.