Kedubes Myanmar di Jakarta Dilempar Bom Molotov
Molotov Cocktail Thrown at Myanmar Embassy in Indonesia
Editor : Ismail Gani
Translator : Novita Cahyadi

PUBLISHED: Minggu, 03 September 2017 , 18:05:00 WIB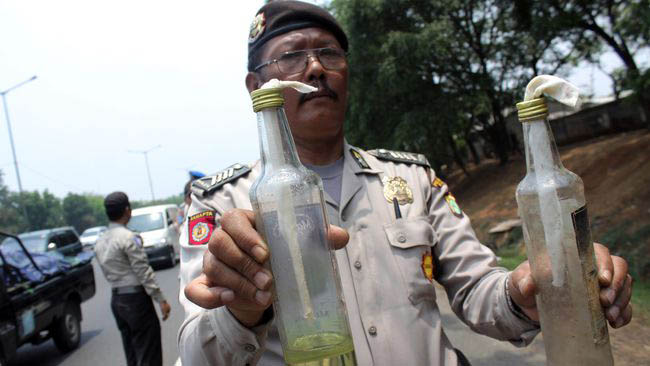 Foto: istimewa
BOM MOLOTOV dilemparkan ke Kedubes Myanmar di Jakarta pada Minggu dini hari, kata polisi, sehingga memicu kebakaran kecil.

Aksi tersebut sebagai reaksi meningkatnya kemarahan di Indonesia, negara dengan populasi Muslim terbesar di dunia, menyikapi aksi kekerasan terhadap Muslim Rohingya di Myanmar.

Seorang petugas polisi yang berpatroli di jalan di belakang Kedubes Myanmar mendapati kobaran api di lantai gedung kedutaan tersebut sekitar pukul 02.35 waktu Jakarta (GMT + 7) dan memperingatkan petugas polisi yang menjaga pintu depan kedutaan.

Setelah kebakaran padam, polisi menemukan botol bir yang hancur dengan sumbu yang menempel padanya, kata polisi, seraya menambahkan bahwa pelaku yang tidak diketahui diduga telah diusir dari tempat kejadian dengan sebuah mobil MPV.

Polisi saat ini sedang menyelidiki kejadian tersebut, kata Kabid Humas Polda Metro Jaya Kombes Raden Prabowo Argo Yuwono. Polisi belum menemukan motif di balik serangan tersebut.

Sekelompok aktivis pada Sabtu mengadakan demonstrasi di kedutaan tersebut yang menyerukan kepada Komite Hadiah Nobel untuk menarik Hadiah Nobel yang diberikan kepada pemimpin Myanmar Aung San Suu Kyi, seperti dikutip kantor berita Antara.

Protes berlanjut pada hari Minggu di pusat Jakarta, ketika puluhan orang dari kelompok Islam dan kelompok aktivis yang meminta pemerintah Indonesia untuk secara aktif terlibat dalam menyelesaikan pelanggaran hak asasi manusia terhadap warga Rohingya.

Perlakuan warga Myanmar yang mayoritas beragama Buddha terhadap sekitar 1,1 juta Muslim Rohingya adalah tantangan terbesar yang dihadapi pemimpin Aung San Suu Kyi, yang dituduh oleh para kritikus Barat karena tidak berbicara mengenai minoritas yang telah lama mengeluhkan terjadinya pelanggaran HAM.

Badan-badan bantuan memperkirakan sekitar 73.000 orang Rohingya telah melarikan diri ke negara tetangga Bangladesh dari Myanmar sejak kekerasan meletus pekan lalu seperti dikutip Reuters yang dilansir MailOnline.
A MOLOTOV cocktail was thrown at Myanmar embassy in Indonesian capital of Jakarta in the early hours on Sunday, Jakarta police said, causing a small fire.

This comes amid mounting anger in the Southeast Asian nation, home to the world's biggest Muslim population, over violence against Rohingya Muslims in Myanmar.

A police officer patrolling a street behind the embassy spotted a fire on the second floor of the building at around 0235 AM Jakarta time (GMT+7) and alerted the police officers guarding the front gate of the embassy, according to a statement by Jakarta police on Sunday.

After the fire was extinguished, police found a shattered beer bottle with a wick attached to it, the statement said, adding that the unknown perpetrator is suspected to have driven away from the scene in an MPV car.

Jakarta police is currently investigating the incident, said spokesman Argo Yuwono. The police is yet to find out the motive behind the attack.

A group of activists on Saturday held a protest at the embassy calling Nobel Prize Committee to withdraw Nobel Prize from Myanmar leader Aung San Suu Kyi, state news agency Antara wrote. (http://bit.ly/2eRowl0)

Protests continued on Sunday in Jakarta's city central, with dozens of people under Islamic groups and activist groups calling Indonesian government to be actively involved in solving the human rights violation against the Rohingya community.

The treatment of Buddhist-majority Myanmar's roughly 1.1 million Muslim Rohingya is the biggest challenge facing leader Aung San Suu Kyi, accused by Western critics of not speaking out for the minority that has long complained of persecution.

Aid agencies estimate about 73,000 Rohingya have fled into neighbouring Bangladesh from Myanmar since violence erupted last week.