Perppu Ormas 2/2017 Diberlakukan Pemerintah Disorot Media Asing
Indonesia President Inks Decree to Ban Radical Groups
Editor : Ismail Gani
Translator : Novita Cahyadi

PUBLISHED: Kamis, 13 Juli 2017 , 18:55:04 WIB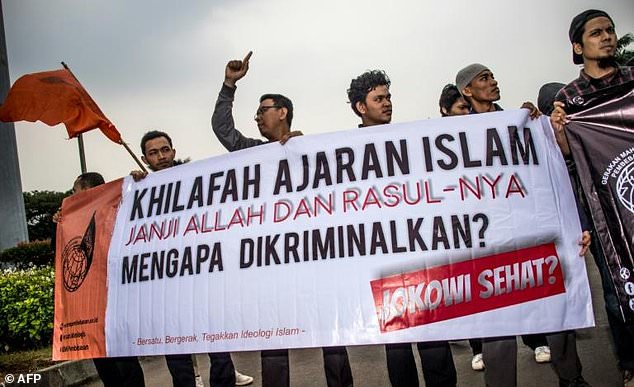 Foto: MailOnline
INDONESIA mengeluarkan Peraturan Pemerintah Pengganti UU (Perppu) yang memberi kewenangan bagi pemerintah untuk untuk mengatur lebih jelas pelarangan ormas yang melakukan tindakan permusuhan terhadap suku, agama, ras, atau golongan, menyalahgunakan, menista, atau melakukan penodaan terhadap agama yang dianut di Indonesia sebagai negara dengan populasi Muslim terbesar di dunia.

Perppu yang ditandatangani oleh Presiden Joko Widodo pada Senin, untuk menangkal ormas yang melakukan kegiatan separatis yang mengancam kedaulatan NKRI, dan mayoritas Muslim menjalankan Islam moderat.

Perppu memberi kewenangan bagi pemerintah untuk membubarkan Ormas yang menentang Pancasila, yang mengatur kehidupan bernegara dengan toleransi di tengah keanekaragaman.

Pancasila menjadi faktor pemersatu Indonesia bagi Muslim untuk toleransi dengan penganut Kristen, Hindu dan Budha sebagai minoritas.

Menko Polhukam Wiranto, mengatakan pada Rabu, bahwa pembuatan Perppu sebagai antisipasi terhadap beberapa Ormas yang dinilai 'mengancam persatuan bangsa dan memicu konfilik di tengah masyarakat.'

Menteri keamanan Wiranto, yang mengajukan satu nama, mengatakan pada hari Rabu bahwa Perppu dibuat bukan untuk membatasi kewenangan Ormas, 'tapi justru untuk merawat persatuan dan kesatuan."

Baik Wiranto maupun Perrpu tidak menyebut nama Ormas tertentu.

Namun beberapa pihak menuding Perppu tersebut bertujuan untuk membubarkan Hizbut Tahrir Indonesia (HTI), Ormas yang merupakan bagian dari kelompok radikal Islam yang berupaya menyatukan semua Muslim menjadi sebuah khilafah.

Pemerintah mengatakan pada Mei pihaknya ingin mengambil langkah hukum untuk membubarkan kelompok tersebut.

"Keputusan ini hanyalah jalan pintas untuk membubarkan HTI karena jika mereka menggunakan UU Ormas yang lama, hal itu akan memakan waktu lama," kata pakar hukum Bivitri Susanti kepada AFP seperti dilansir MailOnline.

Organisasi massa yang menyebarkan ideologi seperti ateisme dan komunisme juga dilarang berdasarkan keputusan tersebut.

Aktivis hak asasi manusia memperingatkan bahwa keputusan tersebut dapat melumpuhkan berbagai institusi demokratis.

"Pelarangan setiap organisasi dengan ketat atas dasar ideologis, termasuk Pancasila, adalah tindakan yang merongrong hak kebebasan berserikat dan berekspresi," kata Andreas Harsono, seorang peneliti Human Rights Watch di Jakarta kepada AFP.

Asfinawati, kepala Lembaga Bantuan Hukum Indonesia (LBH) mengatakan bahwa Perppu tersebut adalah "kemunduran demokrasi Indonesia".

Wiranto membantah bahwa keputusan tersebut bertujuan untuk meredam LSM.
INDONESIA has issued a decree allowing it to ban groups that oppose its official state ideology, in a move seen to target radical Islamists in the world's most populous Muslim-majority country.

The law, signed by President Joko Widodo on Monday, comes as concerns grow about the influence of hardliners in Indonesia, where a majority of the population practise a moderate form of Islam.

It empowers the government to disband without trial any group that challenges Pancasila, a set of founding national principles which promote pluralism and tolerance.

Pancasila is considered the unifying factor for a country home to significant Christian, Hindu and Buddhist minorities.

Security minister Wiranto, who goes by one name, said Wednesday the move was taken because some groups were "threatening the nation's existence and creating conflict in the society".

Neither Wiranto nor the decree name specific organisations.

But activists said the move is aimed to disband Hizb ut-Tahrir Indonesia (HTI), the local branch of a radical Islamist group that seeks to unify all Muslims into a caliphate.

The government said in May it wanted to take legal steps to dissolve the group.

"This decree is merely a shortcut to disband HTI because if they use the old NGO law, it´s going to take a long time," legal expert Bivitri Susanti told AFP.

Mass organisations spreading ideologies such as atheism and communism are also banned under the decree.

Rights activists warned that the decree could stifle a broad range of democratic institutions.

"Banning any organization strictly on ideological grounds, including Pancasila, is a draconian action that undermines rights of freedom of association and expression," Andreas Harsono, a Human Rights Watch researcher in Jakarta, told AFP.

Asfinawati, the head of Indonesia Legal Aid Foundation, said the move is "a setback of Indonesia's democracy".

Wiranto denied that the decree aims to muffle NGOs.