Sesmenkop UKM Yakini Koperasi Indonesia Adaptif Hadapi Era 4.0
Indonesian Cooperatives are Ready to Face the Era of Industrialization 4.0
Reporter : Gusmiati Waris
Editor : Cahyani Harzi
Translator : Dhelia Gani

PUBLISHED: Sabtu, 13 Juli 2019 , 19:36:00 WIB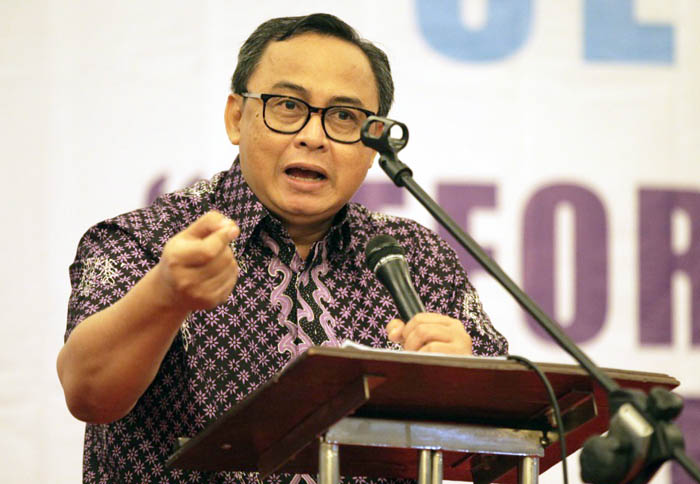 GENERASI MILENIAL: Sekretaris Kementerian Koperasi dan UKM, Rully Indrawan pada seminar nasional ´Koperasi Indonesia di Era Industri 4.0´ di Purwokerto [Foto: Humas Kemenkop UKM]
Purwokerto, Jateng [B2B] - Era industri 4.0 menjadi tantangan baru yang harus dihadapi perkoperasian di Indonesia, menuntut koperasi mampu beradaptasi sehingga tidak tergilas oleh perubahan zaman yang semakin dinamis, dengan transformasi melalui pengembangan karakter kreatif dan inovatif bagi insan penggerak koperasi.
"Tetapi saya katakan bahwa jangan khawatir koperasi pasti bisa beradaptasi dengan era industri 4.0. Saya percaya betul tantangan tersebut akan membuat koperasi kita semakin maju dan berkembang," kata Sekretaris Kementerian Koperasi dan UKM, Rully Indrawan pada seminar nasional ´Koperasi Indonesia di Era Industri 4.0´ di Purwokerto, Jateng, Kamis [11/7].
Menurutnya, era industri 4.0 menjadi tantangan baru yang dihadapi perkoperasian di Indonesia lantaran perubahan gaya hidup generasi milenial yang begitu cepat dan tidak menentu akibat perkembangan teknologi informasi dan komunikasi, robotik, dan artifical inteligence.
Upaya kementerian dalam mendorong koperasi menghadapi era industri 4.0, yakni reformasi total koperasi meliputi reorientasi, rehabilitasi, dan pengembangan koperasi, yang diharapkan akan mendorong koperasi semakin tumbuh berkembang sehingga langkah ini menandai perbaikan kualitas koperasi.
"Itu upaya kita menyehatkan koperasi. Jangan sampai kita terlalu lama berhadapan dengan koperasi yang hanya membentuk citra yang tidak bagus, itu hasil rehabilitasi kita. Data diperbaharui, terus diawasi, pengawasan dijalankan," papar Rully.
Ketua Umum Dekopin, Nurdin Halid mengatakan di tengah dinamika ekonomi digital saat ini, generasi milenial koperasi langsung bergerak cepat sehingga banyak koperasi sudah menerapkan sistem digital. Baik untuk pembukuan, transaksi, promosi produk, bahkan sudah ada koperasi yang melakukan rapat anggota secara online.
"Saya mengajak semua untuk berhenti mencaci diri sendiri, memecahkan cermin yang hanya melukai wajah kita sendiri. Berpikir dan berucap positif penuh gairah tentang koperasi, karena itu jatidiri kita," katanya.
Nurdin menjelaskn bahwa koperasi adalah bagian yang tak terpisahkan dari kehidupan sosial ekonomi masyarakat bangsa saat ini. Dimana dampak keberadaan koperasi sangat luas dan tidak sederhana. Namun ironisnya koperasi terhimpit oleh doninasi sistem tunggal kapitalisme.
"Koperasi itu simbol perjuangan rakyat bawah melawan kedigdayaan kaum kapitalis yang hanya punya satu kamus, yaitu untung. Kamus kita beda, yaitu manfaat. Dengan cara berpikir demikian maka gerakan koperasi Indonesia tidak akan pernah mati," tegasnya.
Purwokerto of Central Java [B2B] - The industrial era 4.0 is a new challenge that must be faced by Indonesian cooperatives, requires cooperatives to adapt to dynamic changing times, with transformation through development of creative and innovative characters.