Presiden Jokowi Ingatkan 729 Perwira Remaja Tingkatkan Sinergi TNI dan Polri
Indonesian President Inaugurated 729 Military and Police Officers
Reporter : Gatot Priyantono
Editor : Ismail Gani
Translator : Dhelia Gani

PUBLISHED: Selasa, 25 Juli 2017 , 20:11:00 WIB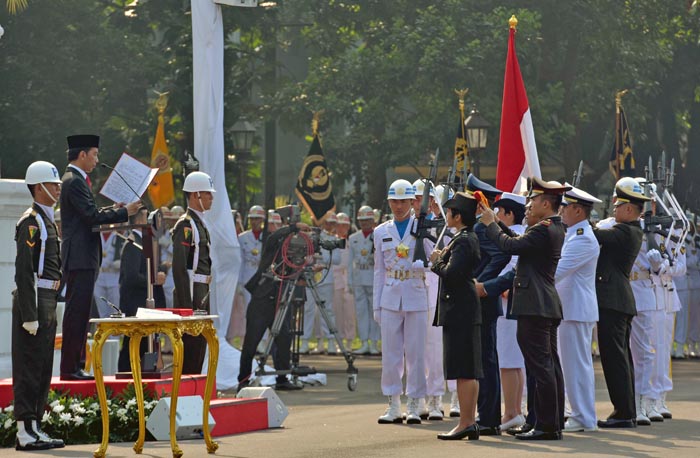 Presiden Jokowi di Istana Merdeka Jakarta, Selasa pagi (25/7) saat menjadi inspektur upacara pada Prasetya Perwira TNI dan Polri atau pelantikan taruna dan taruni Akademi TNI dan Akpol (Foto: Setkab)
Jakarta (B2B) - Presiden RI Joko Widodo mengingatkan para perwira remaja TNI dan Polri selalu bersinergi dan gotong-royong untuk kepentingan nasional, dengan meningkatkan jiwa korsa dan menghilangkan ego sektoral, sebagai generasi Y maka perwira remaja harus kreatif dan inovatif menjawab tantangan jaman di era persaingan global.

Hal itu dikemukakan Presiden Jokowi di Istana Merdeka Jakarta, Selasa pagi (25/7) saat menjadi inspektur upacara pada Prasetya Perwira TNI dan Polri atau pelantikan taruna dan taruni Akademi TNI dan Akademi Kepolisian (Akpol) setelah dinyatakan lulus sebagai perwira pertama TNI dan Polri.

"Selalu berdiri bersama rakyat, untuk mengetahui apa yang mereka butuhkan, dan apa yang mereka inginkan. Hilangkan ego sektoral, tingkatkan jiwa korsa, serta soliditas dan solidaritas TNI dan Polri," kata
Jokowi yang didampingi Ibu Negara Iriana Joko Widodo, Wakil Presiden Jusuf Kalla dan Ibu Mufidah Kalla.

729 perwira remaja tahun 2017 tersebut merupakan lulusan dari Akademi Militer (Akmil) Magelang, Akademi Angkatan Laut (AAL) Surabaya, Akademi Angkatan Udara (AAU) Yogyakarta, dan Akademi Kepolisian (Akpol) Semarang.

"Inilah awal perjalanan Saudara-saudara menjadi perwira yang setia, yang mengabdi pada bangsa dan pada negara, serta kepada seluruh rakyat Indonesia," kata Presiden Jokowi.
Jakarta (B2B) - About 729 officers of the military academy and police academy were reminded by Indonesian President Joko Widodo to synergize and enhance the corps spirit, and as millennial generation the young officers must be creative and innovative in the face of global competition.

It was stated by President Widodo at the Jakarta's Merdeka Palace on Tuesday morning (July 25) as a ceremonial inspector at the inauguration of TNI and police officers.

"Always stand with the people, know what the people need, and what they want Do not ego sectoral, increase the spirit of corps, solidity and solidarity of the military and police," said President Widodo who was accompanied by First Lady Iriana Widodo, Vice President Jusuf Kalla and his wife.

The 729 young officers of 2017 are graduates of Magelang's Military Academy (Akmil), Surabaya's Naval Academy (AAL), Yogyakarta's Air Force Academy (AAU) and Semarang's Police Academy (Akpol).

"This is the beginning of your dedication to become an officer loyal to the country and the ideology of Pancasila, and serve the people," President Widodo said.