Media Asing Sorot Survei Sikap Pelajar dan Mahasiswa pada Negara Islam
One in Five Indonesian Students Support Islamic Caliphate - Survey
Editor : Ismail Gani
Translator : Novita Cahyadi

PUBLISHED: Kamis, 02 November 2017 , 20:18:00 WIB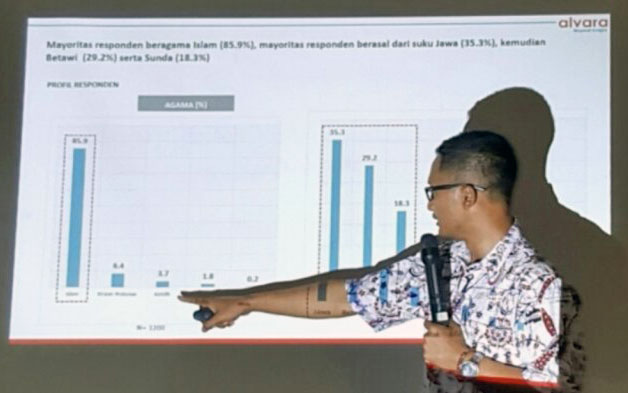 Foto: istimewa
HAMPIR 20 persen siswa sekolah menengah atas dan mahasiswa di Indonesia mendukung berdirinya khilafah Islam di negara berpenduduk mayoritas Muslim terbesar di dunia atas pemerintahan sekuler saat ini, seperti terungkap dari hasil jajak pendapat.

Toleransi beragama di Indonesia dalam beberapa tahun terakhir tengah diuji di tengah pluralisme dan sebagian Muslim mempratikkan Islam moderat yang hidup rukun dengan minoritas Kristen, Hindu, dan kepercayaan tradisional. Perbedaan keyakinan diatur dalam konstitusi negara.

Jajak pendapat oleh sebuah organisasi di Jakarta memusatkan perhatian pada 4.200 siswa Muslim, kebanyakan di sekolah-sekolah papan atas dan universitas di pulau Jawa, yang jumlah penduduknya lebih dari setengah populasi di Indonesia.

Hampir satu dari empat siswa mengatakan bahwa mereka, dalam tingkat yang bervariasi, siap untuk berjihad untuk mencapai kekhalifahan.

"Ini menunjukkan bahwa pengajaran yang tidak toleran telah memasuki universitas dan sekolah menengah atas," kata juru bicara Alvara, yang melakukan survei tersebut, dalam laporannya yang dirilis pada Selasa.

"Pemerintah dan organisasi Islam moderat harus mulai mengambil langkah nyata untuk mengantisipasi hal ini dan hadir di kalangan siswa dengan bahasa yang mudah dimengerti," katanya.

Seorang juru bicara kepresidenan menolak berkomentar mengenai hasil jajak pendapat tersebut.

Kelompok Islam garis keras akhir tahun lalu memimpin demonstrasi jalanan massal melawan mantan gubernur Jakarta, seorang Kristen, yang mereka yakini menghina Islam. Mereka akhirnya berhasil menggagalkan pemilihan kembali Basuki Tjahaja Purnama pada April tahun ini, dan kemudian dipenjara karena didakwa melakukan penistaan agama.

Kelompok-kelompok seperti Front Pembela Islam (FPI) menyerukan agar undang-undang syariah diberlakukan di negara tersebut dan percaya bahwa pemimpinnya seharusnya hanya Muslim.

Survei tersebut menunjukkan bahwa sebagian besar siswa tidak setuju dengan pembentukan kekhalifahan dan kekerasan Islam.

Namun pihak berwenang berulang kali memperingatkan terhadap pengaruh radikal pemikiran radikal di antara organisasi mahasiswa dan dalam kegiatan di kampus.

Presiden Joko Widodo dan pemerintahnya berusaha menahan meningkatnya pengaruh kelompok garis rambut, terutama di perguruan tinggi dan pesantren.

Keputusan presiden yang melarang organisasi sipil yang dianggap bertentangan dengan ideologi negara sekuler negara tersebut telah disetujui oleh parlemen bulan lalu. Hizbut Tahrir, sebuah organisasi yang menyerukan pembentukan kekhalifahan di Indonesia, adalah kelompok pertama yang dibubarkan berdasarkan keputusan tersebut.

Presiden Jokowi telah menyambangi beberapa pesantren di seluruh Indonesia yang menekankan keanekaragaman dan pentingnya persatuan nasional.

Pada September, Presiden Jokowi mengadakan pertemuan dengan sekitar 3.000 rektor universitas untuk memasukkan Pancasila dalam kurikulum pendidikan seperti dikutip Reuters yang dilansir MailOnline.
NEARLY 20 percent of high school and university students in Indonesia support the establishment of a caliphate in the world's largest Muslim-majority country over the current secular government, a new survey showed this week.

Indonesia has in recent years seen its long-standing reputation for religious tolerance come under scrutiny as hardline Islamic groups muscle their way into public and political life in the young democracy.

The vast majority of Indonesians practice a moderate form of Islam and the country has sizeable minorities of Hindus, Christians, and people who adhere to traditional beliefs. Religious diversity is enshrined in its constitution.

The survey by a Jakarta-based organization polled over 4,200 Muslim students, mostly in top schools and universities on Java island, home to over half the country's population.

Nearly one in four students said they were, to varying degrees, ready to wage jihad to achieve a caliphate.

"This indicates that intolerant teachings have already entered top universities and high schools," pollster Alvara, which carried out the survey, said in its report released Tuesday.

"The government and moderate Islamic organizations must start taking tangible steps to anticipate this and be present in student circles with language that is easy for them to understand," the report added.

A presidential spokesman declined to comment on the findings.

Hardline Islamic groups late last year led mass street rallies against Jakarta's former governor, a Christian, whom they believed had insulted Islam. They eventually succeeded in derailing Basuki Tjahaja Purnama's re-election bid in April this year, and he was subsequently jailed for blasphemy. The ruling was criticised globally as unjust.

Groups like the Islamic Defenders Front (FPI) call for sharia law to be imposed on the country and believe its leaders should only be Muslim.

The survey showed that the vast majority of students disagree with the establishment of an Islamic caliphate and violence.

But authorities have repeatedly warned against the creeping influence of radical Islamic thought among student organisations and in campus activities.

President Joko Widodo and his government are trying to contain the rising influence of hairline groups, especially in universities and Islamic boarding schools.

A presidential decree banning any civil organisations deemed to go against the country's secular state ideology was approved by parliament last month. Hizb-ut-Tahrir, a largely peaceful organisation that calls for the establishment of a caliphate in Indonesia, was the first group to be disbanded under the decree.

President Widodo has made several speeches at Islamic boarding schools around the country emphasizing Indonesia's diversity and the importance of national unity.

In September, Widodo called at a conference of around 3,000 university rectors for the promotion of the country's secular ideology, 'Pancasila', in education.