Kemenkop UKM Beri Peluang Koperasi Kelola Resi Gudang
Indonesian Govt Provides Cooperative to Manage the Warehouse Receipt System
Reporter : Gusmiati Waris
Editor : Cahyani Harzi
Translator : Dhelia Gani

PUBLISHED: Jum'at, 21 Juli 2017 , 20:02:00 WIB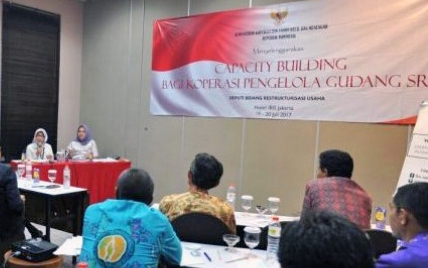 Deputi Restrukturisasi Usaha Kemenkop UKM Yuana Sutyowati (depan kiri) membuka Capacity Building Koperasi Calon Pengelola Gudang SRG di Jakarta (Foto: istimewa)
Jakarta (B2B) - Kementerian Koperasi dan UKM memberi kesempatan kepada koperasi untuk melakukan diversifikasi usaha khususnya pengelolaan sistem resi gudang (SRG) mengacu pada UU Perkoperasian No 25/1995 dan UU Sistem Resi Gudang No 9/2011 untuk penguatan kelembagaan dan pengembangan usaha koperasi.

"Harus diakui ada beberapa permasalahan koperasi yang belum dapat ditunjuk sebagai pengelola SRG pasca pendampingan. Kendalanya internal adalah kompetensi pengurus koperasi, kekuatan modal koperasi, dan minat mengelola SRG," kata Deputi Restrukturisasi Usaha Kemenkop UKM Yuana Sutyowati pada kegiatan Capacity Building Koperasi Calon Pengelola Gudang SRG di Jakarta belum lama ini.

Sementara kendala eksternal adalah kebijakan dari kepala daerah (bupati/walikota), intervensi dari organisasi perangkat daerah (OPD), dan disharmoni hubungan koperasi dengan aparatur pembina di daerah.

Menurutnya, pemerintah pada 2016 menetapkan dua koperasi sebagai pengelola resi gudang yakni KSU Gayo Mandiri di Provinsi Aceh dan KUD Anugerah di Kabupaten Grobogan, Provinsi Jawa Tengah, sementara dua koperasi di Provinsi Jawa Tengah masih dalam proses yakni KUD Perpadangan di Kabupaten Bojonegoro dan KUD Selogiri di Kabupaten Wonogiri.

Sedangkan koperasi lainnya adalah KUD Sinar Selatan (Lampung), KUD UPJA Rezeki Tani (Kuningan, Jabar),
KUD Pringgodani (Demak), KUD Dworowati (Demak), KUD Karya Bhakti (Jepara), KUD Maratani (Purworejo), KUD Nugroho (Kediri), KSU BMT Karya Usaha Bersama (Katingan, Kalteng), dan KUD Tebas (Kalbar).

Kendala lain menurut Yuana adalah pendampingan yang kurang optimal dari perusahaan yang menjadi pendamping tidak sampai tuntas sesuai kontrak kerjasama. Solusinya, adalah dengan bimbingan teknis penguatan kelembagaan dan usaha, bagi SDM pengelola atau pengurus koperasi, guna mendorong koperasi yang telah menerima Bansos SRG dan telah diberikan pendampingan menjadi tidak sia-sia.

Untuk mengatasi hal itu, Kemenkop UKM akan mengadakan bimbingan teknis (Bimtek) pendampingan di Aceh, Jawa Tengah, Jawa Timur kepada 12 koperasi.
Jakarta (B2B) - Indonesian government provides an opportunity for cooperatives to diversify the business, especially for the management of warehouse receipt system based on Cooperative Law of 1995 and Act on Warehouse Receipt System of 2011, according to the senior official, for development of cooperative business.

"It must be acknowledged that there are obstacles from the cooperative to manage the warehouse receipt system, internal factors are the competence of cooperative management, cooperative business capital, and managing interest," said Deputy Minister of Business Restructuring, Yuana Sutyowati here recently.

While external constraints are the policy of regional head, intervention of regional apparatus organization, and disharmony of cooperative relationship with regional apparatus.

According to her, the government in 2016 establishes two cooperatives as warehouse receipt manager that is Gayo Mandiri Cooperative in Aceh province and the Anugerah Cooperative in Grobogan district of Central Java province, while two cooperatives in Central Java Province are still in process is the Perpadangan Cooperative in Bojonegoro district of East Java province and Selogiri Cooperative in Wonogiri district.

The other cooperatives are Sinar Selatan in Lampung, Rezeki Tani in Kuningan district of West Java province, and some of cooperatives in Central Java province are Pringgondani in Demak district, Karya Bhakti in Jepara district, Maratani in Purworejo district, Nugroho in Kediri district of East Java province, Karya Usaha Bersama in Katingan district of Central Borneo province and Tebas in West Borneo province.

She added to improve the cooperative's ability to manage the warehouse receipt system by conducting technical guidance with ministries and related parties.

According to her, the ministry is scheduled to provide mentoring technical assistance in Aceh, Central Java, East Java which will be followed by 12 cooperatives.