Penumpang AirAsia `Curhat` setelah Pesawat Anjlok dari Ketinggian 34.000 ke 10.000 Kaki
Passengers Describe Terror aboard Indonesia AirAsia Flight
Editor : Ismail Gani
Translator : Novita Cahyadi

PUBLISHED: Senin, 16 Oktober 2017 , 20:26:00 WIB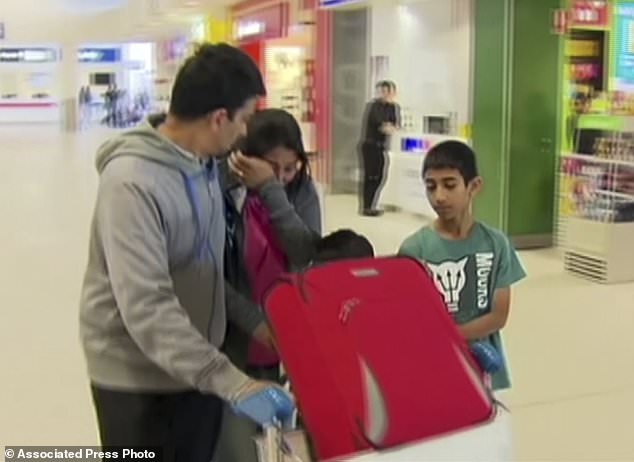 Seorang penumpang AirAsia QZ535 terus menangis setelah kejadian mencekam yang dialaminya (Foto: Associated Press/MailOnline)
PARA PENUMPANG pesawat jet komersial Air Asia dari Australia ke Bali mengungkapkan pengalaman tentang bagaimana paniknya penumpang setelah pilot dan awak kabin mengingatkan penumpang untuk mengenakan masker darurat diikuti keluarnya masker oksigen di atas penumpang setelah pesawat terguncang keras akibat kehilangan tekanan udara kabin dan pesawat melaju turun.

Penerbangan QZ535 kembali dengan selamat pada Minggu ke bandara di kota Perth dan beberapa dari 145 penumpang mengungkapkan kepada media tentang ketakutan dan kebingungan saat pesawat mengudara.

"Kepanikan meningkat karena perilaku awak kabin yang berteriak-teriak, tampak menangis dan terkejut," kata penumpang Clare Askew kepada pers.

"Saya mencoba tenang, tapi kepanikan awak kabin membuat penumpang tambah panik, kami lebih khawatir karena kepanikan mereka," kata Askew.

Maskapai penerbangan bertarif murah dalam pernyataan resminya mengatakan bahwa pilot memutuskan "mengikuti sebuah operasional prosedur untuk menjamin keselamatan penumpang."

"Kami memuji pilot kami yang mampu mendaratkan pesawat dengan aman dan mematuhi standar operasional prosedur," kata pimpinan AirAsia Group Kapten Ling Liong Tien.

"Kami berkomitmen penuh terhadap keselamatan para penumpang dan kru kami, dan kami akan terus memastikan bahwa kami mematuhi standar keselamatan tertinggi," tambahnya.

Penyidik keselamatan penerbangan dari Biro Keselamatan Transportasi Australia mengatakan sedang menyelidiki kasus kehilangan tekanan udara di pesawat pada ketinggian 34.000 kaki (10.363 meter).

Pesawat dengan cepat turun sampai sekitar 10.000 kaki (3.048 meter), ketinggian yang membuat kabin pesawat kembali mendapat tekanan udara dan masker oksigen tidak

Data dari FlightRadar, sebuah situs yang melacak penerbangan secara global menggunakan GPS, menunjukkan pesawat turun 23.800 kaki (7.250 meter) dalam waktu sembilan menit.

Bandara Perth mengatakan melalui pernyataan resminyabahwa layanan darurat langsung mendekati pesawat setelah mendarat yang berjarak waktu 78 menit setelah pesawat lepas landas.

Seorang penumpang bernama Leah mengatakan kepada televisi Nine Network: "Saya langsung mengambil ponsel dan mengirim pesan singkat kepada keluarga saya, saya hanya bisa berharap mereka dapat membacanya."

"Kami semua saling mengucapkan selamat tinggal kepada satu sama lain. Situasinya benar-benar mencekam," tambahnya.

Penumpang Mark Bailey mengatakan kepada televisi Seven Network: "Para pramugari mulai berteriak: 'Darurat, darurat.' Mereka cuma bisa histeris."

"Sebenarnya suasana di kabin belum terlalu panik, lalu semua orang menjadi panik," tambah Bailey.

Penumpang Norman Pearce mengatakan kepada Seven, awak pesawat yang bilang begini: "Darurat, pesawat jatuh dan hanya itu, kira-kira lima menit kemudian oksigen masker oksigen turun."

Peter Gibson, juru bicara Otoritas Keselamatan Penerbangan Sipil, regulator industri Australia, mengatakan bahwa maskapai tersebut telah meminta informasi tentang apa yang terjadi di kapal.

"Tugas kami sebagai regulator adalah mengumpulkan informasi mengenai kejadian semacam ini dan mengulasnya untuk melihat apakah kami faham bahwa semuanya dikelola dengan baik dan menentukan apakah kami harus menggali lebih dalam," kata Gibson.

Maskapai AirAsia X yang berbasis di Malaysia dari Perth ke Kuala Lumpur kembali pada Juni setelah salah satu mesin Airbus 330 mengalami masalah teknis. Awak kabin dikecam karena menyarankan agar penumpang berdoa.

Pada Desember 2014, pesawat AirAsia dari kota Surabaya ke Singapura jatuh di Laut Jawa, menewaskan 162 penumpang dan awak kapal seperti dikutip Associated Press yang dilansir MailOnline.

Maskapai Indonesia AirAsia mengatakan penumpang pada penerbangan yang dibatalkan pada Minggu telah dipindahkan ke penerbangan berikutnya yang tersedia dan "dilengkapi dengan semua bantuan yang diperlukan."

"Keamanan penumpang dan kru adalah prioritas kami," kata maskapai tersebut. "AirAsia meminta maaf kepada penumpang atas ketidaknyamanan yang terjadi."
PASSENGERS on an Indonesia AirAsia flight from Australia to the holiday island of Bali described a panicked flight crew announcing an emergency and oxygen masks dropping from the ceiling after their airliner lost cabin air pressure and rapidly descended.

Flight QZ535 returned safely on Sunday to the airport at Perth city where many of the 145 passengers spoke to media about the fear and confusion on board.

"The panic was escalated because of the behavior of staff who were screaming, looked tearful and shocked," passenger Clare Askew told reporters.

"Now, I get it, but we looked to them for reassurance and we didn't get any, we were more worried because of how panicked they were," Askew added.

The budget Indonesian airline said in a statement the pilot turned back "following a technical issue to ensure the safety of passengers."

"We commend our pilots for landing the aircraft safely and complying with standard operating procedure," AirAsia Group head of safety Captain Ling Liong Tien said.

"We are fully committed to the safety of our guests and crew and we will continue to ensure that we adhere to the highest safety standards," he added.

The Australian Transport Safety Bureau, an accident investigator, said it was investigating the airliner's depressurization at 34,000 feet (10,363 meters).

The plane rapidly descended to around 10,000 feet (3,048 meters), an altitude to which cabins are pressurized and at which oxygen masks are no longer needed.

Data from FlightRadar, a website which tracks flights globally using GPS, shows the plane descended 23,800 feet (7,250 meters) in the space of nine minutes.

Perth Airport said in a statement that emergency services were on hand when the plane landed 78 minutes after it took off.

A passenger named Leah told Nine Network television: "I actually picked up my phone and sent a text message to my family, just hoping that they would get it."

"We were all pretty much saying goodbye to each other. It was really upsetting," she added.

Passenger Mark Bailey told Seven Network television: "Hostesses started screaming: 'Emergency, emergency.' They just went hysterical."

"There was no real panic before that, then everyone panicked," Bailey added.

Passenger Norman Pearce told Seven the flight crew said: "Emergency. Crash positions and that was it. Nothing for about five minutes and then the oxygen fell down."

Peter Gibson, spokesman for Civil Aviation Safety Authority, the Australian industry regulator, said the airline had been asked for information on what occurred on board.

"Our job as the regulator is to gather information on these sorts of events and review that to see whether we're satisfied that everything was managed properly and determine whether we should dig any deeper," Gibson said.

A Malaysia-based AirAsia X flight from Perth to Kuala Lumpur turned back in June after one of the Airbus 330's engines failed. An aircrew member was criticized for suggesting that passengers pray.

In December 2014, an AirAsia flight from the Indonesian city of Surabaya to Singapore plunged into the Java Sea, killing all 162 passengers and crew on board.

Indonesia AirAsia said passengers on the Sunday's aborted flight had been transferred to the next available flight and "provided with all necessary assistance."

"The safety of passengers and crew is our priority," the airline said. "AirAsia apologizes to passengers for any inconvenience caused."