Lebih dari 1,7 Jemaah Haji Bersiap Laksanakan Haji di Mekkah
More than 1.7 Million Muslims Gather for Start of Hajj
Editor : Ismail Gani
Translator : Novita Cahyadi

PUBLISHED: Rabu, 30 Agustus 2017 , 20:03:00 WIB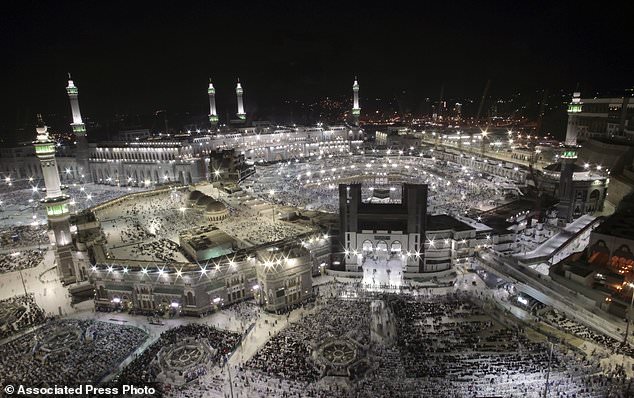 Foto: Associated Press/MailOnline
DI ARAB SAUDI, lebih dari 1,7 juta peziarah menandai dimulainya ibadah haji pada Rabu dengan mengitari Ka'bah (tawaf) di Mekkah - kota suci Islam - dan melakukan serangkaian rukun haji yang diajarkan Nabi Muhammad SAW menjalankan perintah Allah SWT bagi umat Islam dari seluruh dunia.

Umat Muslim yang beriman meyakini bahwa ibadah haji juga mengikuti jejak Nabi Ibrahim dan Nabi Ismail.

Ka'bah mewakili rumah metaforis Allah dan kesatuan Allah dalam Islam. Ka'bah juga menjadi kiblat umat Islam di seluruh dunia menghadap Ka'bah menjalani shalat lima waktu dan shalat sunah.

Haji diwajibkan bagi umat Islam yang mampu sekali seumur hidup. Ibadah wajib yang menuntut kemampuan fisik dan menguji kesabaran para jemaah haji melaksanakan haji di tengah cuaca panas dan berdesakan dengan jemaah lainnya.

Jemaah Mesir Ahmed Ali, pada ibadah haji pertamanya, mengatakan bahwa dia bersyukur berada di Mekah.

"Ini adalah perasaan yang tak terlukiskan, syukur yang tak terhingga. Puji syukur pada Allah SWT, saya sangat mensyukurinya," katanya.

Seorang wanita Indonesia berusia 104 tahun termasuk di antara mereka yang melaksanakan ibadah haji tahun ini, menurut pihak berwenang Saudi. Ibu Mariah Marghani Muhammad bergabung dengan lebih dari 220.000 jemaah dari Indonesia, negara berpenduduk Muslim terbanyak di dunia.

Perjalanan haji dimulai ketika para jemaah berangkat dari negara mereka berpakaian "ihram." Bagi pria, itu hanya memakai pakaian terrycloth, pakaian putih mulus dimaksudkan untuk mewakili persatuan di kalangan umat Islam dan persamaan di hadapan Tuhan. Wanita memakai semacam mukena, menutupi rambut mereka dan tanpa makeup maupun cat kuku untuk mencapai keadaan kerendahan hati dan kemurnian spiritual.

Setelah sholat di Mekkah, peziarah akan menuju ke sebuah daerah bernama Padang Arafah pada Kamis dimana Nabi Muhammad menyampaikan khotbah terakhirnya. Dari sana, peziarah akan menuju ke daerah yang disebut Muzdalifa, mengambil kerikil di sepanjang jalan untuk melempari setan setan dan membuang dosa-dosa yang terjadi di lembah Mina selama tiga hari.

Selama bertahun-tahun, pemerintah Saudi telah menghabiskan miliaran dolar untuk memperbaiki keamanan ziarah, terutama di Mina di mana beberapa insiden paling mematikan terjadi, termasuk sebuah penyerbuan dan tabrakan dua orang yang menewaskan banyak jemaah haji pada 2015 dengan perkiraan korban lebih dari 2.400 orang.

Juru bicara Kementerian Dalam Negeri Saudi Mayjen Mansour al-Turki mengatakan kepada wartawan dalam sebuah konferensi pers bahwa lebih dari 100.000 pasukan keamanan berada di lapangan di dan sekitar Mekkah untuk mengamankan haji dan membantu para peziarah. Dia mengatakan, jumlah peziarah di haji, termasuk yang berasal dari Arab Saudi, bisa mencapai 2 juta orang.

"Semuanya sudah siap," katanya. "Kami menyiapkan rencana dengan matang, kami memiliki orang-orang yang terlatih untuk menerapkan rencana tersebut, namun hal ini tidak dapat dilakukan hanya oleh infrastruktur dan oleh apa yang kami lakukan. Jemaah haji juga memiliki tanggung jawab, dan kami berharap mereka sesuai dengan rencana jadwal dan arus arahan. "

Pejabat kesehatan mengatakan mereka juga siap menghadapi kecelakaan apabila terjadi, dan menyiapkan lebih dari 100 ambulans yang ditempatkan di seluruh lokasi ibadah haji.

Jemaah haji dari Bangladesh Mohammad Nasser, 53, mengatakan bahwa Masjidil Haram yang mengelilingi Ka'bah menjadi sangat sibuk dipadati oleh ratusan ribu jemaah haji, namun dia meyakini secara keseluruhan, pemerintah Saudi berusaha maksimal menjadi tuan rumah yang baik bagi para jemaah haji.

"Alhamdulillah sangat bagus dan lancar, saya sangat bahagia dan bersyukur bisa berada di sini," katanya seperti dikutip Associated Press yang dilansir MailOnline.
IN SAUDI ARABIA, more than 1.7 million pilgrims are marking the start of the hajj pilgrimage on Wednesday by circling the cube-shaped Kaaba in Mecca - Islam's holiest site - and performing a series of rites that trace the footsteps of the Prophet Muhammad.

Muslims believe the rites also trace the footsteps of the prophets Ibrahim and Ismail - Abraham and Ishmael in the Bible.

The Kaaba represents the metaphorical house of God and the oneness of God in Islam. Observant Muslims around the world face toward the Kaaba during the five daily prayers.

The hajj is required of all Muslims once in a lifetime. The physically demanding journey tests pilgrims' patience as they withstand long waits and thick crowds on their path to achieving spiritual purification and repentance.

Egyptian pilgrim Ahmed Ali, on his first hajj, said he was grateful to be in Mecca.

"It's an indescribable feeling, a spiritual feeling. Thanks to God, I feel great," he said.

A 104-year-old Indonesian woman is among those performing the hajj this year, according to Saudi authorities. Ibu Mariah Marghani Muhammad is joining more than 220,000 pilgrims from Indonesia, the world's most populous Muslim country.

The journey of the five-day-long pilgrimage begins for many when they depart from their countries dressed in "ihram." For men, that entails wearing only terrycloth, seamless white garments meant to represent unity among Muslims and equality before God. Women wear loose clothing, cover their hair and forgo makeup and nail polish to achieve a state of humility and spiritual purity.

After prayers in Mecca, pilgrims will head to an area called Mount Arafat on Thursday where the Prophet Muhammad delivered his final sermon. From there, pilgrims will head to an area called Muzdalifa, picking up pebbles along the way for a symbolic stoning of the devil and a casting away of sins that takes place in the Mina valley for three days.

Over the years, the Saudi government has spent billions of dollars to improve the safety of the pilgrimage, particularly in Mina where some of the deadliest incidents have occurred, including a stampede and a collision of two crowds that crushed people under the force in 2015 that killed more than 2,400 people.

Saudi Interior Ministry spokesman Maj. Gen. Mansour al-Turki told reporters in a news conference that a more than 100,000-strong security force is on the ground in and around Mecca to secure the hajj and assist pilgrims. He said the number of pilgrims at the hajj, including those from within Saudi Arabia, could reach 2 million.

"Everything is prepared," he said. "We have our plans, we have people trained to enforce those plans, but this cannot be done only by infrastructure and by what we do. Pilgrims have their own responsibility, and we hope they comply with the schedule plans and the flow of direction."

Health officials said they are also prepared to deal with any injuries or accidents, and have more than 100 ambulances deployed across the hajj sites.

Bangladeshi pilgrim Mohammad Nasser, 53, said the Grand Mosque housing the Kaaba is congested and busy, but believes overall the Saudi government has managed the crowds well so far.

"Thank God it is going very nice and smooth. I'm very happy that I'm here," he said.