Bank Gelap Kedok Koperasi, Kemenkop UKM Ingatkan Waspada Modus Penipuan
Indonesian Govt is Wary of Illegal Banks under the Guise of Cooperatives
Reporter : Gusmiati Waris
Editor : Cahyani Harzi
Translator : Dhelia Gani

PUBLISHED: Senin, 14 Oktober 2019 , 20:39:00 WIB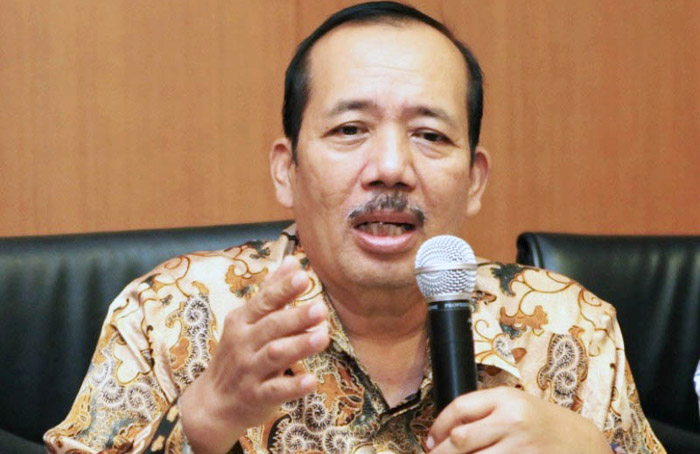 Deputi Bidang Pengawasan Kementerian Koperasi dan UKM, Suparno [Foto: Humas Kemenkop UKM]
Jakarta [B2B] - Maraknya kegiatan 'bank gelap berkedok koperasi' atau sejenisnya mendorong Kementerian Koperasi dan UKM mengeluarkan surat edaran [SE] yang mengingatkan publik, untuk mewaspadai modus penipuan dengan penawaran atau iklan berupa pinjaman online, dengan iming-iming bunga rendah murah yang beredar melalui pesan singkat WA atau SMS.
Deputi Bidang Pengawasan Kemenkop UKM, Suparno mengatakan SE yang diterbitkan pada 10 Oktober 2019 tersebut sebagai upaya pencegahan agar masyarakat berhati-hati terhadap penawaran atau iming-iming pinjaman online yang mengatasnamakan koperasi.
"Kami meminta kepada masyarakat jika ada yang menawarkan pinjaman online melalui WA atau SMS yang mengatasnamakan koperasi agar tidak dipercaya," kata Suparno pada Minggu [13/10].
Dalam SE No. 38/SE/Dep.6/X/2019 tersebut meminta agar agar seluruh kepala dinas yang membidangi koperasi melakukan langkah pengawasan preventif terhadap koperasi yang terindikasi melakukan kegiatan bank gelap berkedok koperasi. Para kepala dinas koperasi juga diminta agar melakukan sosialisasi kepada masyarakat dan koperasi.
Suparno mengemukakan Kemenkop dan UKM telah bekerja sama dengan Badan Reserse dan Kriminal [Bareskrim] Polri untuk melakukan penindakan apabila ditemukan praktik penipuan pinjaman online berkedok koperasi.
"Kepada pihak yang merasa dirugikan agar segera melaporkan kepada aparat berwajib disertai bukti-bukti yang cukup. Hal ini untuk menjaga marwah koperasi sebagai wadah ekonomi yang hidup di tengah masyarakat yang mendasarkan pada saling kerja sama dan gotong royong," katanya.
Sebelumnya, SE juga pernah dikeluarkan deputi bidang pengawasan, tertanggal 13 Agustus 2019 untuk mengingatkan masyarakat agar tidak terjebak dengan penawaran/iklan atau janji yang meyakinkan termasuk pinjaman online mengatasnamakan koperasi.
Penawaran iklan tersebut seringkali mengatasnamakan koperasi simpan pinjam [KSP] di antaranya KSP Artha Mulia, KSP Sejahtera Bersama, KSP Nasari, KSP Digital Alpha Indonesia, KSP Mastre Rupiah, KSP Indo Finance.
"Kami harap masyarakat selalu melakukan konfirmasi kepada kantor dinas koperasi apabila meragukan keabsahan pinjaman online yang mengatasnamakan koperasi," kata Suparno.
Jakarta [B2B] - The rise of illegal bank activities under the guise of cooperatives in Indonesia encourage the central government through Cooperatives and SMEs Ministry to release the warning letter so that the public is wary of the online loan fraud mode with low interest offers which is informed via a smartphone short message, according to the senior official of Indonesian Cooperatives and SMEs Ministry.