Rp10 T, Idealnya Anggaran Beasiswa Mahasiswa Tidak Mampu dari Kemenristek Dikti
The Scholarship for Indonesian Poor Students is Ideally 10b Rupiah: Minister
Reporter : Gusmiati Waris
Editor : Cahyani Harzi
Translator : Dhelia Gani

PUBLISHED: Sabtu, 21 Oktober 2017 , 21:04:00 WIB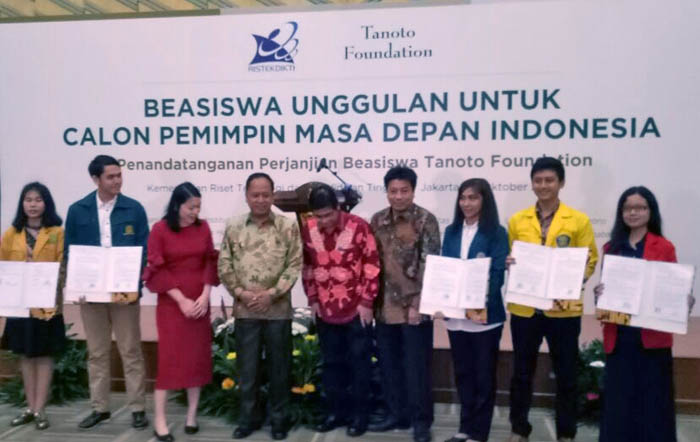 BEASISWA UNGGULAN: Menristek Dikti Muhammad Nasir (ke-4 kiri) bersama para mahasiwa penerima beasiswa (Foto: B2B/Gusmiati Waris)
Jakarta (B2B) - Kementerian Riset Teknologi dan Pendidikan Tinggi (Kemenristek Dikti) berupaya meningkatkan akses pendidikan tinggi bagi para pelajar yang tidak mampu, dengan memberikan beasiswa bagi calon mahasiswa dari kalangan tidak mampu dari APBN lebih dari Rp3,5 triliun melalui program bantuan dana pendidikan Bidikmisi, Adik 3 T dan Papua.

"Kemenristekdikti mengalokasikan lebih dari Rp3,5 triliun untuk beasiswa mahasiswa melalui program Bidikmisi, Adik 3T, dan Papua. Namun anggaran itu masih kurang untuk menjawab kebutuhan masyarakat. Idealnya sekitar Rp10 triliun. Partisipasi pihak swasta sangat dibutuhkan," kata Menristek Dikti, Muhammad Nasir kepada pers di Jakarta, Jumat (20/10).

Dia pun mendorong lembaga swasta berperan aktif untuk meningkatkan akses perguruan tinggi bagi pelajar tidak mampu yang ingin melanjutkan pendidikan ke perguruan tinggi di Indonesia. Sementara saat ini jumlah mahasiswa di Indonesia mencapai lebih dari 5,2 juta orang, dan 15,1% di antaranya adalah mahasiswa vokasi atau politeknik.

Menurut Nasir, meskipun pertumbuhan partisipasi pendidikan tinggi terus meningkat, tapi secara relatif angka partisipasi kasar (APK) pendidikan tinggi di Indonesia tahun 2016 hanya 31,61%, dan angka tersebut hanya naik tipis dibandingkan 2015 yang mencapai 29,15%.

"Dibutuhkan komitmen bersama dari berbagai pihak mulai pemerintah, lembaga swasta, akademisi dan masyarakat luas untuk meningkatkan akses pendidikan tinggi di Indonesia," kata Nasir.
Jakarta (B2B) - The Indonesian Technology Research Higher Education seeks to improve access to higher education for poor students, by providing scholarships to the state budget of more than 3.5 trillion rupiah through education assistance such as Bidikmisi, Adik 3 T and Papua.

"The ministry allocated more than 3.5 trillion rupiah for scholarship students through Bidikmisi, Adik 3T and Papua programs, but the budget is still less to meet the needs of the students, ideally around 10 trillion rupiah," Minister Muhammad Nasir told the press here on Friday (October 20).

He encouraged private institutions play an active role improving access to higher education for poor students to continue their education at universities across the country. While the current number of university students in Indonesia reached more than 5.2 million people, and 15.1% of whom are vocational or polytechnic students.

According to Nasir, although the growth of higher education participation continues to increase, but the relatively high enrollment rate in Indonesia in 2016 is only 31.61%, and only up slightly from 2015 about 29.15%.

"It takes a joint commitment from various parties starting from the government, private institutions, academics and the wider community to improve access to higher education in Indonesia," Nasir said.