Era Ekonomi Digital, Kemenkop UKM Harapkan Koperasi Wanita Tetap Eksis
Women`s Cooperatives in Indonesia are Important to Support Economic Growth
Reporter : Gusmiati Waris
Editor : Cahyani Harzi
Translator : Dhelia Gani

PUBLISHED: Sabtu, 12 Oktober 2019 , 21:06:00 WIB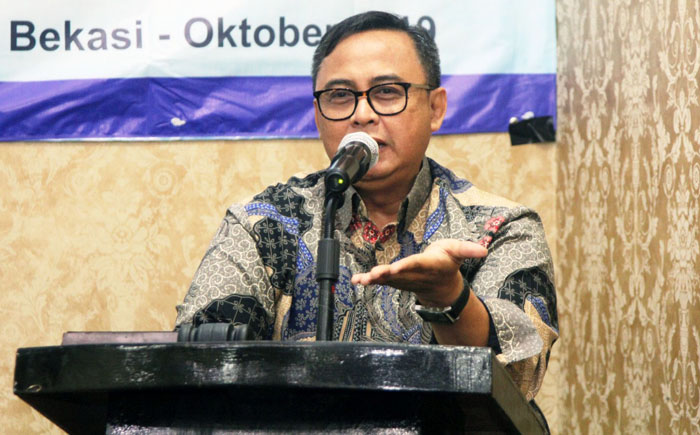 KOPWANTERA BEKASI: Sekretaris Kementrian Koperasi dan UKM Prof Rully Indrawan [Foto: Humas Kemenkop UKM]
Bekasi, Jabar [B2B] - Suka atau tidak suka, para pelaku koperasi dan UKM kalau mau usahanya tetap eksis, harus mengikuti arus perubahan. Kalau tidak, maka akan tertinggal dan tergerus perubahan zaman dan mati di era Revolusi Industri 4.0 menuntut inovasi terus-menerus untuk dapat memenangkan persaingan usaha di era digital.

"Era 4.0 menuntut untuk melek dan mengerti teknologi informasi dan teknologi digital. Digitalisasi segala sektor memberikan manfaat besar kepada seluruh pelaku usaha, untuk mencari ide-ide bisnis, memulai usaha dan mengembangkan usaha dan memperluas jangkauan dan jaringan pemasaran," kata Sekretaris Kementerian Koperasi dan UKM Prof Rully Indrawan pada 'Pelatihan Digital Entrepreneur Bidang Pengembangan Jaringan Usaha 2019' di Kota Bekasi, Jawa Barat, belum lama ini.

Rully Indrawan mengatakan kepada ratusan anggota Koperasi Wanita Sejahtera [Kopwantera] asal Bekasi bahwa digitalisasi koperasi akan mendapatkan manfaat seperti efisiensi, kemudahan akses dan layanan, hingga kemudahan pengawasan.

"Diperlukan inovasi yang terus menerus dan cara berfikir yang kreatif untuk memenangkan persaingan usaha dalam era digital sekarang ini," katanya.

Sesmenkop berharap perkembangan era ekonomi digital harus dapat dimanfaatkan untuk memperkuat akses pemasaran, termasuk membangun jaringan kolaborasi dan kerjasama dengan pelaku usaha lain dalam menjual produk-produk agar semakin berkembang dan luas jangkauan pasarnya. "Selanjutnya, mengenai design product, ini tidak kalah penting dalam strategi pemasaran yang kita pahami yakni 4P yaitu product, price, place, dan promotion," kata Rully Indrawan.

Hasil survei Asosiasi Penyedia Jasa Internet Indonesia [APJII] pada 2018 menyebutkan pengguna internet di Indonesia mencapai 171,17 juta jiwa atau 64,8% dari seluruh jumlah penduduk. Sementara menurut McKinsey, pasar e-Commerce pada 2022 akan mencapai Rp800 hingga Rp950 triliun di Indonesia, sehingga akan menjadi pasar potensial ke depan.

Dalam kesempatan yang sama, Asisten Deputi Kewirausahaan Kementerian Koperasi dan UKM Nasrun menyebutkan, pelatihan itu bekerjasama sama dengan PIBI Ikopin, yang menyiapkan fasilitator dan pembicara yang kompetensinya tidak diragukan dan menyesuaikan dengan kebutuhan Kopwan. Pelatihan meliputi penumbuhan minat wirausaha, jaringan usaha terkait peningkatan nilai produk, teknis mendesain kemasan, membangun jaringan marketing berbasis digital, branding dan media untuk usaha kecil.

Sementara Ketua Kopwantera Yatti Arief mengatakan bahwa pihaknya tak hanya membutuhkan pembiayaan atau perkuatan permodalan saja, juga pendidikan dan pelatihan seperti ini. "Bahkan, Diklat merupakan program rutin yang dilakukan Kopwantera. Sekarang kita mendapat bantuan program pelatihan dari Kemenkop dan UKM berupa pelatihan perkoperasian dan vocational."

Dengan jumlah anggota 736 orang, Kopwantera memiliki fungsi dan peran dalam hal kemasan, perijinan usaha, hingga pemasaran sehingga para anggota bisa lebih fokus dalam hal produksi. "160 orang di antaranya berasal dari kelompok yang masing-masing 10 orang," kata Yatti.

Kopwantera memiliki program pemberdayaan kelompok usaha wanita bernama Kelompok Kasih Ibu. "Mereka yang didominasi usaha mikro dan kecil mendapat pembiayaan, pendampingan usaha dan pengembangan usaha dari koperasi", pungkas Yatti.
Bekasi of West Java [B2B] - Women´s cooperatives in Indonesia play an important role in supporting national economic growth the adaptability of the digital economy is demanded by innovating to win the competition in the industrial revolution 4.0, according to the senior official of Indonesian Cooperatives and SMEs Ministry.