Siti Aisyah dari Mataram Terbukti Nistakan Agama, Vonis Penjara 2,5 Tahun
Indonesia Court Scraps New Ride-hailing Tariff Rules
Editor : Ismail Gani
Translator : Novita Cahyadi

PUBLISHED: Selasa, 22 Agustus 2017 , 21:09:00 WIB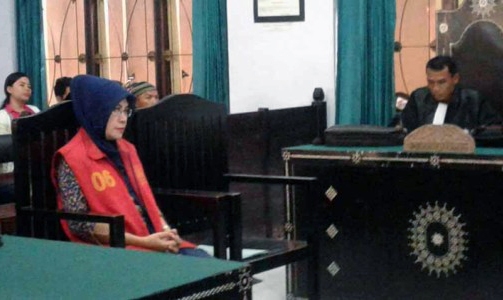 Siti Aisyah mendengar vonis hakim di PN Mataram (Foto: istimewa)
SEORANG ibu rumah tangga Indonesia dijatuhi hukuman dua setengah tahun penjara setelah terbukti menistakan agama, karena menghina Islam, Selasa, melalui ajaran Rumah Mengenal Alquran yang dia dirikan.

Siti Aisyah, 47, dinyatakan bersalah pada Senin malam karena menyebarkan ajaran Islam yang berbeda dari syariah Islam - dia bersikukuh dengan keyakinannya - dan menuding mereka berdusta karena tidak sejalan dengan keyakinannya.

Keyakinannya muncul pada saat meningkatnya kekhawatiran tentang intoleransi agama di Indonesia yang secara tradisional dianggap sebagai benteng toleran Islam.

"Apa yang telah dia lakukan adalah penghinaan terhadap agama kami, dia berbahaya bagi kota religius seperti Mataram," kata Didiek Jatmiko, hakim ketua di Pengadilan Negeri Mataram, Nusa Tenggara Barat (NTB).

Aisyah ditetapkan sebagai tersangka penistaan agama pada Februari karena menganjurkan tidak perlu shalat karena tata caranya tidak diatur dalam Alquran, dan shalat hanya dilakukan di dalam hati, yang disebarluaskan melalui situs web, dan melalui selebaran yang dia sebarkan di kota Mataram.

Dia juga mengajak pembaca situsnya untuk tidak mengikuti hadis - apa yang diriwayatkan oleh Nabi Muhammad SAW baik berupa perkataan, perbuatan, ketetapannya - kata Jatmiko.

"Kami memvonisnya dua setengah tahun penjara karena dia sama sekali tidak menyesali kejahatannya, dia bersikeras bahwa kepercayaannya adalah kebenaran tertinggi," kata Jatmiko.

Aisyah menolak bantuan hukum dari seorang pengacara dan tidak membela diri dari tuduhan tersebut. Dia mengatakan kepada pengadilan bahwa dia tidak akan mengajukan banding atas keputusan tersebut.

Hal yang memberatkan menurut hakim antara lain, Siti Aisyah tetap meyakini ajarannya tersebut dan tidak merasa menyesal walaupun sudah mengetahui bertentangan dengan ajaran Islam, menganggu stabilitas keamanan daerah, serta menimbulkan keresahan masyarakat.

Untuk menyebarkan ajarannya itu, terdakwa mendirikan Rumah Mengenal Alquran dengan menyewa ruko di Jalan Bung Karno, Pagutan, Mataram sejak November 2016. Ruko itu kemudian ditutup paksa Januari 2017 lalu.

Penyebaran ajaran itu terdakwa lakukan dengan menyurati SMP, SMA, SMK, dan MAN di Mataram untuk datang ke ruko miliknya. Mereka yang datang diberi selebaran ajaran dengan disisipi amplop berisi uang Rp 50 ribu seperti dikutip AFP yang dilansir MailOnline.
AN INDONESIAN housewife has been sentenced to two and a half years in prison for insulting Islam, an official said Tuesday, the latest conviction under the country's controversial blasphemy law.

Siti Aisyah, 47, was found guilty on Monday evening of spreading Islamic teachings that differed from local ulemas -- religious leaders -- and calling them liars for disagreeing with her.

Her conviction comes at a time of rising concerns about religious intolerance in a country traditionally regarded as a bastion of tolerant Islam.

"What she has committed was an insult for our religion, she is dangerous for a religious city like Mataram," Didiek Jatmiko, presiding judge at Mataram district court in West Nusa Tenggara Province, told AFP.

Aisyah was named a blasphemy suspect in February for promoting an unorthodox version of a Muslim prayer on a website she ran, and in flyers she distributed around Mataram.

She also urged readers of her website not to follow hadiths -- words and practices of the Prophet Mohammed -- Jatmiko said.

"We sentenced her to two and a half years in prison because she did not regret her crime at all, she is adamant that her belief is the ultimate truth," Jatmiko said.

Aisyah rejected assistance from a lawyer and did not defend herself from the charges. She told the court she would not appeal the decision.

Rights groups have long campaigned against Indonesia's archaic blasphemy laws, which they say have been used to persecute religious and ethnic minorities.

Former Jakarta governor Basuki Tjahaja Purnama, who is Christian, was jailed for two years on blasphemy charges in May.

He came under fire from hardline Islamic groups after he claimed his political opponents had been manipulating voters by using a verse from the Koran to urge Muslims not to vote for a non-Muslim leader.

The verdict fuelled fears of Indonesia's moderate brand of Islam coming under threat from increasingly influential radicals.