Ini Peluang dan Tantangan KSP dan USP di Era Bunga Rendah `Single Digit`
Single Digit Loan Interest becomes Challenge for Indonesian Cooperative Development
Reporter : Gusmiati Waris
Editor : Cahyani Harzi
Translator : Dhelia Gani

PUBLISHED: Rabu, 23 Agustus 2017 , 22:20:00 WIB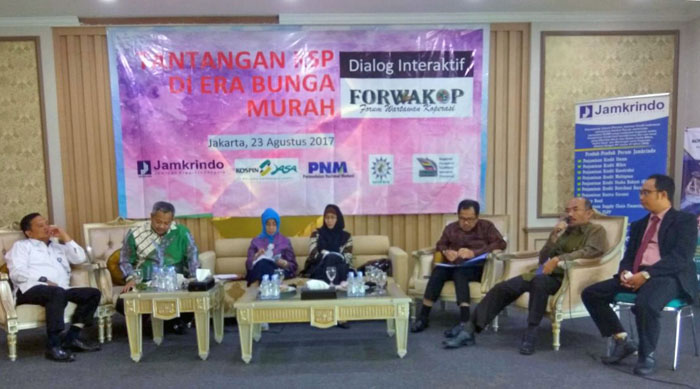 Foto: istimewa
Jakarta (B2B) - Era bunga pinjaman murah atau single digit menjadi tantangan bagi koperasi simpan pinjam (KSP) dan koperasi yang mengelola unit simpan pinjam (USP), ketimbang perbankan maka proses pinjaman di KSP dan USP tergolong mudah dan sederhana didukung proses pelatihan dan pendampingan, dan bunga pinjaman dapat ditentukan atas kesepakatan antara anggota dengan pengurus koperasi, meskipun harus diakui ada keresahan di kalangan KSP atas fenomena bunga murah khususnya kredit usaha rakyat (KUR).

Peluang dan tantangan KSP di era bunga pinjaman murah dikemukakan oleh Sekretaris Kementrian Koperasi dan UKM, Agus Muharram; Deputi Pembiayaan Menkop dan UKM, Yuana Sutyowati; Direktur Utama LPDB-KUMKM, Braman Setyo; Direktur Pengawasan Lembaga Keuangan Mikro - Otoritas Jasa Keuangan (LKM-OJK) Suparlan; Ketua Umum Koperasi Simpan Pinjam (Kospin) Jasa Andi Arslan Djunaid; Kepala Divisi Bisnis Penjaminan Syariah Perusahaan Umum Jaminan Kredit Indonesia (Perum Jamkrindo) Ceriandri Widuri; dan Direktur Kepatuhan dan Manajemen Resiko PT Permodalan Nasional Madani, Arief Mulyadi pada dialog interaktif 'Tantangan KSP di Era Bunga Murah' yang digelar oleh Forum Wartawan Koperasi (Forwakop) di Jakarta pada Rabu (23/8).

"Namun, tidak apple to apple bila kita menempatkan bank sebagai kompetitor bagi KSP. Karakter bisnis antara bank dengan KSP berbeda. Begitu juga dengan sistem dan SOP-nya pasti berbeda", kata Agus Muharram pada pembukaan dialog Forwakop.

Agus menambahkan, perbedaan lain adalah perbankan menerapkan proses ketat yang berpedoman pada sukses penyaluran dan pengembalian pinjaman, sementara KSP dan USP mengedepankan proses pendampingan dan pelatihan, karena bunga pinjaman bukan hal utama tapi memprioritaskan pada kualitas koperasi dan profesional melayani anggota.

"Saya meyakini KSP dan USP masih memiliki ruang untuk kompetitif, demand usaha mikro masih besar sebagai peluang KSP," kata Agus Muharram.

Pendapat senada dikemukakan Yuana Sutyowati bahwa bunga pinjaman dapat ditentukan antara anggota dan pengurus koperasi sehingga dapat menurunkan cost bagi KSP sebagai daya tarik bagi anggota intinya. "KSP harus mampu melakukan diferensiasi value yang dimiliki."

Kendati begitu, Braman Setyo tidak menampik adanya keresahan di kalangan KSP terkait fenomena bunga murah, khususnya terkait KUR, namun KSP tetap berperan strategis sebagai lembaga keuangan alternatif, instrumen pemberdayaan, instrumen pemerataan untuk menekan kesenjangan ekonomi.

Agus Muharram mengingatkan KSP dan USP harus menaati PP Nomor 9/1995 khususnya Pasal 16 Ayat 1 dan Pasal 17 terkait permodalan, pemerintah mendorong untuk mengikuti program pemerintah melalui KUR, sumber pembiayaan lain yang sah seperti LPDB dengan bunga murah sekitar 7%, dan pembentukan jaringan kerjasama usaha semacam model APEX yang menempatkan LPDB sebagai supporting.

"Sayangnya hampir 65% KSP pada umumnya tidak mengindahkan regulasi tersebut, dengan mengandalkan pinjaman dari pihak ketiga seperti perbankan atau sumber pembiayaan lain, kalau paradigma ini berlanjut akan mengancam keberlangsungan KSP," kata Braman Setyo.
Jakarta (B2B) - The era of low-interest loans or single digit becomes a challenge for savings and loan cooperatives (KSP) and cooperative managers of savings and credit units (USP) in Indonesia, compared to banks, the loan process through cooperatives is easier and simpler and is supported by training and mentoring process, and admittedly the single digit of the people's business credit (KUR) triggered anxiety.

It was said by Secretary of the Cooperatives and SMEs Ministry Agus Muharram; the Deputy Minister of Finance, Yuana Sutyowati; President Director of LPDB-KUMKM Braman Setyo; Director of Supervision of Micro Finance Institution - Financial Services Authority (LKM-OJK) Suparlan; Director of Jasa's Credit Unions Services (Kospin Jasa) Andi Arslan Djunaid; Head of Sharia Business Guarantee Division of the Indonesian Credit Guarantee Corporation (Jamkrindo) Ceriandri Widuri; and Director of Compliance and Risk Management of the National Civil Capital (PNM) Arief Mulyadi on the interactive dialogue here on Wednesday (August 23).

"However, it is not apple to apple refer to the bank as a competitor of the KSP, because the business character is different as well as the standard operational procedures, it must be different", Mr Muharram said.

Mr. Muharram added that another difference is that banks are implementing a rigorous process that is guided by successful disbursement and loan repayment, while the KSP and the USP prioritize the mentoring and training process, with priority on quality and professional cooperatives.

"I believe the KSP and the USP still have room for competitive, the demand of micro business is still big as the KSP opportunity," he said.

Similar opinion is said by Yuana Sutyowati that interest on loans can be determined between members and cooperative management so that it can reduce the cost for KSP as an attraction for its core members. "KSP should be able to differentiate its value."

However, Braman Setyo admits that the KSP is worried about the single digit phenomenon, especially the KUR, but the KSP still plays strategic role as alternative financial institution, empowerment instrument, equity instrument to reduce economic gap.

Muharram reminded the KSP and the USP must obey the Government Regulation Number 9/1995 especially Article 16 Paragraph 1 and Article 17 related to business capital, so the government encourages government programs through the KUR, other legitimate sources of financing such as LPDB with low interest rate around 7%, and establishment of joint venture network of APEX model.

"Unfortunately almost 65% of KSPs generally ignore the regulation, relying on loans from third parties such as banks or other sources of financing," Mr Setyo said.